Rich in ginger, garlic, and tangy soy sauce, this Soy Ginger Meat Marinade packs lots of flavor into the simplest grilling cuts of meat. Use it on beef, pork, or chicken.
Where's the beef?
Well, if it's fair skies, hopefully it's on the grill. Grilled beef steaks or roasts, like tri-tip, are so good and easy to grill. The only thing that makes them better is a tangy, savory marinade.
If you're looking for a marinade to brag about, this soy ginger deal is the thing!
Soy Ginger Meat Marinade
I'll admit that I've gotten to be a bit lazy about seasoning meat. I lean on homemade spice rubs more often than not. They're cheap, delicious, and can be very last minute.
Marinades take an extra step and a couple hours. But…
Having recently dug this meat marinade out of the archives, one that I used to make all the time, I have renewed faith in the marinade, especially one brimming with ginger, garlic, and soy sauce.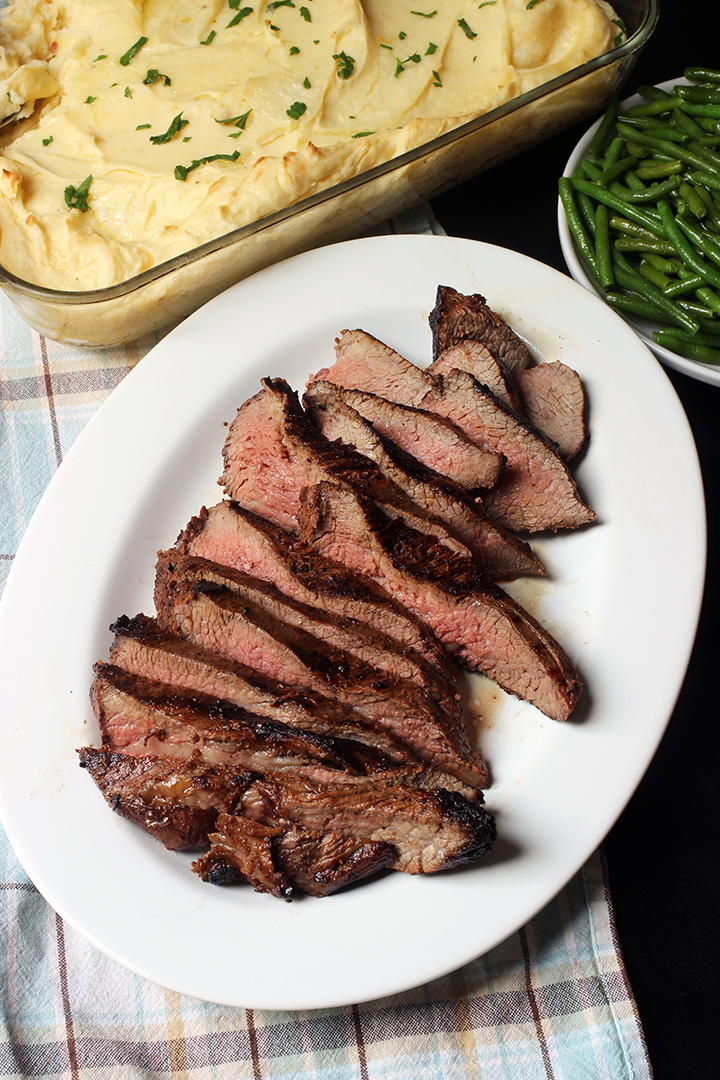 Making grilled meat affordable.
One of my favorite grilled foods is tri-tip. In Southern California, I can buy this on sale for less than $4/pound, which is my target price for beef. However, this cut is not quite as affordable in other regions of the country.
That's when a good London broil or flank steak comes in handy. Usually, I saw that for as low as $1.49/pound in Kansas City. (You'll have to let me know meat prices in your neck of the woods in the comments.)
One of the beauties of a tri-tip or even London broil is that you can buy a large, inexpensive piece of meat, grill it, and then slice it for serving.
It's not as if you have to have an individual steak for each person which can be very pricey. Grilling a roast-like piece of meat is the best of both worlds: have your steak and be able to pay for it, too.
Why marinate meat?
Usually these types of meat do really well in a marinade. Especially this tangy-flavored sauce that permeates the meat and adds flavor. Some say it tenderizes it as well, but there's debate about that.
How do you marinate meat?
The marinating process if very easy! So even though it takes a extra step and a little more time than rubbing on spices, it's not difficult.
(Preaching to myself here.)
Measure out your marinade ingredients.
Combine the marinade ingredients in a small dish or bowl.
Place the meat in a large container or ziptop freezer bag. Pour the marinade over the meat.
Seal the bag and massage it so that the marinade is evenly distributed.
Place the meat on a try in the fridge for two hours.
Heat the grill. Remove the meat from the marinade.
Cook the meat on the grill according to your tastes.
Can you marinate meat to freeze?
Marinated meat is a great freezer meal. Combine the meat and marinade in the freezer bag as mentioned and then place the bag on a tray in the freezer. The tray prevents the bag from slipping through the freezer slats and becoming difficult to remove.
Ask me how I know.
Once it's frozen solid, you can remove the tray.
The night before you want to cook the meat, remove the meat from the freezer and place it on a tray (this time to catch any drips that might leak from the bag and contaminate your fridge) in the refrigerator. Thaw it completely before cooking. The meat will marinate as it thaws.
How expensive is homemade meat marinade?
While it's easy to assume that homemade is always cheaper, that's not always the case. Let's see how the numbers crunch when the ingredients for this recipe are purchased at a mid-range grocer at non-sale prices:
soy sauce – $0.40 ($1.99/10 oz)
lime juice – $0.30 (3 limes at 10 cents each)
red pepper flakes – $0.04 ($1.25/42 g)
black pepper – $0.04 ($3.79/4 oz)
ginger – $0.20
garlic – $0.08
oil – $0.16 ($1.99/48 oz)
A batch of this savory soy ginger meat marinade costs about $1.22 per 6 ounces.
By comparison a name brand meat marinade costs $3.59/12 ounces at the grocery store, over twice as much as homemade.
Save even more on this recipe by reducing the cost s of the soy sauce, lime juice, and ginger, the higher priced ingredients here. Likely you can do that by shopping at a different store, buying the ingredients on sale, or buying a bulk package that may offer a lower unit cost.
Either way, it's guaranteed that this homemade meat marinade will be tastier than what you'd by at the store and will most definitely rival expensive restaurant fare.
That's what I call a good cheap eat!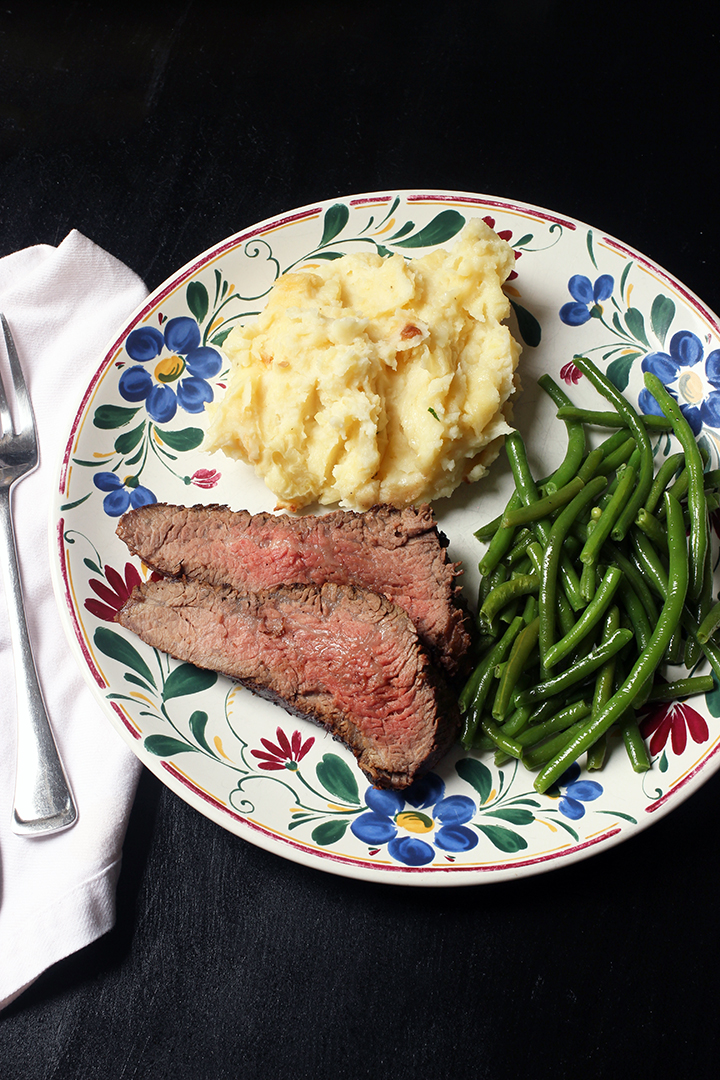 If you prepare this recipe, be sure to share a picture on social media and hashtag it
#GOODCHEAPEATS
. I can't wait to see what you cook up!
Soy Ginger Meat Marinade
This flavorful Soy Ginger Meat Marinade works well on beef, pork, and chicken. Rich in ginger, garlic, and tangy soy sauce it packs a punch of flavor into a super easy marinade for meat.
Ingredients
¼

cup

soy sauce

¼

cup

lime juice

¼

teaspoon

red pepper flakes

¼

teaspoon

black pepper

1

teaspoon

fresh ginger (grated)

or ¼ teaspoon dried, ground ginger

2

clove

garlic

minced

¼

cup

neutral oil
Instructions
Combine all ingredients in a small glass bowl. Whisk to combine.

Place the meat in a glass dish or ziptop freezer bag. Pour the marinade over the meat. Seal the bag, massaging the meat to distribute the marinade all over.

Allow the meat to marinate in the refrigerator for several hours or place the bag on a tray in the freezer to use at a later date. If freezing, thaw completely in the refrigerator before cooking.

Heat an outdoor grill. Remove the meat from the marinade and cook over the hot grill until desired doneness.
Notes
Alternative freezer option: You can store the prepared marinade in an airtight container for up to two months. Thaw before adding to your meat. Follow marinating instructions in recipe.
Please note that nutritional information only applies to the marinade itself, not the meat. Since meat does not absorb all the marinade, not all these values will be absorbed by the meat or be present in the final dish.
Nutrition
Calories:
521
kcal
|
Carbohydrates:
4
g
|
Protein:
6
g
|
Fat:
55
g
|
Saturated Fat:
44
g
|
Sodium:
3250
mg
|
Potassium:
123
mg
|
Fiber:
1
g
|
Sugar:
1
g
|
Vitamin A:
148
IU
|
Calcium:
12
mg
|
Iron:
1
mg
Tried this Recipe? Tell us what you think!
Your reviews help us develop better recipes and give newcomers the confidence to try your favorites. Scroll down to leave a starred comment.
This post was originally published on May 21, 2009. It has been updated for content and clarity on June 9, 2020.