Ready to get up and go? Make sure to save money on your lunch bill by packing up some easy Chicken Salad Sandwiches with crisp, crunchy cucumbers.
Lunchtime is pretty awesome. A delicious respite in the middle of a busy day.
Problem is if you're away from home, lunchtime can be tricky.
To get take-out or restaurant fare can be incredibly hard on the budget. Take for example, the ballpark. A recent day at the Padres' Petco Park reminded me quite poignantly how important it is to pack food for days on the go.
A greasy slice of pizza? $7. Stale pretzel? $7. Lukewarm hot dog? A relative bargain at $6.50.
Forget the fact that none of those items would actually fill you up! All the salt and fat actually makes you crave some more.
So, whaddya do?
The answer lies in planning ahead. And if possible, making a batch of my husband's favorite Chicken Salad Sandwiches with Cucumber.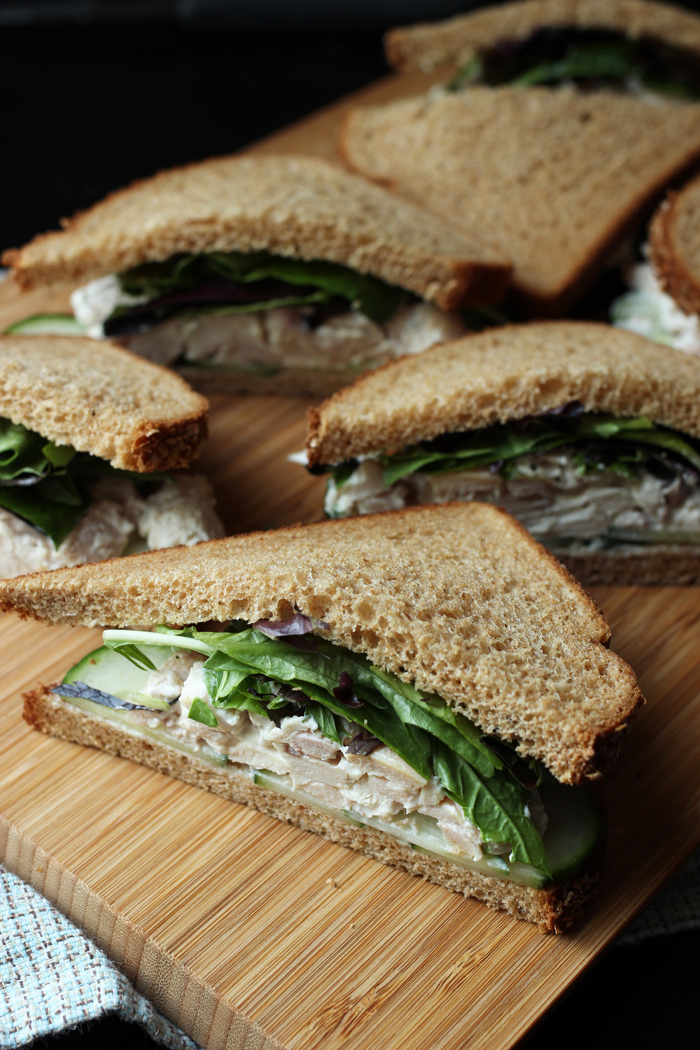 Make the Most of Lunch on the Go: Easy Chicken Salad Sandwiches
Chicken Salad is a classic. It crosses generations as well as continents. Fun fact for my fellow Americans: In the UK, it's called Chicken Mayo. Who knew?
Chicken Salad Sandwiches are the perfect answer to more expensive food on the go. And they are a welcome change to overpriced lunch meats and spreads.
You can easily whip up a batch of chicken salad in a matter of minutes and have it ready to go before the rest of your crowd has found their hats and sunscreen.
Packing lunch for your outings, whether they be for work or for pleasure is a great way to save money, lest you pay $42 to feed your family greasy, ballpark pizza.
Conversely, a batch of sandwiches made with rotisserie chicken and grocery store bread will cost less than ten bucks. You do the math.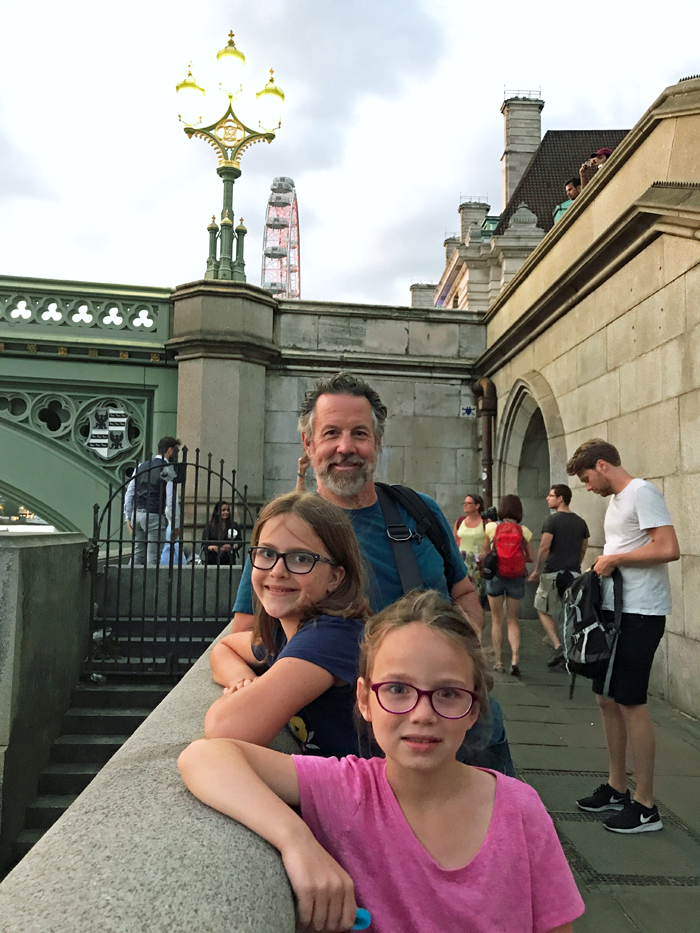 Now, I'm not saying that you should never eat out. In fact, when we traveled throughout the UK two years ago, Pret a Manger was a regular lunchtime stop for our family. We could easily and affordably get great sandwiches packed and ready for "take-away".
Back at home, however, with no Pret in sight, I console myself by recreating some of our Pret favorite sandwich combinations, like Chicken Caesar Sandwiches or my homemade English Pickle.
Enjoy dining out when you don't have other options and then let your favorite experiences influence how you brown bag it whenever you can!
Make these Chicken Salad Sandwiches with Cucumber for a cool, refreshing, and crunchy twist on the classic sammy.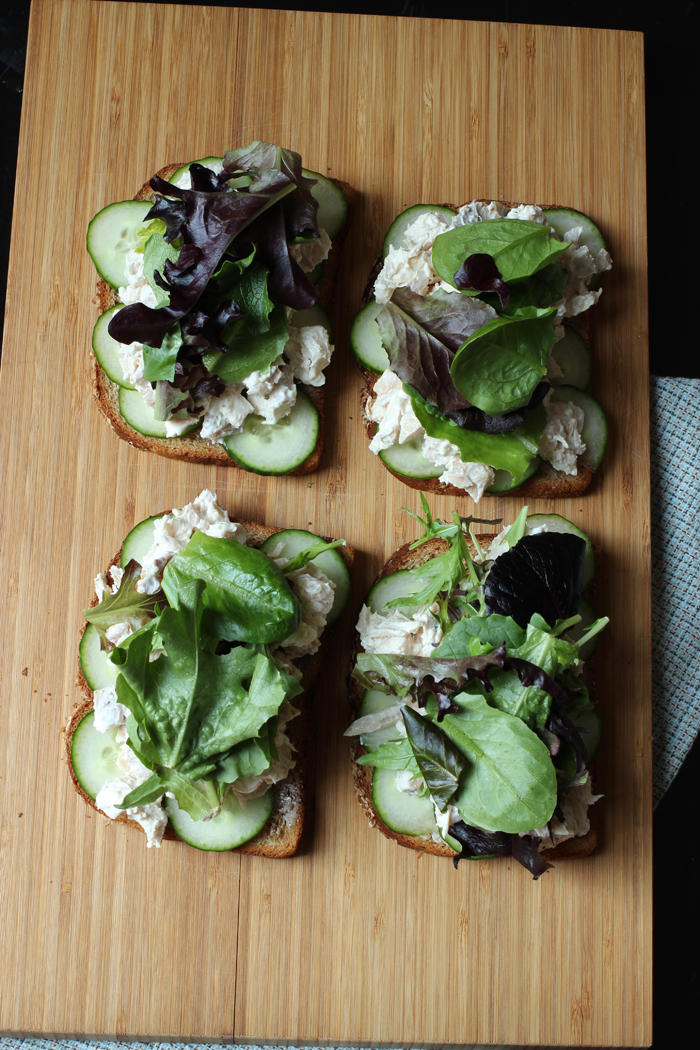 What goes with chicken salad sandwiches?
These Chicken Salad Sandwiches with Cucumber are almost a complete meal in themselves. With crisp and refreshing sliced cucumbers and generous baby greens, you've got a good portion of veg with tender chicken as your protein and whole grain bread for your carb.
I like to serve sandwiches with extra veggies, so I'd add crudite vegetables or a cole slaw or other vegetable salad. Chips and seasonal fruit are also good on-the-go side dishes.
How should you pack chicken salad sandwiches to go?
If you're going to be eating the sandwiches within a few hours time, I would assemble them and wrap well in plastic wrap. Keep cool in a cooler with ice packs until ready to serve.
For a meal prep several days in advance, it's better to store the chicken salad and the bread and veggies separately, lest you get soggy bread. You can assemble sandwiches on the go. Just make sure you include a fork or spoon in your lunch kit and a few napkins.
How long are chicken salad sandwiches good for?
Assembled, chicken salad sandwiches should have great taste and texture for 6 to 8 hours if refrigerated. They'll still be "good" after that, in the sense that the food won't be bad, but your bread may become soggy.
Prepared chicken salad is good for up to four days, refrigerated. Be sure to store it in a covered dish in the fridge. Chicken salad cannot be frozen. The mayo will go funky.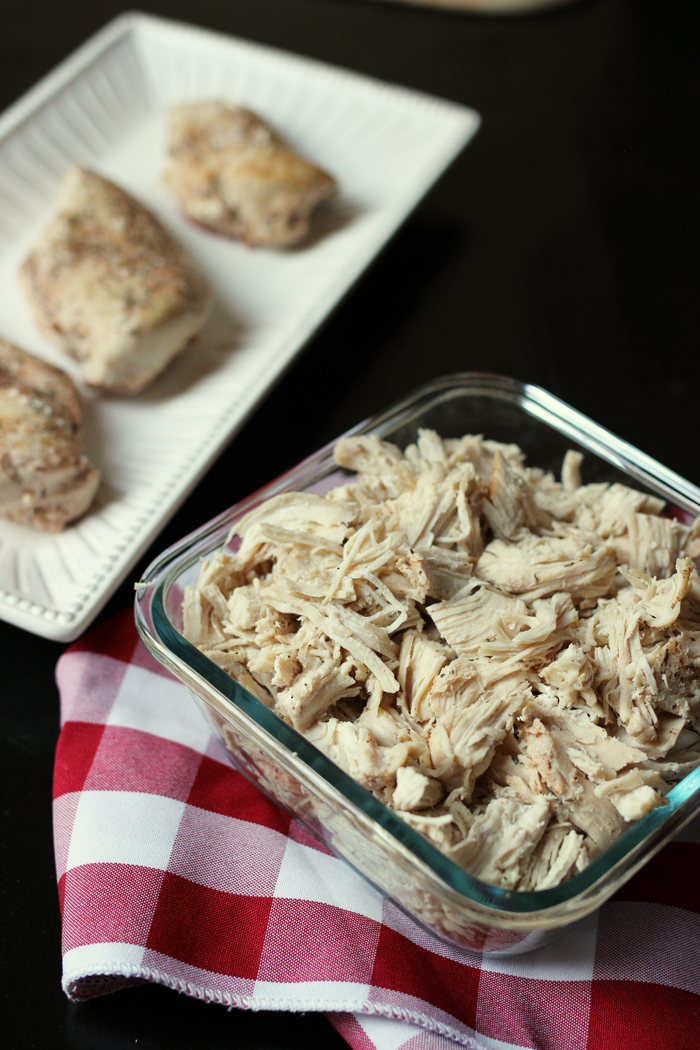 What kind of chicken should you use for chicken salad?
Since boneless, skinless chicken breast is so affordable, it's a great candidate for chicken salad. You can also use boneless, skinless chicken thighs or the meat from a whole chicken.
If turkey is what you've got on hand, by all means, substitute cooked turkey for chicken in the sandwich filling.
How do you cook chicken for chicken salad sandwiches?
There are lots of easy ways to cook chicken for chicken salad:
For a grocery store short cut, you can use a rotisserie chicken. That makes everything quick, easy, and delicious. Head here to learn How to Carve A Chicken.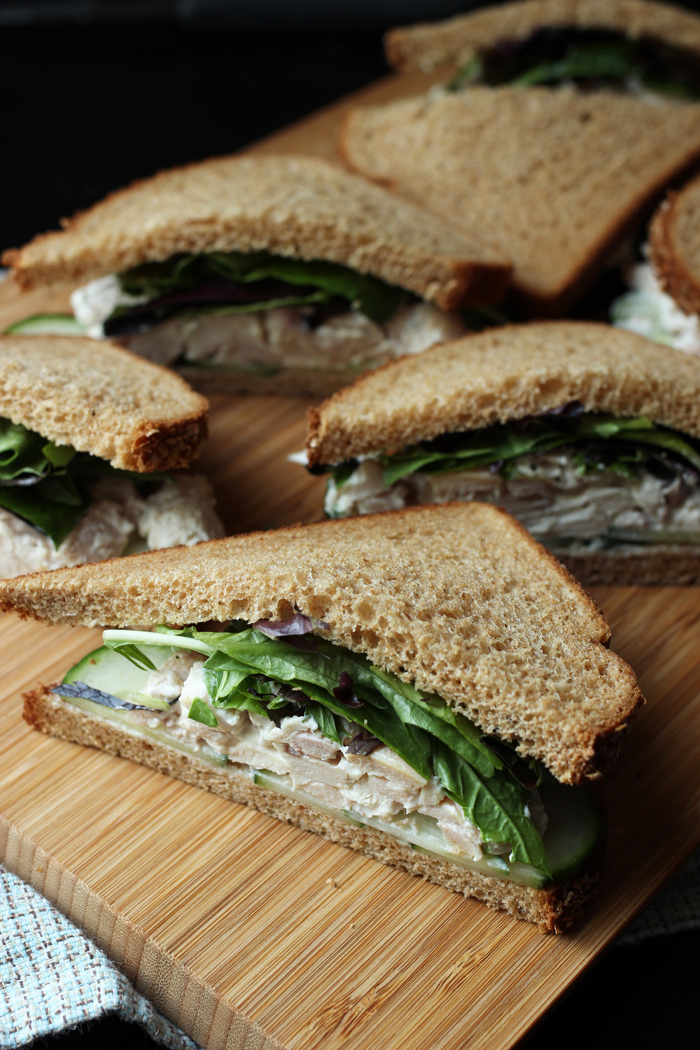 How to save money making chicken salad sandwiches:
Here are some of the strategies I use to make this recipe more economical:
Meal plan around what's on sale. Don't decide to make this when chicken is $5/pound and you have none in the freezer. Next time you see chicken on sale, add this to your meal plan!
Do a price comparison. I know that ALDI is the best place for me to buy chicken when there isn't a great sale elsewhere. I keep track of prices so that I know who has the best deal where.
Stock up on ingredients when they are on sale. Buy extra chicken and stash the extra in the freezer so you can make chicken salad samdwiches whenever you want.
Boost the veg to stretch the protein. Protein is usually the most expensive ingredient in most dishes. If I need to, I often add more veggies to the chicken salad to stretch our protein purchase farther.
Tools you might need to make this recipe easy:
This is a pretty straight-forward dish. You don't need any fancy equipment. However, having some good basic kitchen tools can really make your time in the kitchen more enjoyable. Over time, I've honed my collection so that they are perfect for my needs. Here are the tools that I like to use in this recipe.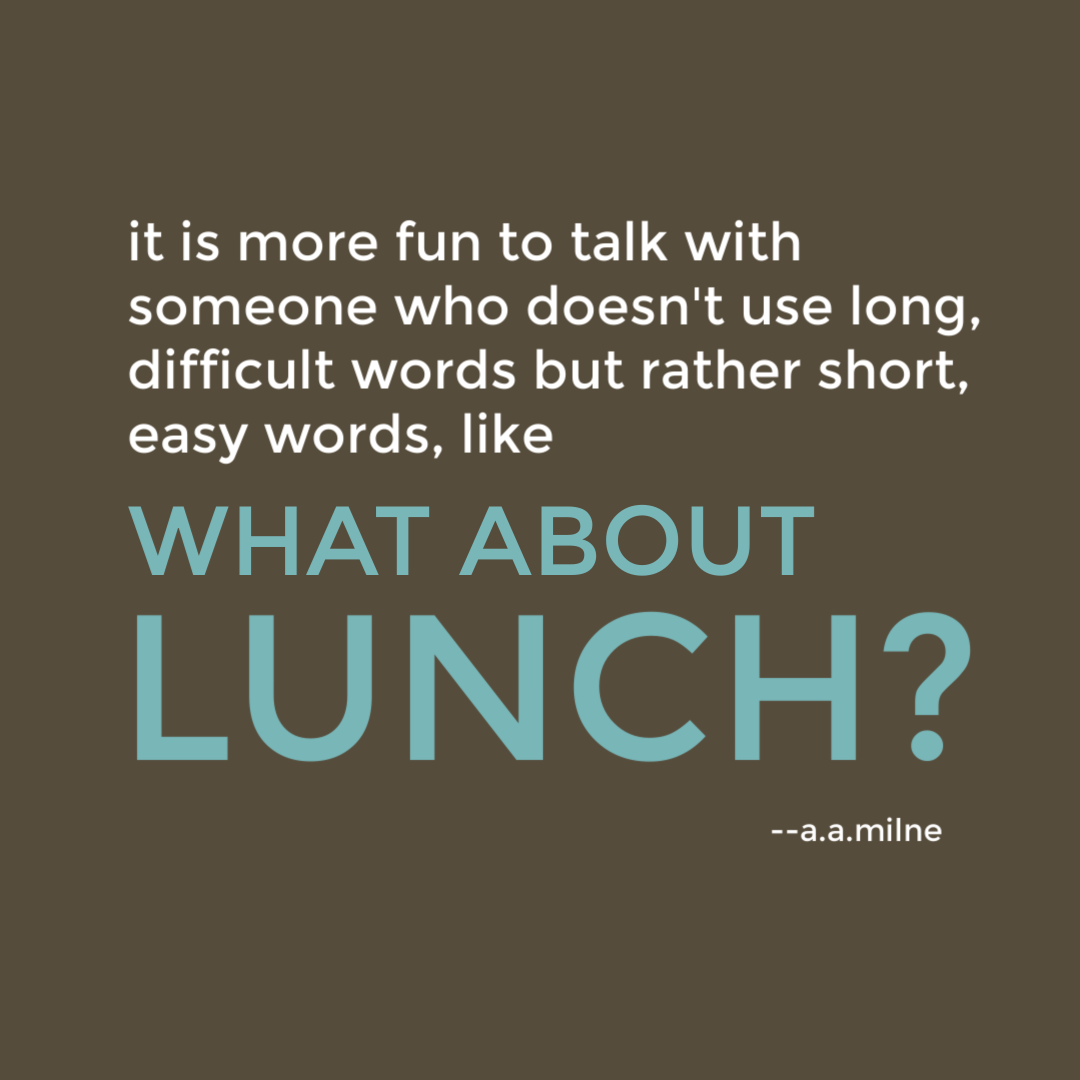 But what about other lunch days?
Man cannot live on chicken salad sandwiches alone. In order to save money and really make the most of lunch on the go, you need to have an arsenal of packable lunch ideas.
No problem.
I've put together this quick and easy printable guide to help you handle meal planning for the busy daze. Here's just a peek: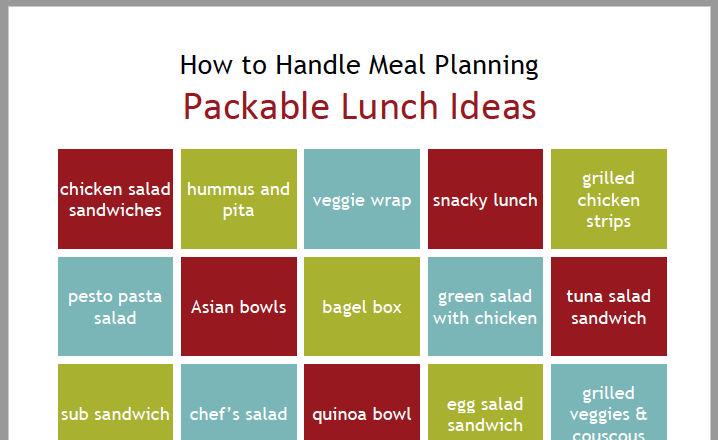 Print out this idea generator and tack it somewhere easily seen in your kitchen. The next time you're planning meals on the go, bring it out and let it provide all the inspiration you need to choose and plan for great packable lunches.
Get access to the printable when you subscribe to the free weekly Good Cheap Eats Gazette.
But what if you really want to master this packable lunch thing?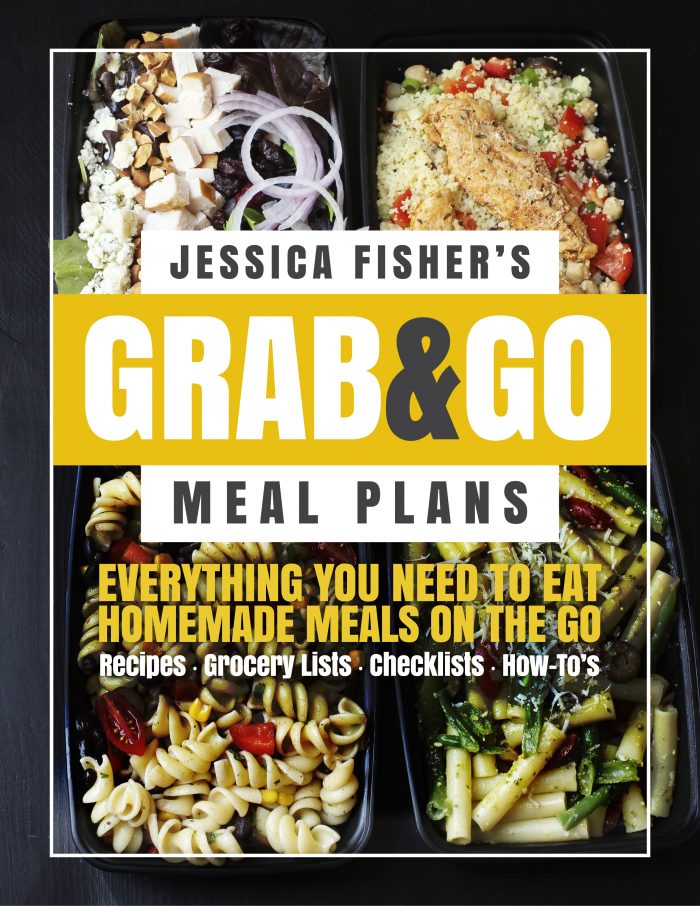 I've put together an entire month's worth of packable lunches in A Month of Grab & Go Meal Plans. Each recipe serves four so you can stretch out the menus over several months if you're cooking for one — or share with coworkers and family.
When I was teaching public high school, my friend and co-worker, Tami and I would trade off bringing lunch for each other each week. It was so nice to have a homemade meal every day of the week.
I wish Tami and I had had this resource back in the day!
Everything you need is right here: recipes, grocery lists, checklists, and packing tips and tricks. Get the instant download here: https://fishmama.com/product/a-month-of-grab-and-go-meal-plans/

If you prepare this recipe, be sure to share a picture on social media and hashtag it
#GOODCHEAPEATS
. I can't wait to see what you cook up!
Chicken Salad Sandwiches with Cucumber
Ready to get up and go? Make sure to save money on your lunch bill by packing up some easy Chicken Salad Sandwiches with crisp, crunchy cucumbers.
Ingredients
3

cup

chicken (cooked and cubed)

⅓ to ½

cup

mayonnaise
favorite seasoning blend

such as Greek Spice Mix

8

slices

whole grain bread

4

tablespoon

butter

, softened

1

English cucumber

, thinly sliced

1

cup

baby greens
Instructions
In a large bowl, combine the chicken and mayonnaise. Season to taste with the Greek Spice Mix. Chill the chicken salad until ready to serve.

Assemble the sandwiches by spreading the butter thinly over the first slice of bread. Top with cucumbers and some baby greens.

Divide the chicken salad over the greens. Top with more baby greens and the second slice of bread. Serve immediately.
Notes
Note: If packing for take-away, wrap each sandwich carefully and consume within just a few hours.
Nutrition
Calories:
524
kcal
|
Carbohydrates:
5
g
|
Protein:
9
g
|
Fat:
53
g
|
Saturated Fat:
14
g
|
Cholesterol:
80
mg
|
Sodium:
440
mg
|
Potassium:
214
mg
|
Fiber:
1
g
|
Sugar:
2
g
|
Vitamin A:
630
IU
|
Vitamin C:
5.4
mg
|
Calcium:
24
mg
|
Iron:
0.9
mg
Tried this Recipe? Tell us what you think!
Your reviews help us develop better recipes and give newcomers the confidence to try your favorites. Scroll down to leave a starred comment.