The Grocery Geek went to the UK for a month! Today I'm sharing a little bit of what we ate, where we shopped, and what we spent while traveling as a family of 8 for 31 days.
Well, hallo, hallo, hallo!
(I hope you read that in my best Bert the Chimney Sweep voice.) We just got back from a month in the United Kingdom. Yep, a month. Six kids. 2 parents. $20,000. We lived to tell the tale.
I'll be posting about our adventure in more detail, including how we saved money and economized, over on Life as Mom, starting on Friday. You can follow that series here.
Today, however, as a wrap up to the month of June, I thought I'd share a little of my Grocery Geek experience in the United Kingdom.
For the most part during our trip, we stayed in hotels. After we crunched the numbers and examined all our options, including serviced apartments and private home rentals, budget hotel rooms plus restaurant food/grocery store picnics proved to be our best options financially. Seeing as we were $10,000 UNDER budget for our month abroad, I'm going to stand behind that decision whole heartedly.
When we did rent an apartment, we found that it didn't save us that much money in food costs over bargain options because we had to buy things like oil, spices, etc.
Grocery Shopping on Vacation in the United Kingdom
So what did our grocery shopping in the UK include?
What we bought: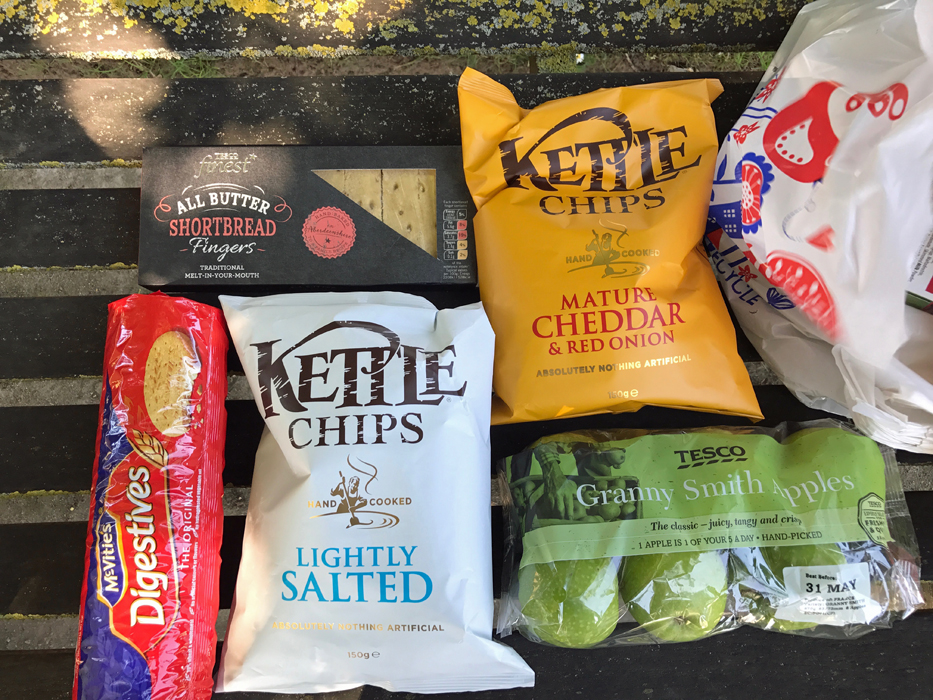 Lots of non-perishable snacks
We are not too much into snack foods when we're at home, but I knew that we'd need quick and easy things to pack in the car for outings and meals on the go. Digestives (similar to graham crackers) and apples were a regular staple. They were easy to transport and kept people going until we could get a real meal.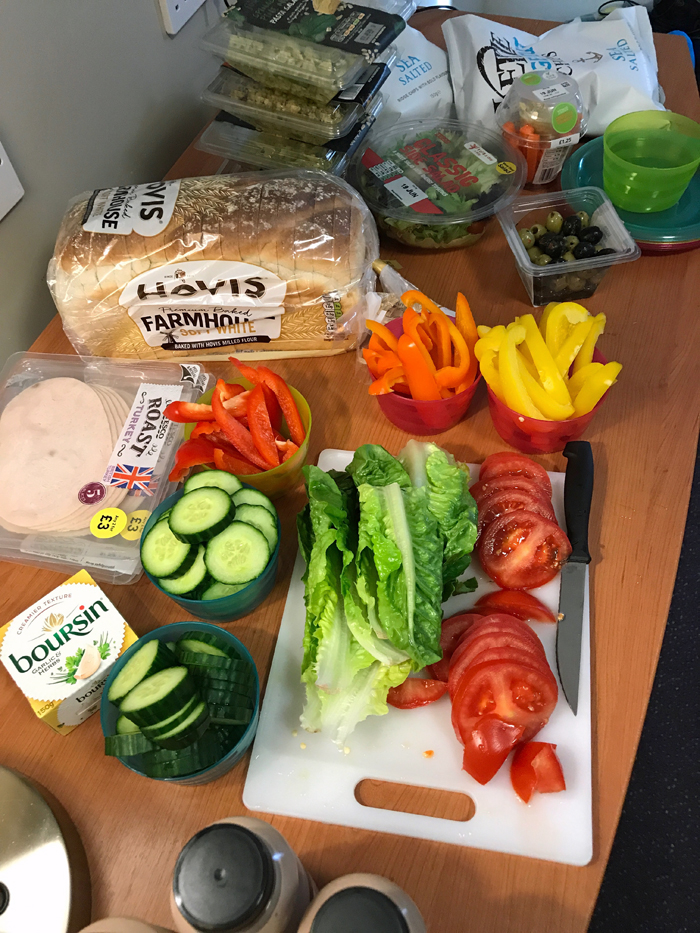 Sandwich fixings and picnic fare
We bought a cooler bag overseas since I forgot ours at home. Unfortunately, it wasn't as good quality as the one at home on the kitchen table. Ice melted quickly, so we only shopped for a meal at a time. Not the most efficient, but having food go to waste is one of our pet peeves.
A meal like this, with sandwich stuff, veggies, premade salads, and drinks ran us about 40 pounds ($51), about the same as a meal at a fast food restaurant without drinks. Despite the "strong dollar", things were still more expensive than at home.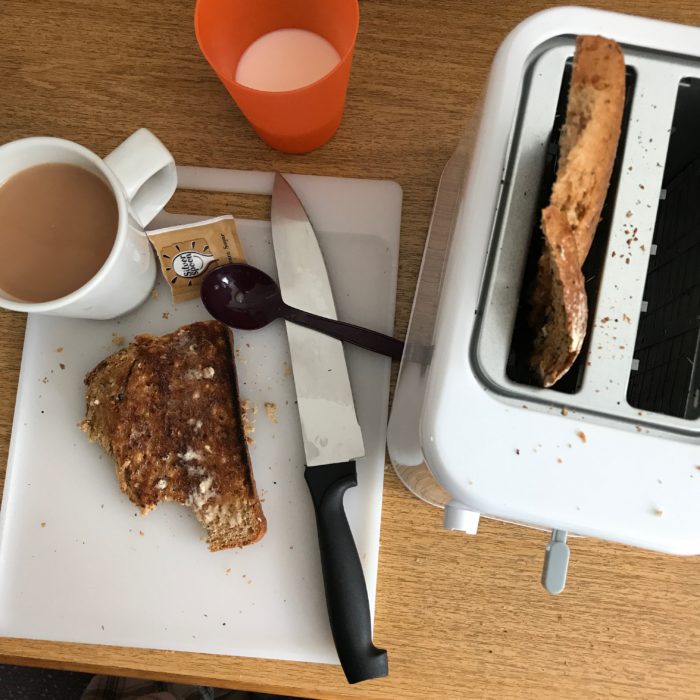 A toaster and breakfast stuff
One of my husband's brilliant ideas was to buy a toaster (5 pounds at Asda). Since our hotel rooms already had hot water pots, we could easily make tea, coffee, and toast or crumpets for breakfast. Along with apples, bananas, and other fruit, it was really all we needed. We had salted butter that didn't need refrigeration and occasionally bought a jar of jam.
I would do this again in a heart beat as it worked perfectly for our family. In fact, I may have to buy a toaster just to take on trips stateside! We only have a toaster oven at home….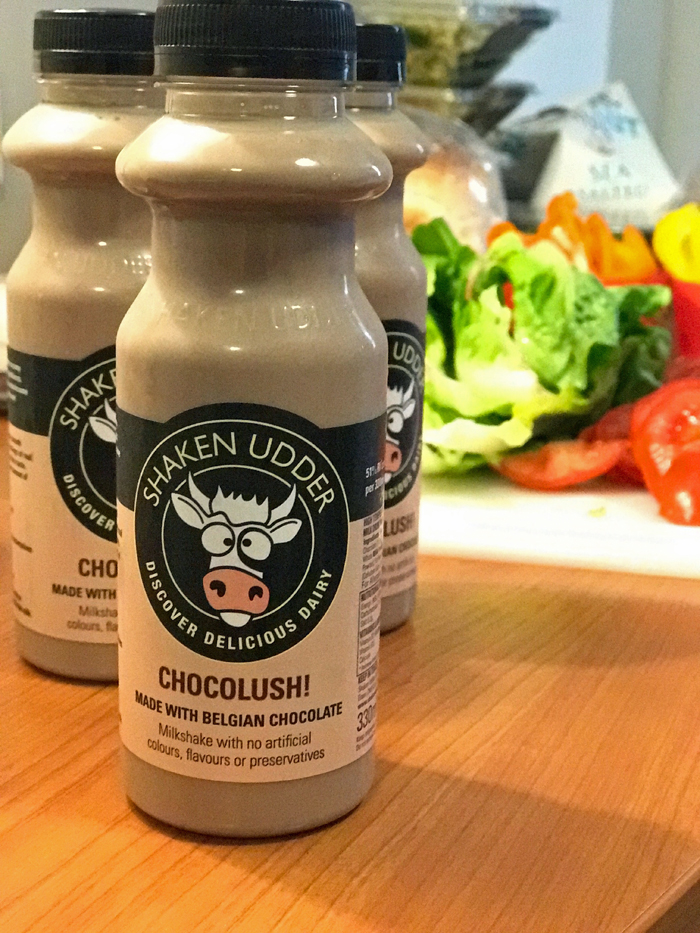 An occasional treat
Before we left, I scanned the grocery store websites so I'd have an idea of pricing. Since I've been supplementing at least one kid's caloric intake with chocolate milk, I searched that out, too. Did you know that chocolate milk is called a "milk shake" in the UK? Who knew?
We got a good chuckle at some of the brand names and so it became a joke that we needed to find the Shaken Udder milk shakes. We finally did for one of our last meals. Such a fun memory for the kids!
Where did we grocery shop in the United Kingdom?
Where did we shop? Pretty much everywhere. We traveled to the following cities: London, Cambridge, Stamford, York, Newcastle, Edinburgh, Dumbarton, Preston, Keswick, Llandudno, Telford, Bourton on the Water, Bath, and Oxford. For most of those cities we had access to a car, so we were able to load up and haul things easily on our adventures.
Stores where we shopped included: Sainsbury, Tesco, Waitrose, Londis, Asda (part of the Walmart group) and ALDI. By far, ALDI had the best prices, but like here, the selection, quality, and flavors of items were limited. Still, ALDI was my ace in the whole for saving money.
How much did we spend on groceries in the United Kingdom?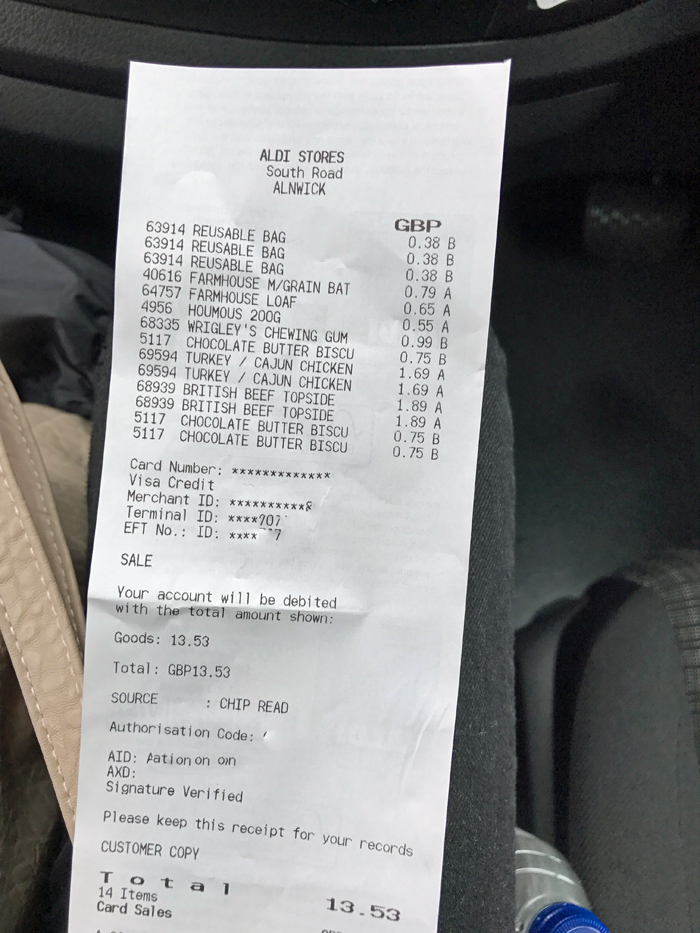 Thanks to a weak pound/strong dollar (which is it?) our money went a lot farther this time than when we traveled to Europe in 2014. Groceries were often quite affordable, if we shopped right. I didn't always have a choice of where to shop, so prices fluctuated based on the store we found on our route.
I ended up spending a little over $600 on groceries. However, our total food expenses were much higher. As you know, vacations involve dining out, trying regional specialties — yes, we ate haggis! — and sometimes having to choose something because time is of the essence.
For instance, when your daughter falls into the York moat full of stinging nettles in spitting rain and you're a long walk from your apartment? You just choose a restaurant so you can get everyone settled with dinner while you give her Benadryl and triage her welts in the bathroom which — lo and behold! — actually stocks paper towels, not something easily found in our travels.
Just saying.
So, in the interests of full disclosure, we spent $3607 on food for a month, including bottled water, toaster, plastic dishes, and Shaken Udder milkshakes. Yes, that's three times what we normally spend at home, but it was VACATION for a month for 8 people. I make no apologies. It works out to $15/person/day which isn't too shabby when you've got FOUR teenage boys, eating their way through the UK.
(For my Grocery Geek tallies, I'll be chalking $1200 toward our yearly grocery average with the rest absorbed by our vacation fund. Sound fair?)
So, that's the gist of it. We had a great time, ate well, and stayed under budget. I have a long list of recipes to test, inspired by our restaurant adventures in Great Britain, so stay tuned!