Summer salads are a great way to eat well on these hot summer days. Try out this Cannellini Bowtie Pasta Salad that comes together in a flash.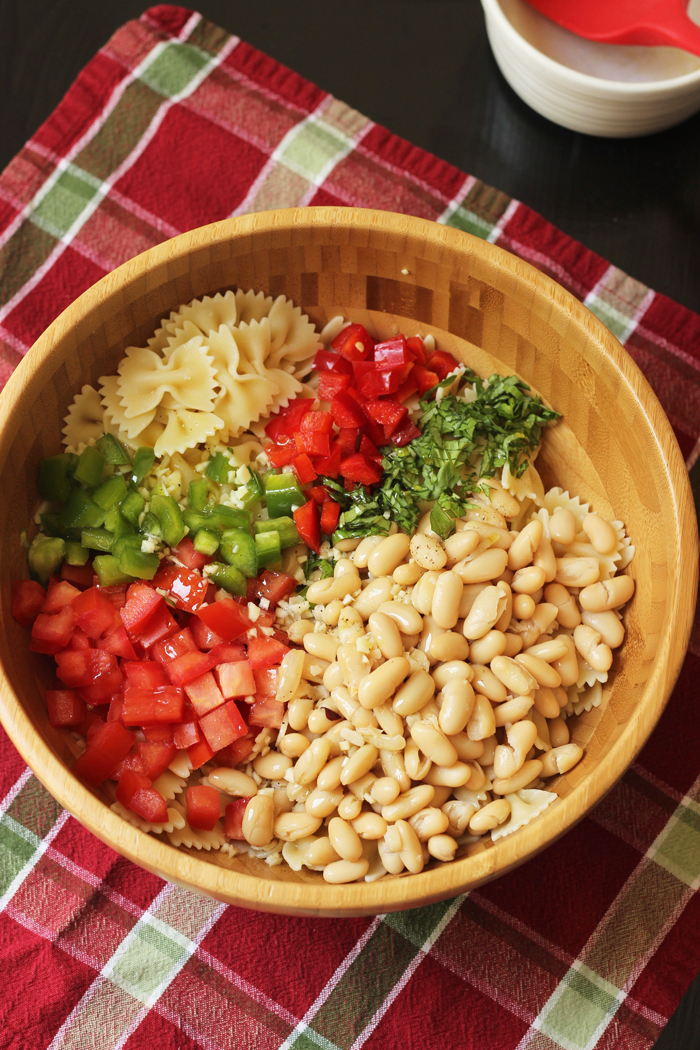 A few weeks ago I boasted how moderate the temps are here in San Diego. I spoke too soon. I should have known that would happen, right? The last few days have felt like our little piece of the map was picked up and squashed down somewhere in the midwest. Humidity does make things feel hotter. Even if the temps are still considered "moderate."
Whew, glad that's over. And my apologies for gloating. Seriously.
Hot, muggy weather calls for cool dinner salads. Yes, I know, there are people under your roof who balk at the idea of a salad being a meal. I know. But, I say do it anyway. Especially when you're making this salad. This Cannellini Bowtie Pasta Salad is packed with protein, a few veggies for good measure, and a rocking vinaigrette packed with flavor.
Keep a bowl of this in the refrigerator for serving as a cold lunch, light dinner, or even for snacking. It travels super well so you can easily pack it for school, work, or picnics. My husband loves to have a cold salad like this to snack on when he comes home from work at 3pm each afternoon. It's an ideal pick-me-up.
Best yet? The entire dish probably won't cost more than $2.50 to make, and it can feed a lot of people. Imagine how much we spend on restaurant food when we can make something fancy sounding like Cannellini Bowtie Pasta Salad for just a few bucks at home!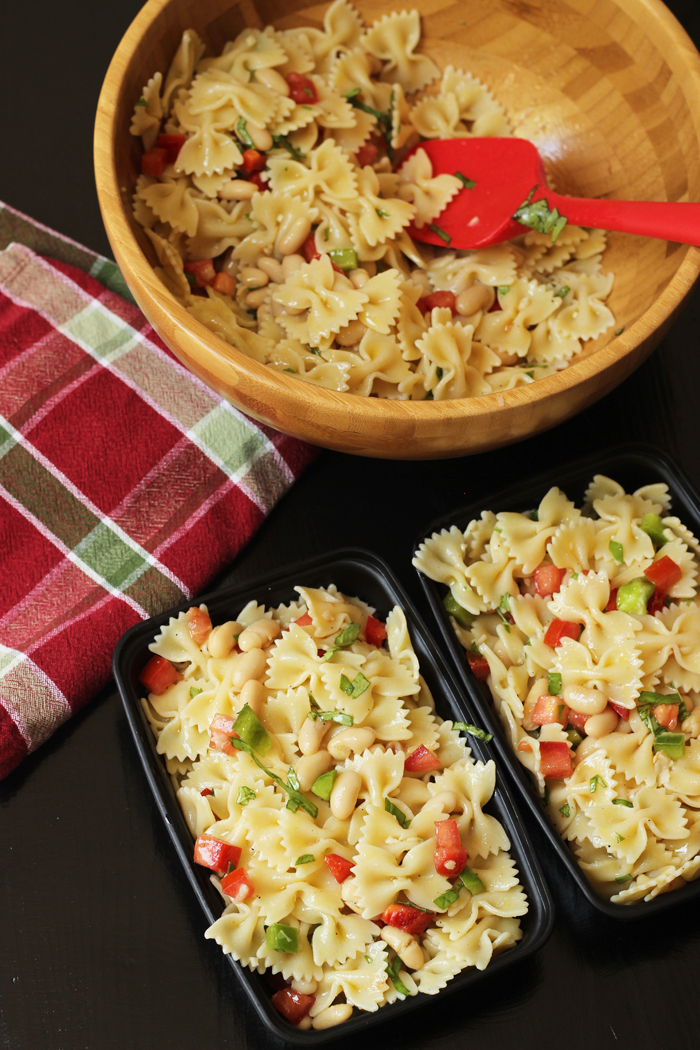 How I make this cheap:
This Cannellini Bowtie Pasta Salad is pretty economical by virtue of its being a meatless pasta dish getting its complex carbohydrate protein whatchacallit from the beans.
Here are some of the strategies I use to make this recipe even more affordable:
Stock up on ingredients when they are on sale! When I see a great price on pasta, I buy a lot of it. We almost always have a stockpile of noodles in the pantry. The same goes for canned beans and spices.
Take advantage of tomatoes and peppers in season. You'll enjoy better flavor and cheaper prices making this dish in the summer and fall. Be sure to ask the neighbors if they've got too much produce on their hands. Maybe they'll share. You can also grow your own.
Tools I use to make this recipe easy:
This is a pretty straight-forward dish. You don't need any fancy equipment to cook pasta! However, having some good basic kitchen tools can really make your time in the kitchen more enjoyable. Over time, I've honed my collection so that they are perfect for my needs. Here are the tools that I like to use in this recipe.
Cannellini Bowtie Pasta Salad
Summer salads are a great way to eat well on these hot summer days. Try out this Cannellini Bowtie Pasta that comes together in a flash.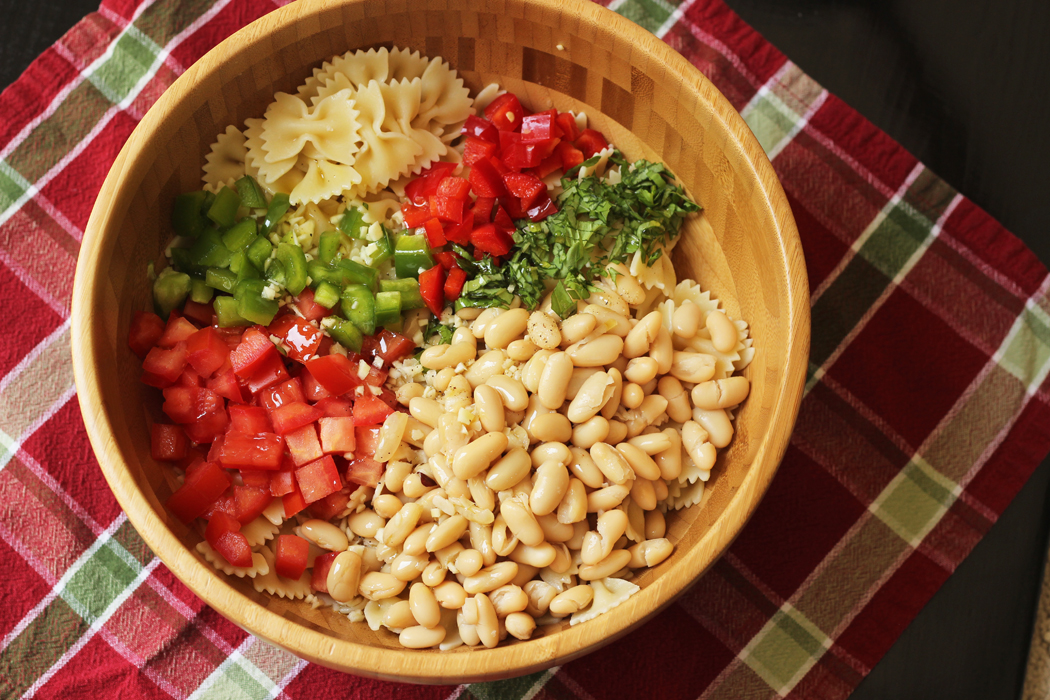 Preparation Time:15 minutes
Cook time:10 minutes
Total time:25 minutes
8 to 12 servings
Ingredients:
1 pound bowtie pasta

1/3 cup white wine vinegar

1/2 teaspoon kosher salt

2 cloves garlic, crushed

1/4 teaspoon black pepper

1/2 cup olive oil

15-ounce can cannellini beans, rinsed and drained

1 cup chopped tomatoes

1/2 cup chopped bell pepper, any color

1 tablespoon chopped basil
Instructions:

In a large pot of boiling, salted water, cook the bowties until al dente. Rinse with cool water and drain.
In a large serving bowl, place the vinegar, salt, garlic, and pepper. Whisk to blend. Add the olive oil in a thin stream, whisking to blend.
Add the pasta, beans, tomatoes, pepper, and basil. Stir gently to combine. Adjust seasonings, adding salt to taste.
Chill for several hours to allow flavors to combine.
Other summer salads to try: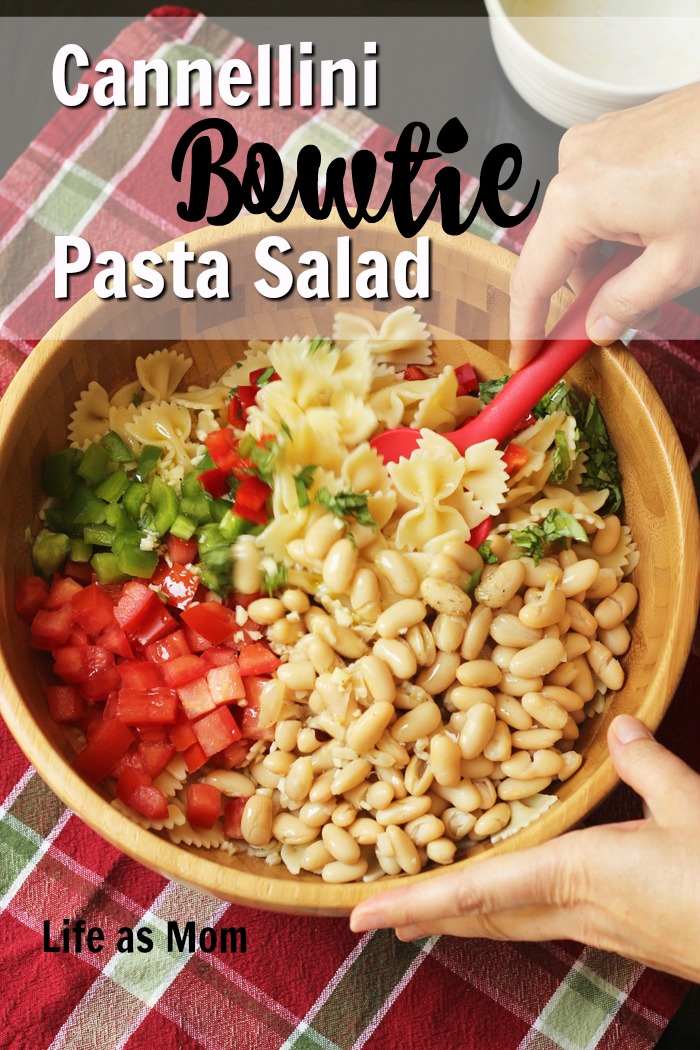 Originally published July 19, 2012. Updated July 10, 2017.