Make Taco Tuesday an easy feat when you prepare slow cooker taco fillings. These recipes are affordable, delicious, and simple to make in the slow cooker.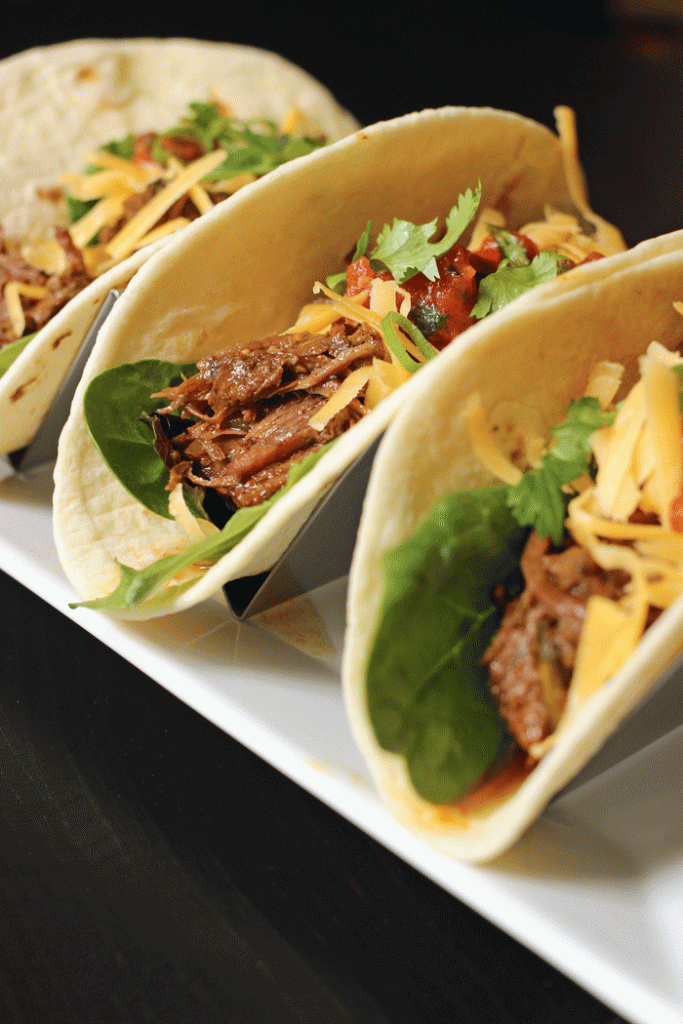 In 1990 I traveled to Minnesota to accompany my Granny back to California for a visit. While there, I made the rounds to extended family and one night made dinner for Gramma John, Aunt Betty, and Uncle Eddie. They had never had tacos.
That may seem odd to some. Who's never had tacos?!
The 90s were a different time and place, and while there were chains such as Taco John's, tacos had not quite entered the common lexicon. Or Gramma John's meal plan rotation. While it was difficult, it wasn't impossible for me to find flour tortillas to make Easy Chicken Fajitas for my family.
Taco Tuesday for the win!
Tacos are typically made by folding a variety of fillings and toppings into a tortilla or tortilla shell.
The Food Lover's Companion defines a taco as,
A Mexican-style "sandwich" consisting of a folded corn tortilla filled with various ingredients such as beef, pork, chicken, chorizo, sausage, tomatoes, lettuce, cheese, onions, guacamole, refried beans, and salsa. Most tacos in the United States are made with crisp (fried) tortilla shells, but there are also soft (pliable) versions. The latter are more likely to be found in the Southwest and California. Tacos may be eaten as an entree or snack.
I love reading definitions of things I've been eating weekly since childhood. Tacos are served both crunchy or soft at my house, and they're served at least weekly. You?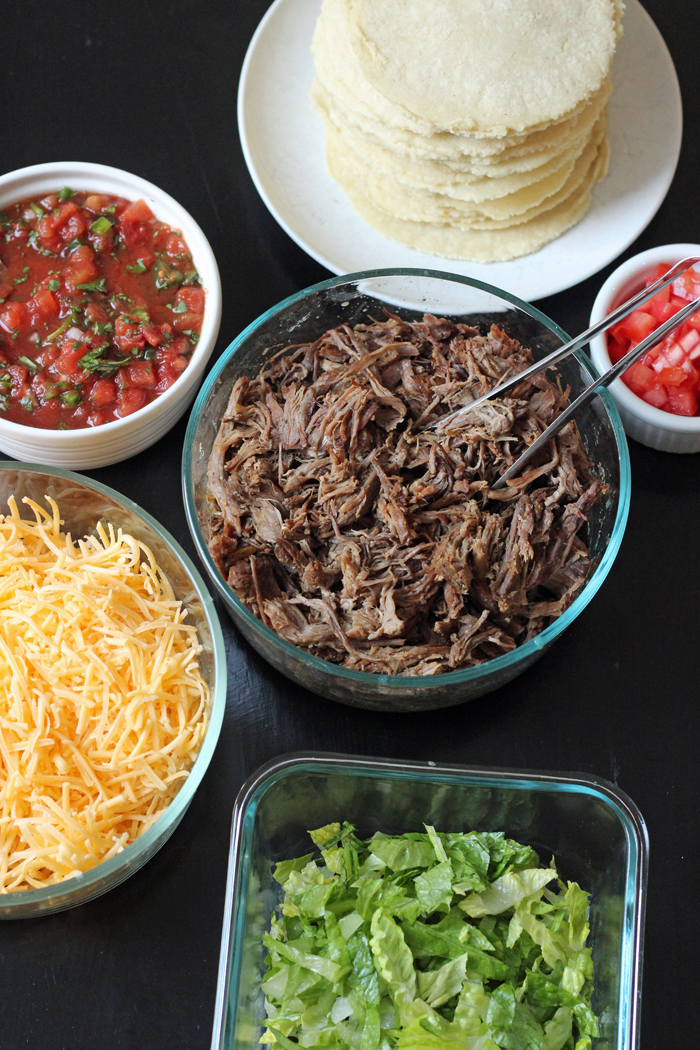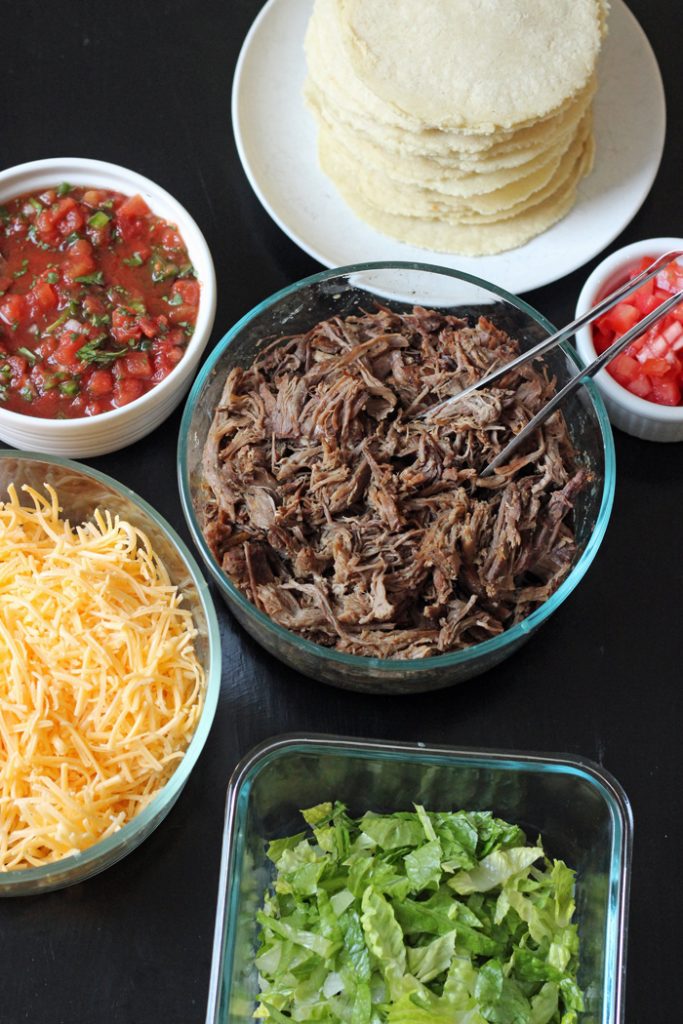 What do you fill tacos with?
You can fill tacos with any combination of cooked meats, beans, cheese, and vegetables, including but not limited to:
pork, turkey, chicken, or beef (shredded, chopped, or ground)
black or pinto beans or refried beans
shredded lettuce, shredded cabbage, baby spinach, or coleslaw
shredded cheese, such as Jack, cheddar, or a mix
chopped tomatoes
chopped onions or scallions
chopped cilantro
salsa or hot sauce
sour cream or cream sauce
guacamole or diced avocado
sliced olives
lime wedges
Can you make slow cooker taco fillings in advance?
Thankfully, taco fillings are some of the best things to make in advance. You can prepare an entire taco bar several days or hours in advance and then reheat the hot things right before serving. In many cases, you can freeze the meat or bean fillings several weeks prior to serving.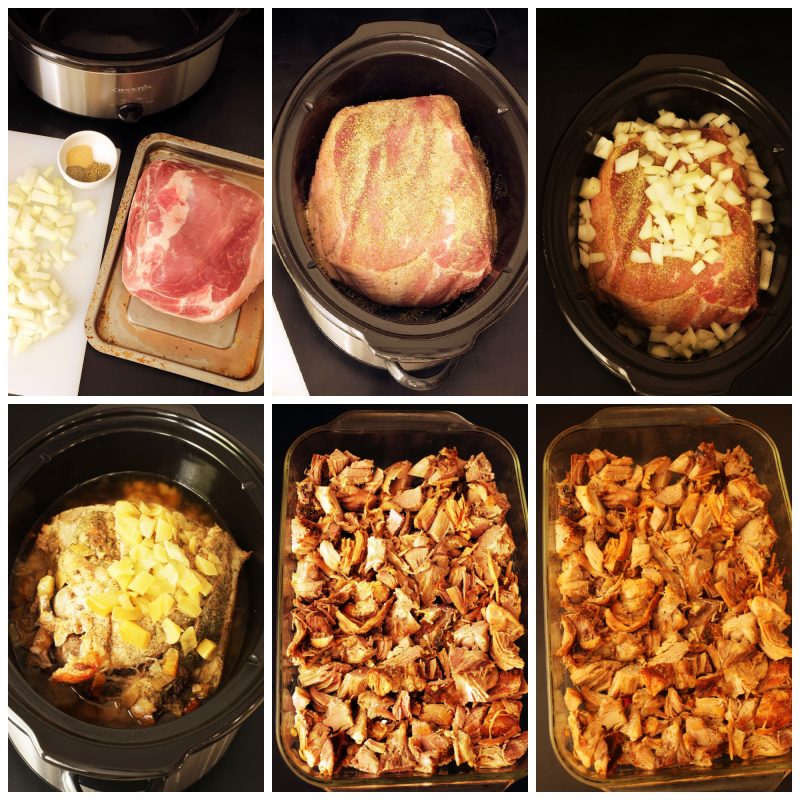 Slow Cooker Taco Fillings
While some taco fillings, like Carne Asada, are best grilled, there are a range of taco fillings that can be made in the slow cooker. This is particularly true for the tougher, but cheaper cuts of meat that take some time to braise and become meltingly delicious, like Pork Carnitas Tacos.
Scroll down for some of our favorites!
Can you put raw ground beef in a slow cooker?
You can put almost any fresh meat, such as raw ground beef, in a slow cooker, and it will cook. However, the texture and taste may not turn out as well as other cooking methods.
Most people are familiar with ground beef tacos and the desire to make it in advance in the slow cooker is a real one. That said, ground beef that is cooked in the slow cooker tends to have a more boiled taste and texture than what you get when you brown it in a skillet.
America's Test Kitchen recommends browning the meat before cooking it in the slow cooker. This browning step creates a chemical reaction between amino acids and reducing sugars, called the Maillard reaction. It gives your foods better flavor, particularly the slow cooked meats.
Personally, by the time I've done that for ground beef, the meat is basically cooked and why would I want another dish to wash? I'm okay with skipping the entire ground-beef-in-the-slow-cooker process.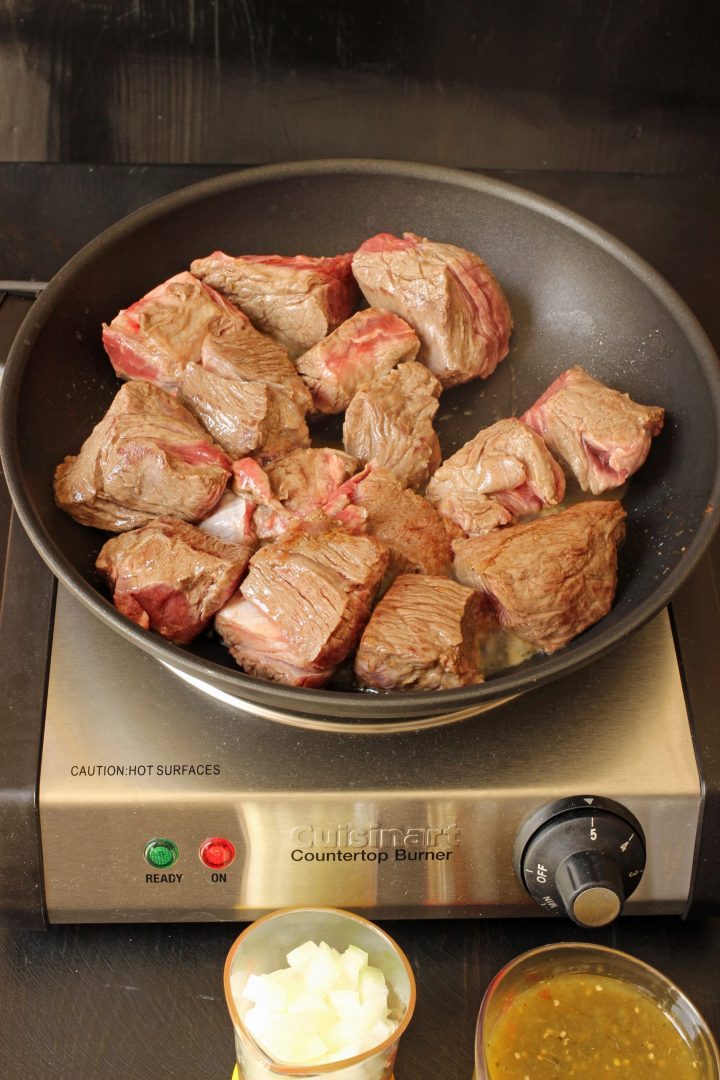 What happens if you don't brown meat before slow cooking?
If you don't brown the meat before slow cooking, your taco fillings will still be delicious. While I prefer this step for many dishes, I do skip it for large pork roasts that are too unwieldy to get in and out of the skillet and in and out of the slow cooker.
Can you freeze slow cooker taco fillings?
Many taco fillings freeze beautifully, including all cooked meats. It's best to chill the cooked filling completely before storing in the freezer. Be sure to label and date it so you know to use it within a fair amount of time.
Frozen food is good indefinitely when stored under zero degrees, but it's best to use them up sooner rather than later for best taste and texture. The USDA recommends these freezer storage times for cooked meats:
cooked meat – 2 to 3 months
cooked poultry – 4 months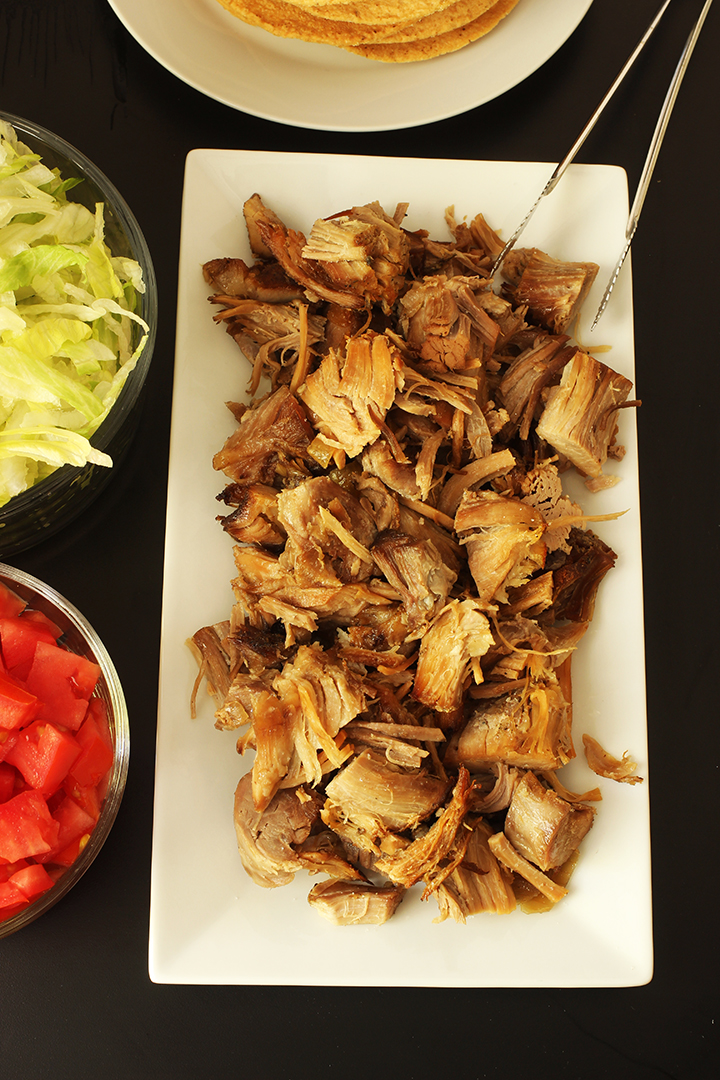 If you prepare this recipe, be sure to share a picture on social media and hashtag it
#GOODCHEAPEATS
. I can't wait to see what you cook up!
Taco Fillings You Can Make in the Slow Cooker