Whether you're preparing part or all of a holiday meal, baking bulk batches of cookies, or simply putting up some easy dinners, freezer cooking at the holidays can help you enjoy the season more and save time and money.
Pictured: Orange Cinnamon Rolls
It's a known fact that freezer meals can help you in your day-to-day.
When you've been run ragged all day, get stuck in traffic, and/or have a horrible, no-good, very bad day, it can be such a relief to come home to a meal all prepared and ready to go.
But, were you aware that freezer cooking at the holidays can make a huge difference in how you feel about those holidays and the spread you serve to friends and family?
Yessiree, Bob!
You can use freezer cooking to help you save time, money, and energy as the holidays roll around.
Freezer Cooking for the Holidays
Whether it's baking cookies or prepping pies to serve next month or even assembling a few freezer meals to give as gifts, freezer cooking is a strategy you should definitely consider as you plan your holiday kitchen work.
The more you practice freezer cooking, the more you will fall in love with your freezer. That is to say, when you put it to good use.
When you use it to store a hodge-podge of leftovers and half-empty cartons of ice cream, it doesn't do much for ya. Just saying.
Building a repertoire of freezer-friendly holiday recipes is in your best interest. And doing it now that fall has begun is a great idea!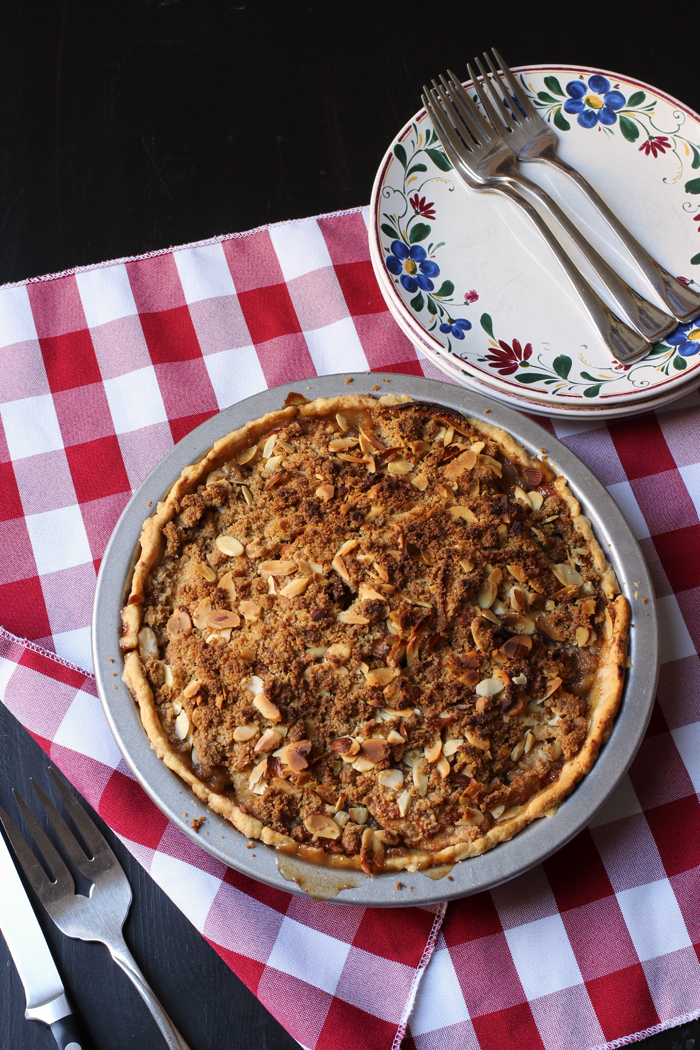 Imagine how peaceful your holiday season could be if your freezer was already filled with pre-assembled meals, meal kits, meal components, and baked goods?
Awesome sauce, right?
What can you make ahead for Christmas dinner?
There are so many delicious holiday foods that you can make ahead for Thanksgiving, Christmas, and New Year's. It's really a question of what can't you freeze?
I have some favorite holiday side dishes that I make weeks in advance so that I can free up my time later. These include:
mashed potatoes
cranberry sauce
mashed sweet potatoes
gravy
stuffing
green bean casserole
pie crust
and loads of baked goods
How do I prepare for the holidays early?
You can approach holiday freezer cooking in a couple different ways. You can take the sly approach and double dinner a few times a week for the next month or so. A double batch doesn't really wear you out, but slowly, but surely, you'll fill your freezer with easy meals to enjoy over the holiday weeks.
You can also do a full-blown freezer cooking plan that will set you up for weeks to come! It can free you up to do some "fun" cooking as well as save you time and money over the coming weeks.
Whatever approach you choose, now's the time to get a plan in order. Consider these steps to planning your freezer cooking for the holidays.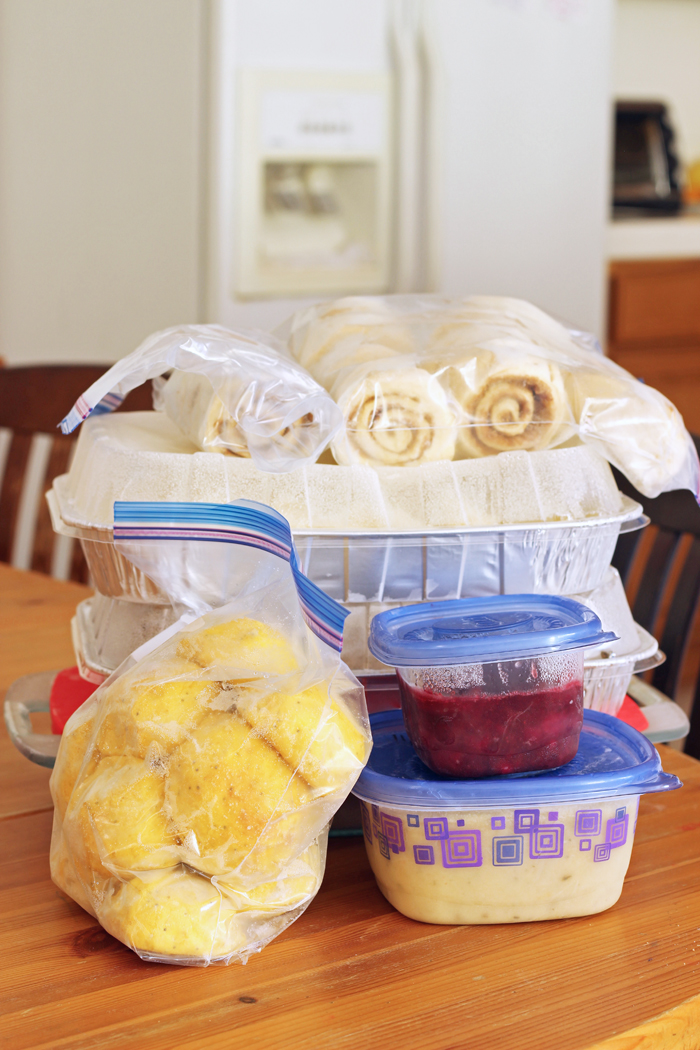 How to Fill the Freezer for the Holidays
Here's how you can use your freezer to make your holidays more enjoyable and allow you to eat well and spend less:
1. Take inventory.
What lurks in that freezer of yours? By taking an inventory of what you have, you can figure out what doesn't move very fast and avoid buying more of that. You can also start clearing it out to make room for the things you do want to keep on hand this holiday season.
Freezer space is valuable real estate! Freezer meals that your kids love and ample holiday goodies are like money in the bank for busy families.
Knowing what you have on hand allows you to build your menus around what you already have so that you don't make duplicate purchases or buy more food than you need.
Using what you have instead of buying more is a great way to save money.
Make a freezer inventory list and be sure to check things off after you use them so that you have a running list of what's on hand.
Once you know what you have, what you can use in future freezer meals, and what to use up quickly, you'll have a better sense of what you need to shop and cook for.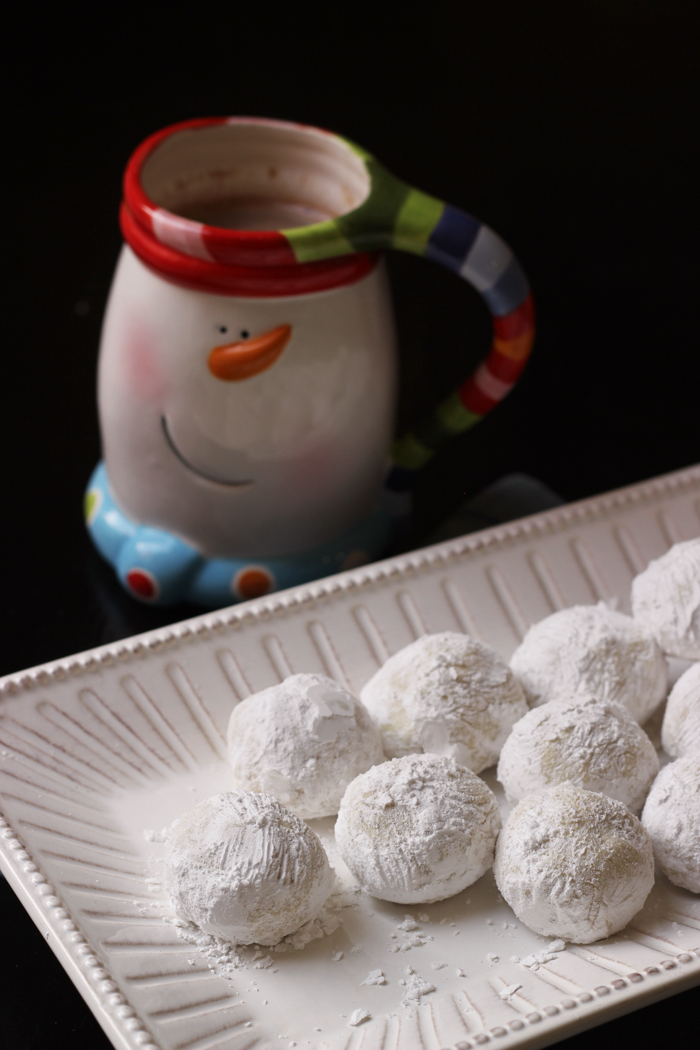 2. Determine your needs for the holiday season.
What kind of meals and celebrations will you hold this holiday season?
Are there special meals that you typically make in December that you could make ahead and freeze, in part or in its entirety?
Will you be so busy that regular meal prep will be difficult? Think about family favorite meals that you can make in triplicate and enjoy over the last month of the year.
Mashed potatoes, gravy, turkey, soups, rolls, sauces, desserts, and a number of Thanksgiving side dishes will all freeze well. Cookies, pies, cakes, and a myriad of other holiday desserts are also freezer-friendly.
Do you have lots of evenings when you'll get home late and need easy freezer meals? Do you like to have a variety of Christmas cookies on hand? Do you plan to host a big brunch this month?
All of these answers will help you think through what kind of cooking you'll need to do in the coming weeks and aid you to better plan out what you can cook and freeze.
If you know that you've already taken care of dinner or the cookies you're supposed to bring to the holiday party at work, you'll be less likely to buy pricier convenience options.
And less stressed.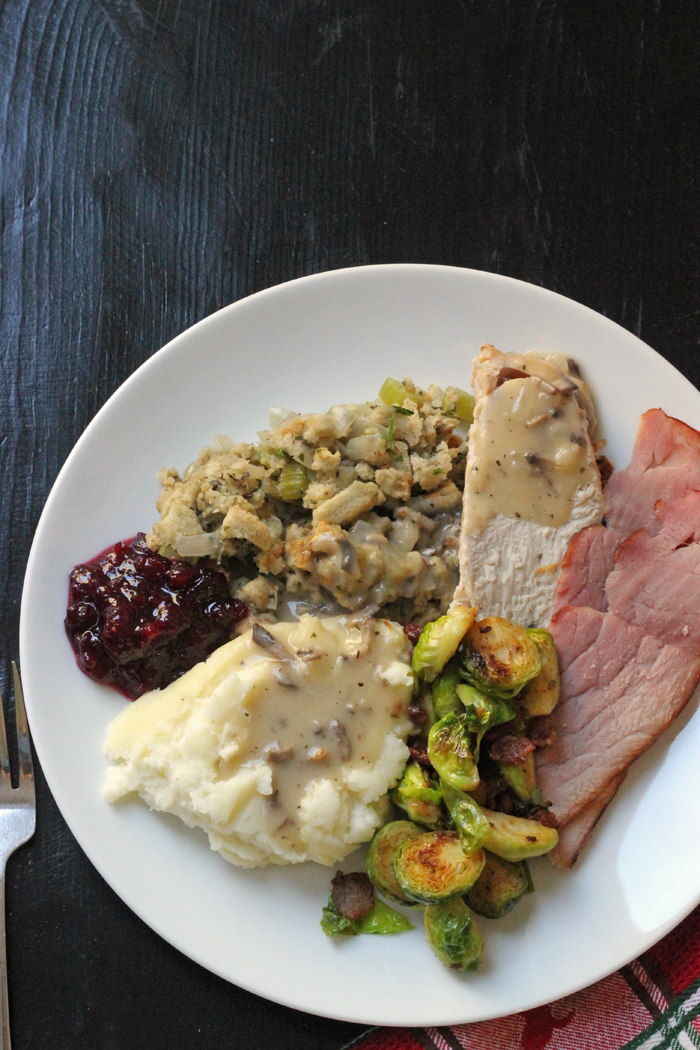 3. Set a budget and/or start saving.
The holidays cost more money. That's just a fact of life. If you don't already have a one, now's the time to make a Christmas budget.
If you plan to do a big freezer cooking session, you'll need to a buy a load of groceries upfront. This involves shelling out a largish amount of money at one time, so plan accordingly.
Either set a budget so you don't spend more than you should and/or start setting aside the funds so that you have the cash on hand when you need it.
Check out this post for more help: Tips for Budget-Friendly Holiday Meals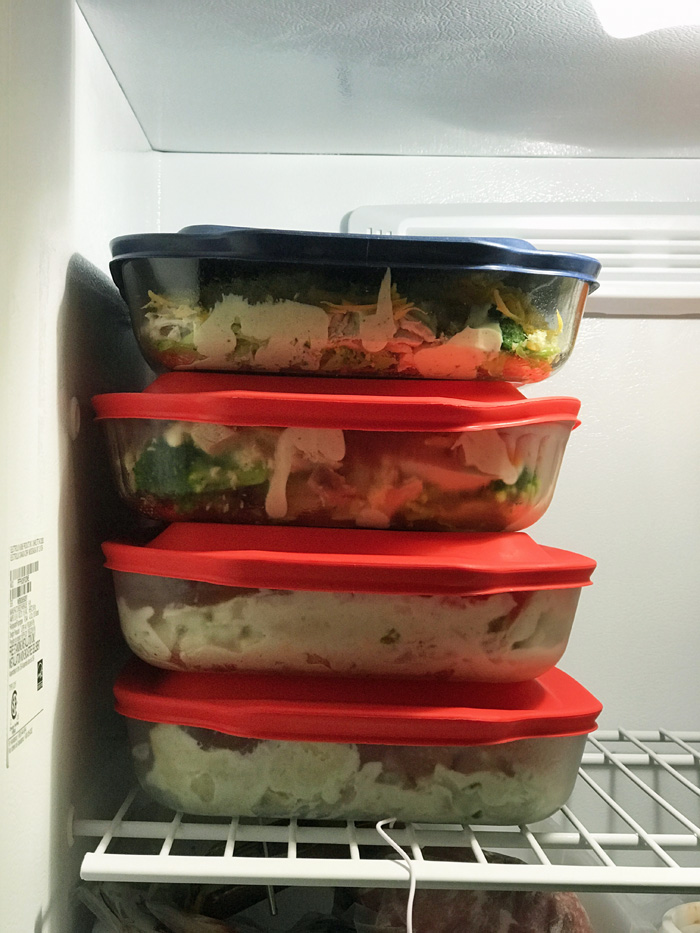 4. Get cooking.
Once you decide what you need to cook for the next few weeks, create a plan to cook and freeze.
You can do this in a number of ways:
double dinners for a week and build a stockpile in the freezer
do a big batch of something (like tamales, pasta sauce or cookie dough)
cook for the whole month, spending a day to do so, but reaping a lot of time off in the weeks to come
spend a few hours baking up a storm and freeze what you bake
Cooking ahead will save you money and time because all your actions (planning, shopping, and cooking) are multi-purpose. You stay out of the stores, shop more efficiently, and spend less.
Plus, in the following weeks, you'll have a storehouse of great foods to draw from, whether for a regular weeknight or a special occasion dinner.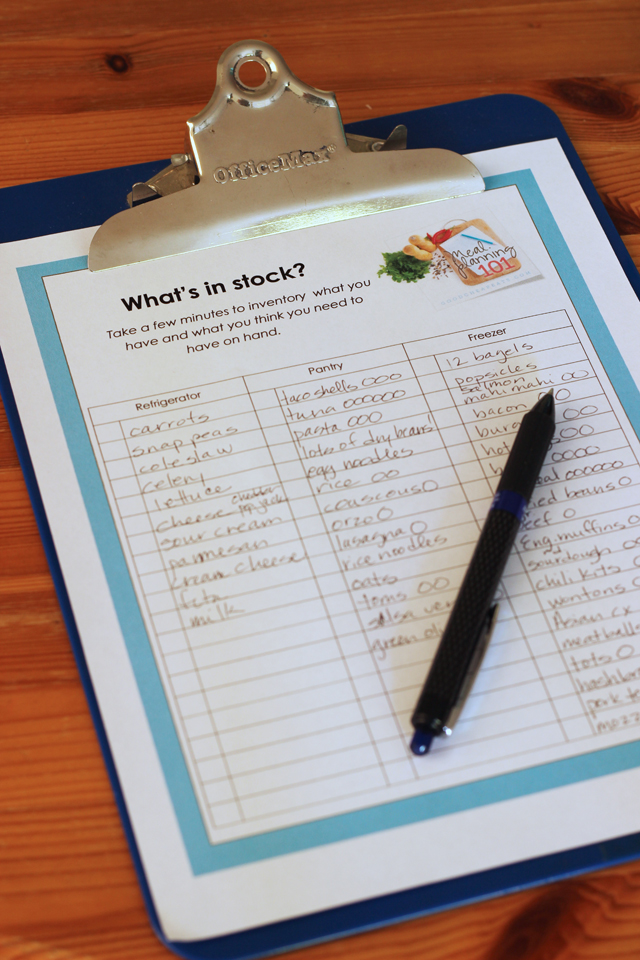 5. Keep track of what you have.
As you fill the freezer with new meals and desserts for the holidays, be sure to add these items to your inventory.
These wonderful meals and goodies will do you no good if you forget that you have them! Not only will you miss out on the enjoyment of them, but you'll also spend more buying replacement items you don't really need.
Remember not to get too carried away. You may not need 12 different kinds of cookies this year. As you create your inventory, consult your calendar to make sure your supply matches your needs.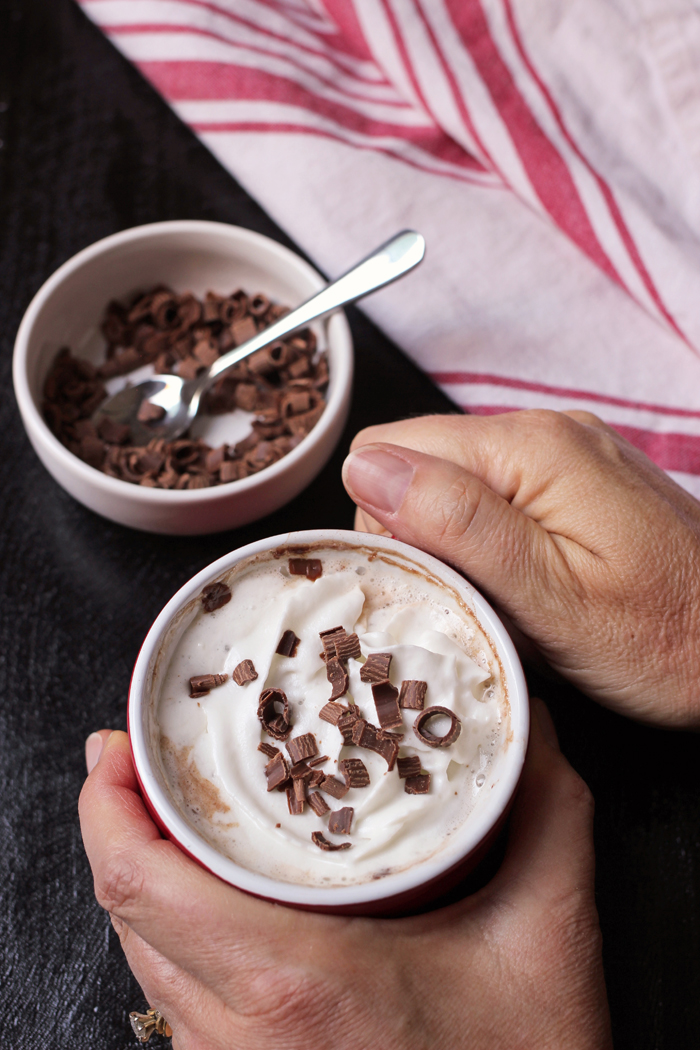 6. Relax.
Once you've built your holiday freezer stash, put your feet up!
You'll enjoy time off kitchen patrol in the coming weeks. You'll enjoy the holidays so much more. And you'll save some money while you're at it.
Not sure how to pull it off? Let me help!
In just a few weeks, I'm going to be running this year's Celebrate Simply Workshop.
Ease your holiday stress!
We'll work together as you create a plan for the holidays that has less stress and more good eats!
Through a printable Holiday Success Kit, a private chat group, group coaching, and 5 live video calls, I'll show you my best tips and tricks for planning the holiday that fits your priorities.
Learn more here.