Make brown-bagging it tasty and economical with these delicious Tuna Pita Pockets with Cucumber. Canned tuna never tasted so good.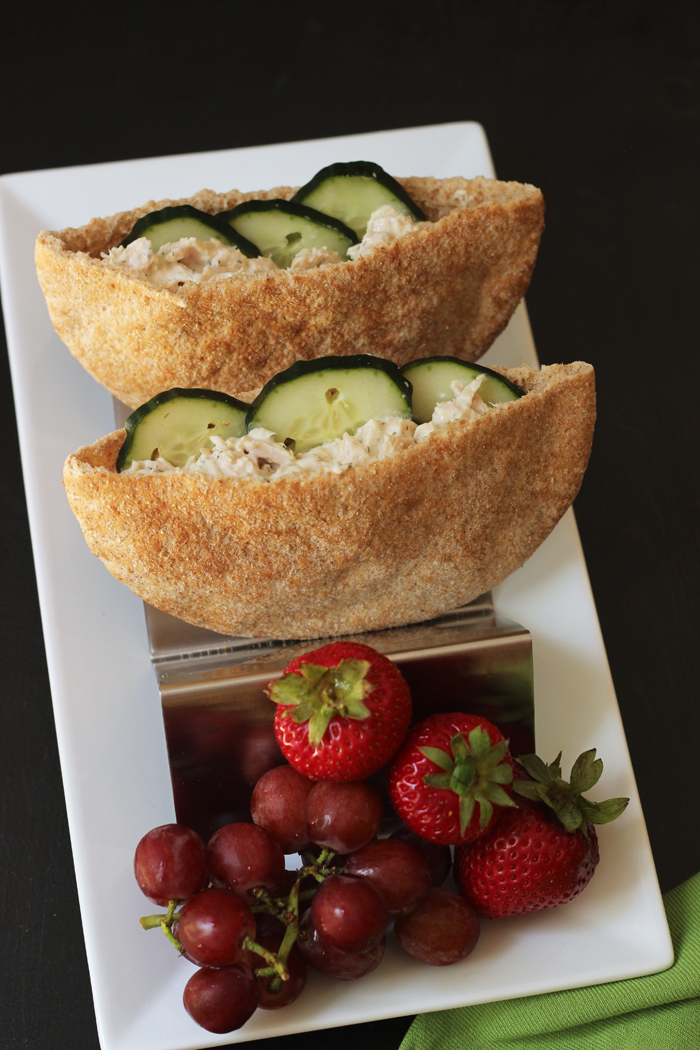 When we were in England, one of our go-to "fast food" restaurants was a chain called Pret a Manger. It's not really fast food, but it's quick and easy, ready when you walk in the door — and best of all, it's fresh food, like salads, sandwiches, soups, things you and I both know are great make-aheads. Everyone in our family found their favorites; I vacillated between the Posh Cheddar and Pickle and the Ham and Greve Cheese.
One of my husband's regular choices was the Tuna and Cucumber served on baguette. He loved that combination and made me promise to share a version of it here. And you know I love turning a can of tuna into a meal.
I grew up packing tuna salad sandwiches to school. Most kids probably did. Only my lunches were considered weird because my mom spooned the tuna salad into pita breads and stuffed it full of alfalfa sprouts. Weird or not, I didn't care. Those sandwiches were some of my favorites!
So, I've taken Bryan's Pret sandwich and morphed it with the one good old mom used to make.
Reason: a lot of the baguette you buy here in the States is so dense that salad fillings ooze out of a sandwich before your teeth can break through the outer crust. You know what I mean? Turkey and roast beef and even pan bagnat fillings tend to sit tight, but egg and tuna salads tend to have a mind of their own.
IMO, tuna salad should stay in the sandwich until it gets in your belly. So, pita bread it is! Feel free to try the baguette if you like or regular sandwich bread.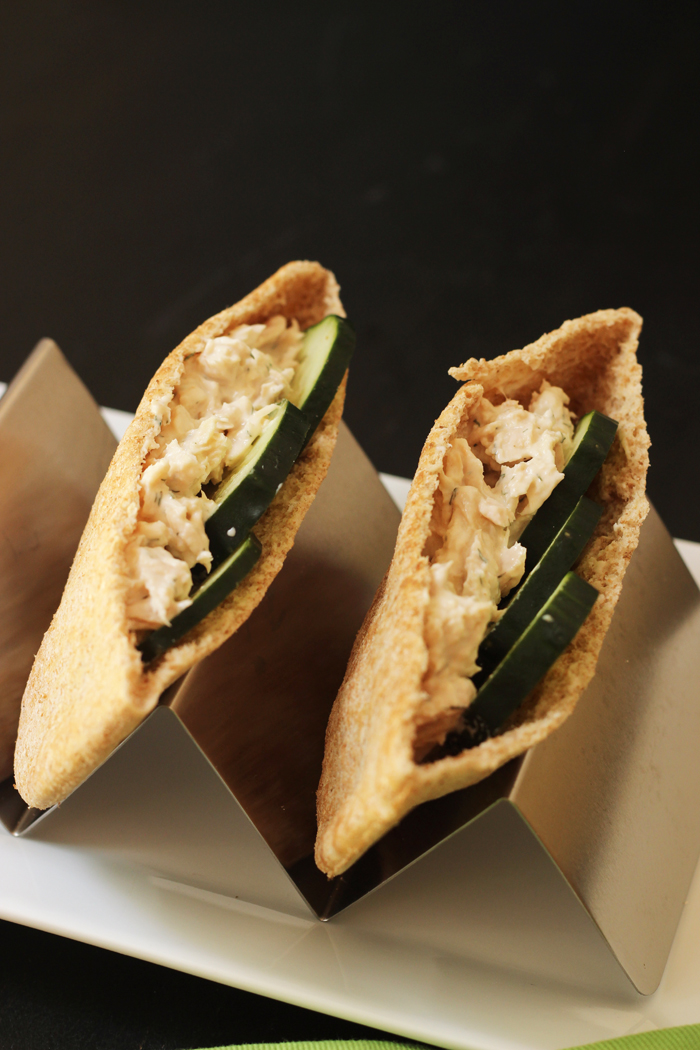 How to make this good and cheap:
Here are some of the strategies you can use to make this recipe more economical:
Stock up on ingredients when they are on sale. Canned tuna and pita breads are your big ticket items here. Stock up when you see a good sale.
Shop at Costco. When I did

my big grocery store showdown, I learned that Costco has the best price for a lot of the things I buy, plus they sell all the ingredients needed for this recipe. I am partial to their Kirkland Albacore tuna because it doesn't contain soy as many commercial brands do.
Make your own mayo. Homemade mayonnaise is so yummy and so easy to make!
How I make this recipe easy:
This recipe really couldn't be easier than it is, but having the right kitchen tools can really make your time in the kitchen more enjoyable. Over time, I've honed my collection so that they are perfect for my needs.
Here are the tools that I use for this recipe:

Tips for packing Tuna Pita Pockets
I love packing lunch in advance. It takes so much pressure off. Last year I started making a week of lunches for my husband and I on Sunday nights. The kids and I have been talking about the idea of our doing that for everyone's lunches this year. We'll have our very own Pret!
If you're going to pack tuna pita sandwiches for the road, then there are a couple things in mind. It will make your bread soggy. Sometimes this isn't a bad thing, such as in the case of the aforementioned baguette or when you use hearty sourdough or whole grain bread or make the sandwich on lightly toasted bread. However, in the case of Tuna Pita Sandwiches, the pita bread will soften rather quickly.
How Do I Prevent The Tuna Pita Pockets From Getting Soggy?
Pack the tuna salad and cucumbers separately from the pita bread and assemble right before eating.
Line the pita pocket with lettuce to act as a barrier between the salad and the bread. This is the role that my mom's alfalfa sprouts played in my childhood sandwiches.
Add a breath mint to your lunch. Just saying.
Tuna Pita Pockets
Make brown-bagging it tasty and economical with these delicious Tuna Pita Sandwiches with Cucumber. Canned tuna never tasted so good.
Ingredients
Two 12-ounce cans solid white tuna in water

drained

3/4 to 1

cup

mayonnaise

or more to bind

1

teaspoon

dried dill

1

teaspoon

garlic powder

1

teaspoon

onion powder

pinch

cayenne pepper

salt and pepper

4

pit breads

cut in half and opened into pockets

1

cucumber

preferably English, thinly sliced
Instructions
In a mixing bowl combine the tuna, mayonnaise, dill weed, garlic powder, onion powder, and cayenne. Season to taste with salt and pepper. Fold gently until tuna has broken up and mayonnaise and spices are incorporated throughout.

Divide the salad into the pita bread halves. Add cucumber slices down the sides of each sandwich. Serve immediately.

If making these sandwiches to pack, divide the tuna salad into four containers with lids. Refrigerate until ready to serve. Assemble right before eating.
Nutrition Facts
Tuna Pita Pockets
Amount Per Serving
Calories 385
Calories from Fat 45
% Daily Value*
Fat 5g8%
Cholesterol 71mg24%
Sodium 944mg41%
Potassium 581mg17%
Carbohydrates 33g11%
Protein 45g90%
Vitamin A 105IU2%
Vitamin C 2.4mg3%
Calcium 87mg9%
Iron 2.7mg15%
* Percent Daily Values are based on a 2000 calorie diet.