Be prepared for flu and cold season by stocking your pantry with comfort and healing.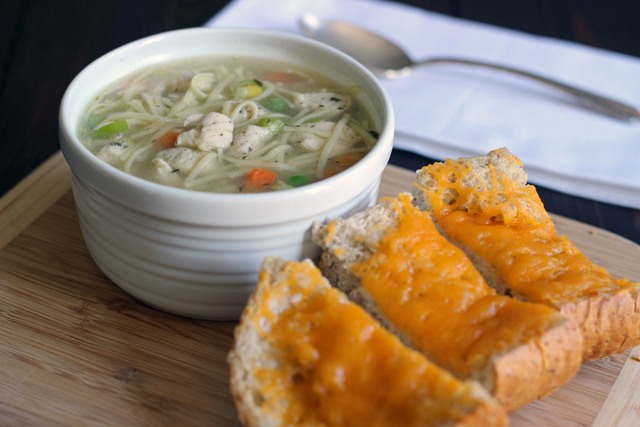 The irony is not lost on me: during the Pantry Challenge, we ate up our supply of saltine crackers, frozen orange juice, and chicken broth. And then five kids and I came down with the Head Cold of the Century.
It all worked out. The money I saved during the challenge went toward buying comfort foods and items rich in Vitamin-C. The month will be a wash, but I learned a valuable lesson.
Keep a small stock of foods to treat cold and flu.
At least during cold and flu season!
Just as I have an emergency stash in case of earthquake, I think it is wise to have some basics on hand, and perhaps stored separately from the regular food, so that folks in the house don't eat it all before we really need it.
In the coming days and weeks, I'll be looking for sales on items that I can keep on hand in the event of illness. Here's my list:
Real foods to stock up on in case of illness:
chicken broth and noodles to make soup
orange juice (boxed or frozen)
applesauce
juices to make homemade sports ade and popsicles
saltine crackers
rice
lemon juice – hoping to strip my dad's tree, juice it all, and freeze it.
honey
herbal and green teas
Emergen-C – this is a great price on Amazon, especially with Subscribe and Save! (that's an affiliate link, by the way)
acetominophen or ibuprofen
throat or cough drops
What would YOU add to the list?