Homemade popsicles are easy to make, fun to eat, and so much better for you than commercial brands! You can save money and make your own all summer long.
Across the bulk of my parenting years, popsicles have been relegated to the times when my kids have been sick or when I could pair a coupon with a great sale and get the things for practically free. Yeah, no ice cream truck for these kids.
FishPapa is usually the good cop in our scenario, so he's occasionally grabbed the fruit kind at the store. Unfortunately, the "fruit kind" are either really, really expensive or they aren't really fruit. There's still junk in them.
For years I envied those Pinteresty popsicles that I saw, wondering if I should spend the money on the expensive molds. Gramma Ruthie even gave me one of these metal ice pop molds years ago, and I gave it away because I couldn't make it work for me. Forget the fact that I had four kids seven and under and was lucky to get a shower, let alone make homemade ice pops.
Last year when I started to get serious about reducing our sugar and still eating fun food, I bought a set of molds at Walmart. They looked like this: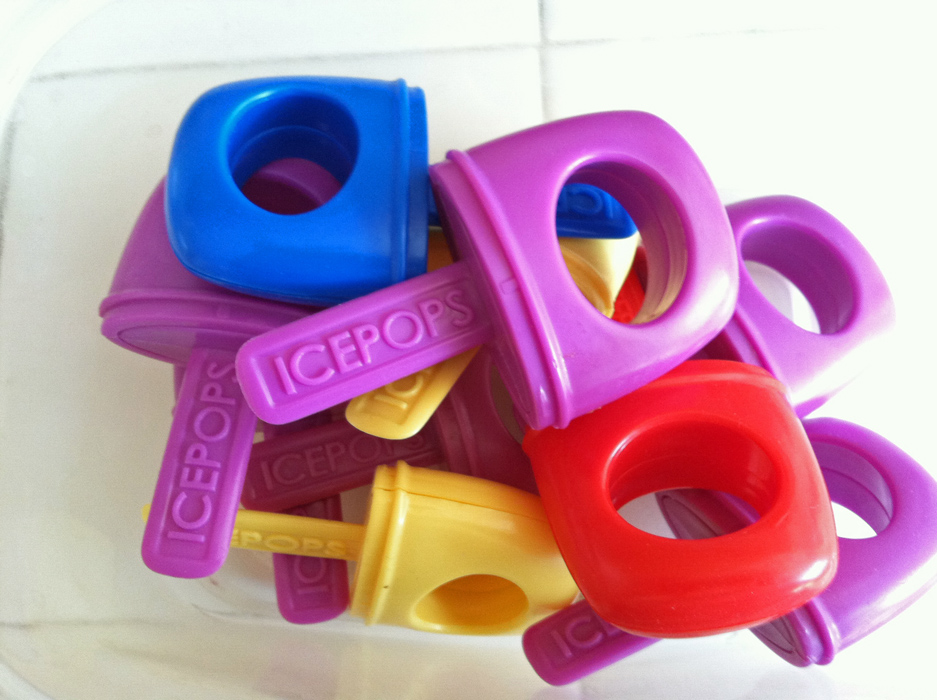 We made some homemade ice pops, but it was really frustrating when the stick would slide out of the pop, no matter that I had run the mold under warm water, yada yada, yada.
What was wrong with me?
This past spring, I started looking at fancier molds. I read lots and lots of reviews. I also found the Tovolo brand of molds that I really like and that I could afford.
The stick is the trick.
What I learned was that there needs to be a hole in the stick, if you're using plastic. If there's no hole in the stick, then the liquid can't really cling to the stick. When you pull, the stick will come out and your ice pop will stay behind, a frozen wasteland in a plastic mold.
Wooden popsicle sticks are porous, absorb a little liquid, and freeze to the stick. Plastic can't do that without holes.
I bought two sets of BPA-free molds that are awesome: these and these. And then I had FishPapa retrofit the other plastic sticks I owned. A man and power tools is a beautiful thing, ladies. Never forget that.
Now we are in homemade popsicle making business, people!
Another trick I learned? The liquid that you use must be liquidy enough to seep through the holes. Do not try to pour very thick smoothies into your ice pop molds. Might work if you're using wooden pop sticks, but it doesn't work with the plastics. You want the pop mixture to easily flow through the holes of the stick.
OK, so, you've got your molds, right?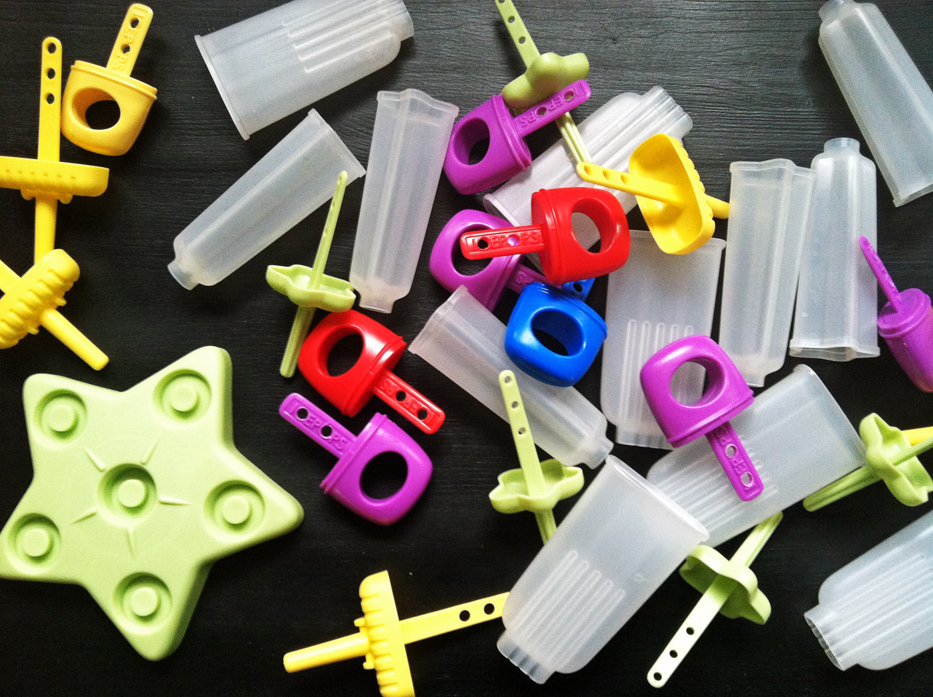 Yes, that is a lot of molds. Do you know how quick SIX KIDS go through a supply of ice pops? I gotta buy myself some time, you know.
If you don't want to buy the molds, that is fine. Just go old school and use paper cups and wooden spoons. Ice cube trays work, too.
Make homemade popsicles!
Now for the pop mixture. I've found that pretty much anything's game, so long as the liquid is tasty and thin enough to seep through the holes.
We've poured lemonade and juice into the molds.
We've blended fresh fruit with a bit of honey to make our own "fruit kind".
We've layered yogurt with fruit puree for fancy swirl pops.
Got leftover smoothies or milk shakes? Pour it into a pop mold.
There are even more options in the ice pops chapter of my cookbook,Best 100 Juices for Kids.
Keep in mind that things will taste a bit less sweet once frozen. Experiment until you find the flavor combinations you love.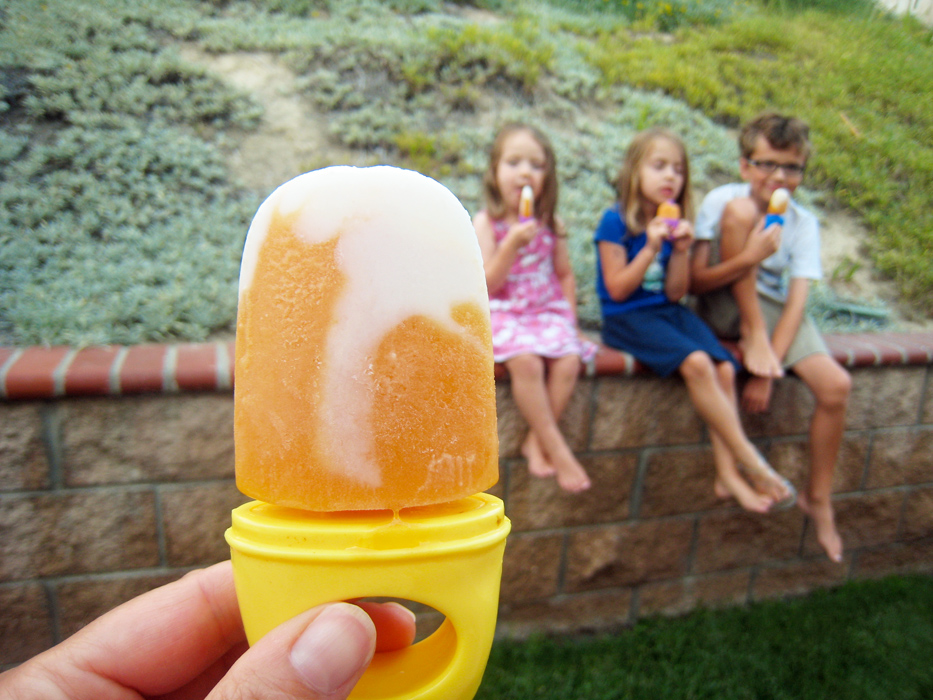 Some popsicle recipes to try:
Got a favorite recipe for homemade popsicles?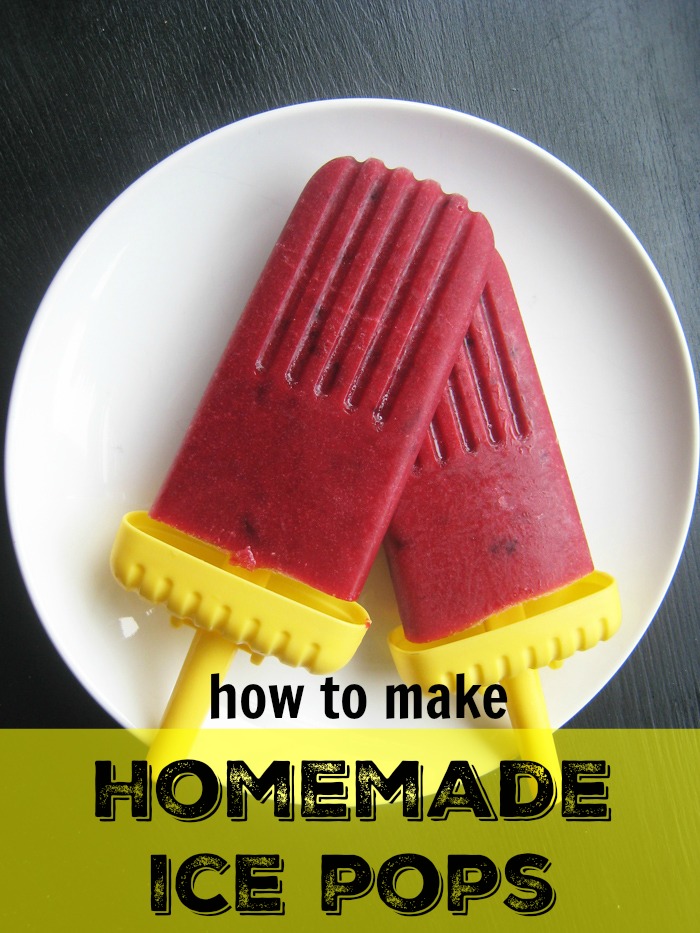 Disclosure: This post does include affiliate links. If you make a purchase through those links, I am paid a small amount in way of advertising fees.
Originally published June 22, 2013. Updated in 2016.
Want more ideas for summer fun on the cheap? Check out the DIY on a Dime: Summer Fun series.

I know what we're gonna do this summer.