Doing a Pantry Challenge is a great way to save money and prevent food waste. But, if you're left with an empty cupboard at the end of the month? How do you refill the pantry without going over budget next month?
When you do a Pantry Challenge, you're focusing on eating down the pantry. Perhaps you've found some great deals over the last few months. Your little cupboard not only holds food, but it also represents an investment of your time in frugal grocery shopping.
As the cupboard starts to go bare, you might feel a little like Mother Hubbard. More importantly, you might wonder, how will I refill the pantry without going broke?
How to Refill the Pantry after a Pantry Challenge
This can be a little nerve-wracking, particularly for bargain shoppers who put their shopping on hold.
What if? What if you have to pay full pop for some items because you've used up all your reserves and haven't been constantly buying, buying, buying?
What if you miss some great deals this month because you're using up what you have and staying away from the store? It could happen, couldn't it? What if?
Well, here are a few things to consider:
The Six Week Cycle
Manufacturers and grocery stores offer items on sale every 6 weeks or so. Chances are if chicken breast is on sale this week, it will be on sale again sometime in the next 6 weeks. It's not a once-a-year opportunity.
Good deals can be had almost all the time. Sure, some deals are better than others. But, usually, if you shop the sales, you can refill the pantry on a budget in no time.
Stock Rotation
A good grocery store practices this all the time. When they restock the shelves, they move the current stock to the front and place new items in the back. This is called "rotating the stock" and ensures that food is bought and used before it goes bad.
You should be doing this in your own kitchen. Use up things that have been there awhile. A good deal is no good deal if it rots before you can use it.
While canned goods don't necessarily "rot," they do lose texture and quality over time. So make sure you're using up what you have before the expiration dates. You don't want to refill the pantry in a big way until you've moved out the old stock.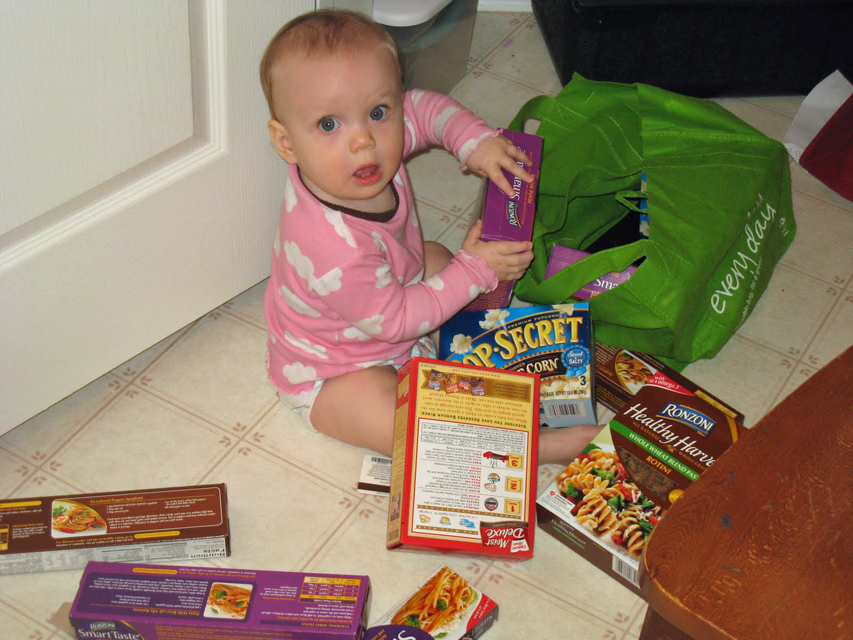 Creativity
Sometimes it's really good to get your creative juices flowing and see how far you can stretch things. A Pantry Challenge is like a real life game of Chopped.
You'd be amazed at how easy it is to make a huge pot of soup from very few ingredients. Necessity is the mother of invention. Sometimes we find our best solutions when we're pushed beyond our comfort zones.
Cooking from what you have may help you discover some menus your family will adore.
Enough is as Good as a Feast
There are a number of lessons to be learned from Ma Ingalls, but this is probably my favorite that I've carried around with me in this "More, More, More! Society." It's all too easy to hoard things that we never use.
Why am I yearly able to give away a truckload of household goods to The Salvation Army? Because we have too much stuff.
And often, that applies to my kitchen well. Many of us hoard things away based on fears. Not only can it be unhealthy, but it also prevents us to rest in contentment. Having enough really is as good as the excess to which we've become accustomed.
Do It Your Way
The most important thing to remember about a Pantry Challenge is that you get to set your own goals.
Maybe you'll still allow yourself to pick up the good deals, but you're going to focus on what you already have? Maybe you want to be Mother Hubbard (with a bare cupboard) on January 31 and are happy to start fresh come February 1st. Maybe you'll limit yourself to buying a few items that you know you will want in the coming months. You get to choose!
And, while I have some of the same fear that I will "miss a good deal," I know from experience that good deals are plentiful. I confess, this week's grocery trip caused me a little fear and trepidation. Extra lean beef and chicken tenders were on sale for $1.88/a pound! Normally, I would have bought five packages of each. But, I knew you were watching!
Since I knew I was having company, I allowed myself to buy one package of each for our joint family meals. I stayed under budget, and still got "the thrill" of a great deal. Obviously, I'm still going to grocery shop in January and I'm definitely going to give preference to those items that are "practically free," but I'm going to focus on what we have and try to reduce my grocery spending in January.
Are ya with me?