Are you slowed down in the kitchen because you don't have the right equipment? Here are 25 best kitchen tools that make life easier.
I know people who brag about being minimalists in the kitchen. I'm not sure how they cook all they cook.
Yeah, I know, all you need is a good knife. BUT, it sure can help you out if you've got some great kitchen tools that really make cooking and life in the kitchen easier.
Over the years I've bought all kinds of gadgets or received them as gifts. Some have proven to be worth their weight in gold, while I've also watched many kitchen tools leave my home in a box of discards.
I'm a big proponent of upgrading my kitchen tools whenever I can. If I try to use tools that I don't really love, they slow me down in the kitchen. And they make me a little miserable.
In light of all the sales that will be coming your way this weekend and the Christmas shopping to be done, I wanted to share with you my best kitchen tools that make my life easier. If you find a great sale on these items or someone asks what you want for a gift, jump on the opportunity and mention one of these babies.
25 Best Kitchen Tools to Make Life Easier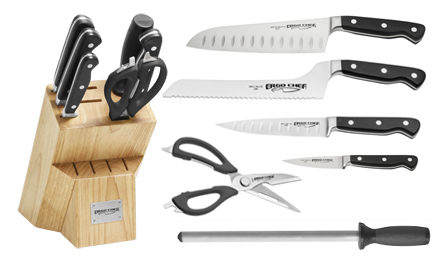 Good knives – It's imperative to have a good set of knives for chopping, dicing, and slicing. You don't have to buy a full set; you can do quite well with a chef's knife, a serrated bread knife, and a paring knife. If you don't have good knives, please ask Santa to bring you some. It makes such a big difference in the kitchen! I have a set of Ergo Chef knives as well as a set of Henkels.
Big cutting boards – Protect your blades as well as your counter tops by cutting on good cutting boards. I have a variety of boards in different colors so I can prevent cross contamination between raw meats and vegetables.
A salad spinner – I prefer to cut my own salad greens, so having a salad spinner really helps. It gets the excess water off the lettuce so my salads don't get soggy. This is great, especially if you want to make several days of lunch salads in advance. This large OXO salad spinner is my new favorite since it has a detachable salad bowl.
A good blender – We have the Ninja Ultima Blender Plus, a blender with separate to-go cups. My son uses this every day to prepare protein shakes.
A food processor – I use my food processor regularly to blend mayonnaise, shred cheese, chop vegetables, or mix up salsa. It's a great tool to help you tackle prep jobs quickly. I recommend starting with the basic Cuisinart model. My last one recently died after 14 years of hard work.
I already had this fancy pants model but hadn't had the patience to figure it out. Now I'm learning and turns out I like it.
An immersion blender – Vegetable soups take on a different dimension when you blend them. You can hide all kinds of healthy ingredients in them when you blend them up. An immersion blender helps you do it without dirtying a blender or a food processor. The one I have (pictured) is going on ten years old, so they definitely prove their worth.
Pyrex with lids – I am growing a collection of Pyrex, something I didn't think I'd ever do 21 years ago when ten people gifted us the same baking set for our wedding. We didn't have cool plastic lids back then. Now we do! And I am smitten. I love these dishes because I can do a lot of meal prep at the beginning of the week and store it easily covered and stackable in the fridge. I love the pans as well as the dishes with lids. So great for freezer cooking!
Note: I do not recommend the Easy Grab line for freezer cooking. The lids do not hold tight enough for good freezer storage.
A food scale – A food scale is invaluable for figuring out good portion sizes. Too often we don't realize that we're eating way more than we really need. I've had this one for a very long time and only had to replace the batteries once.
Plastic containers with lids – These plastic containers are awesome for packing lunches. (The black box with the quinoa above.) I've bought several sets for my husband to take to work. They pretty durable, but they're good disposable-if-you-wanna (or if it sits in the truck too long before you bring it back to the house). Ahem.
Freezer jars with plastic lids – I like to use glass jars with plastic lids to store sauces and soups. Since I started using this method for freezing in glass jars, I haven't had any jars break. Your mileage may vary, so weigh the risk before you decide. I love these for mixing salad dressings or storing sauces and small bits of leftovers.
A jar funnel – If you choose to store foods in glass jars, a jar funnel is super helpful to reduce spills and speed up your work.
A great skillet – It took me awhile to find a great skillet, but when I did, I bought TWO. I love this Cuisinart line. I have two of the 12-inch size with a glass lid as well as this smaller one.
A good chili pot – I have no idea why they call this a chili pot, but it is the perfect size for soup and meat sauces, as well as chili. My only critique is that it isn't the same size as the matching skillet. It would be nice if the lids were interchangeable.
A pressure cooker – I am a reluctant pressure cooker user. I received one as a gift years ago and it sat under my desk for a full year before I tried it out. My sister said it makes good rice. It does. So, I gave away our cheapo rice cooker and we now use this Power Cooker for making rice. Someday I'll learn how to make something else.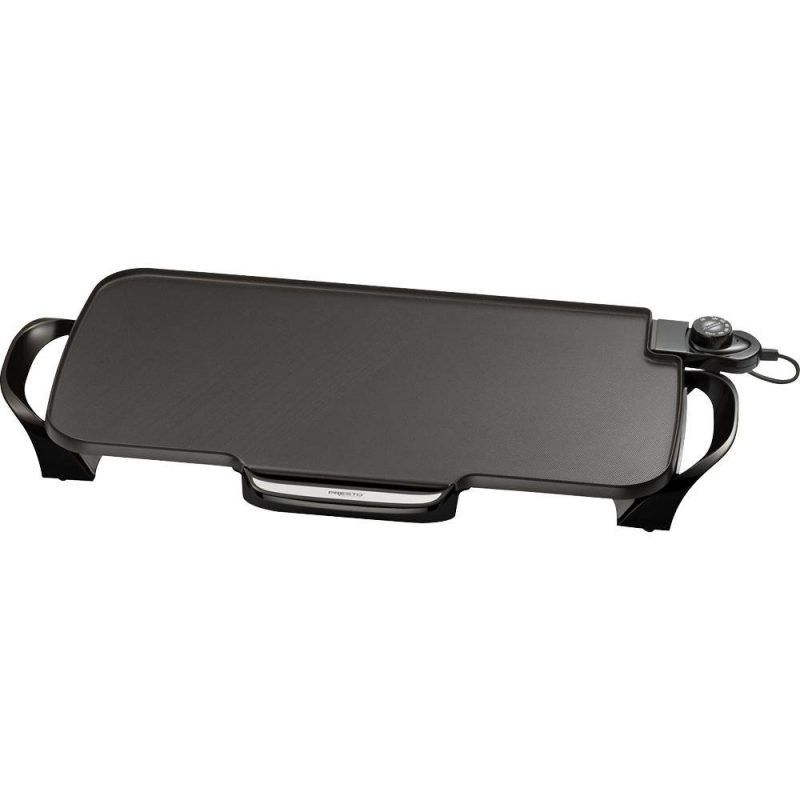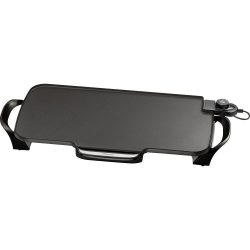 An electric griddle is a must have at our house for making pancakes, tortillas, quesadillas, grilled cheese sandwiches, and chimichangas. This one is one I bought three years ago and it's still going strong.
A great waffle maker – You can't make waffles without a waffle maker. I love this model that I bought almost six years ago. It is great for making many waffles at a time and has held up really well.
A toaster oven – We've had a toaster oven instead of a traditional toaster for as long as I can remember, mainly because it makes a lot of toast at once. I also use it as a backup oven for smaller items. One year I even baked a pie in it while a ham was occupying my full size oven.
A slow cooker – Everyone has a slow cooker, right? I have five. Ha! I recently broke down and bought the casserole size. My husband saw it in the Amazon orders and texted me, "Do we need another Crockpot?" Yes, yes, we did. The jury is still out on the casserole size, but we'll see.
Cooking tongs are something I use every single day — to toss salad, turn meat, stir sautes. They are so handy! Definitely get a pair and try them out.
Whisk with sealed barrel – Everyone needs a good whisk. I learned the hard way that it's imperative you get one with a sealed barrel. Otherwise, dish water will get in the cracks and then leak into your food later. Ask me how I know.
Silicone spatula/spoon – I bought this on a whim to turn crepes, but I loved it so much, I bought another. I might replace all my spatulas with this, I love it. I love it. I love it. It's great for stirring and scraping, it's all one piece, and it's heatproof to a certain point.
Pizza screens – If you make homemade pizza and don't have any pizza screens, you need to change that pronto. Pizza screens are a game changer in the pizza making business. They help the texture of the crust so much!
USA Baking pans – A couple years ago when I was shopping for muffin pans, you all suggested the USA brand. Wow! Be still, my heart. Baked on batter doesn't stick to these babies. I love the muffin pans. Those are a no-brainer. I'm a little bit torn on the pie plate. It's so non-stick that pie flies right out of the pan. Another thing to consider is that they can't go in an oven higher than 450 degrees. This is a problem for their pizza pan. I ditched the pizza pan because the crust never got crisp. But, the muffin pan? Awesome.
A stand mixer – It took me awhile to fall in love with my KitchenAid. I had a bread machine for a crutch. But then the 4th bread machine died on me in 14 years and it was time to learn to walk on my own. My KitchenAid mixer is my go to for batters, frostings, tamales, etc.
A bench knife – This seems so minor, but I love my bench knife! I use a bench knife whenever I need to divide yeast doughs so I use it weekly on pizza night. It also serves as a ruler as well as a lifter when you need to pick up and transfer scones and rolls to the baking sheet.
What are YOUR best kitchen tools?