Smoothies can make a delicious snack, breakfast, dessert, or post-workout meal. What better way to make smoothies at home than with a DIY Smoothie Bar?
Smoothies, what at first seemed like a healthified milkshake, hit the scene over 20 years ago. Who knew that the early 90s trend would become a daily American habit?
Smoothies are not only widely available in cafes, grocery stores, and smoothie bars, but they have also become a regular staple for all walks of life. Exasperated parents serve them to finicky children — with and without vegetables stealthily concealed. Fitness enthusiasts rely on them for including extra protein and fresh produce on-the-go.
The rest of us just like them. Morning, noon, and night.
Smoothies can play a supporting role in a healthy diet at breakfast, lunch, dinner, dessert, and snack time.
The trouble with smoothies, however, can be that a parent with more than one child may encounter a dilemma. Joe doesn't like banana in his smoothie; Jane doesn't like strawberries. How can you please all the people?
You could head to a local smoothie bar and let everyone have his pick. But, that's expensive, and let's be real commercial smoothie bars include a lot of added sugar in their offerings.
You could make a pitcher full at home, but then you've got the whole "I-don't-like-that" dilemma. Or you could…
set up a DIY Smoothie Bar at home.
Tips for Setting Up a DIY Smoothie Bar at Home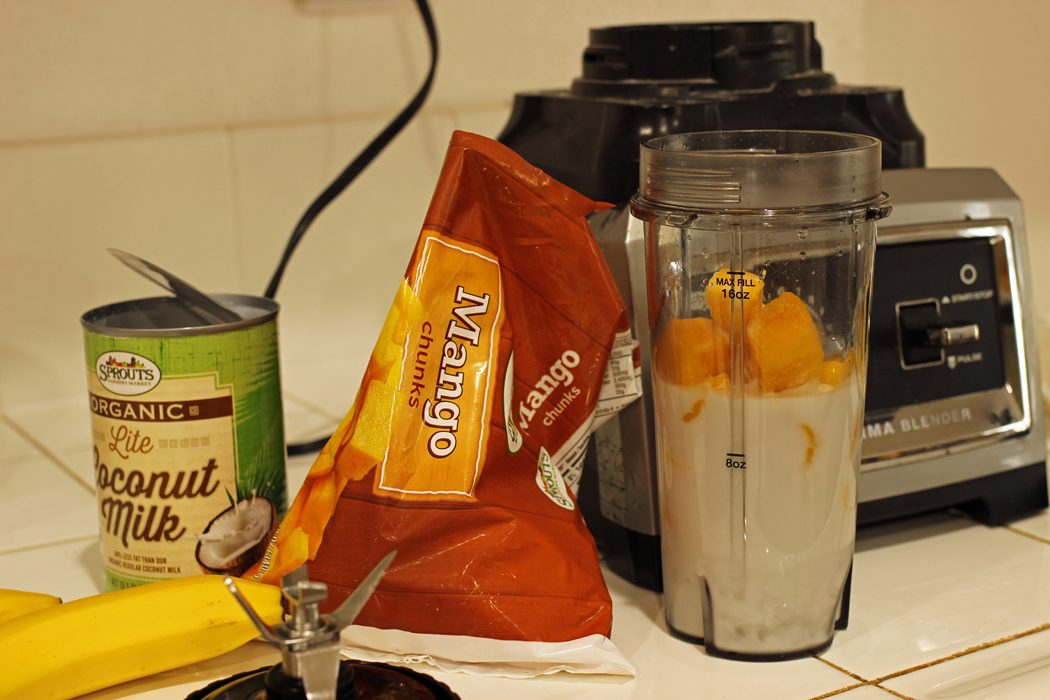 Make sure you have the right equipment.
Whenever you set upon a project, whether it's painting the baby's room or making smoothies at home, it's important to have the right equipment. In this case, you're obviously going to need a blender.
Not all blenders are created equal, however. Years ago, we moved to a high speed blender with travel/party cups which made a huge change in our smoothie-making game. Not only did we no longer have an issue with clumps of frozen fruit or ice in the smoothie, but we also had an easy way for each kid to make his own. You can read my review of our current blender here.)
You don't have to have a high speed blender to make smoothies at home. It is ideal, however, you can just as easily use a standard blender or even a food processor.
If you have a standard blender, you might check to see if the base fits glass canning jars. Some models do, providing a makeshift option for party cups.
Load up on the right ingredients.
For smoothie making at home, there's a wide range of possible ingredients to include. Here's a short list of options, but get creative with what you know your people like.
liquids, such as milk, coconut milk, almond milk, soy milk, and juice
sliced or chopped fruit, preferably frozen: berries, bananas, stone fruit, mango, cherries
spinach or chopped kale
yogurt
protein powder or powdered milk
nut or seed butter
avocado
chia seeds or ground flax seed meal
sweetener, such as honey or agave nectar
cinnamon, nutmeg or cocoa powder
crushed ice if your fruit isn't frozen
Lay out a variety of ingredients on your DIY Smoothie Bar and let each person assemble his own smoothie concoction.
If you'd like to make the DIY Smoothie Bar a regular thing at your house, set up a Smoothie Station in your freezer.

Let the kids do it themselves. (And be okay with a few messes.)
Kids love to eat. They love to cook and mess in the kitchen. It only follows that they will enjoy making their own smoothies — and make some messes along the way. Come to terms with this cook-mess-eat reality. Chances are, you probably make messes, too. Might as well say, "Yes!" and let them help. You can make memories and messes all at the same time. Oh, yes, yes, you can.
Make extra to freeze for later.
While you're letting everyone make his own smoothies, consider freezing extra to enjoy later. You can avoid some messes this way. 😉
Freezer Smoothies make for quick snacks and breakfasts. Your future self will thank you once you fill the freezer.