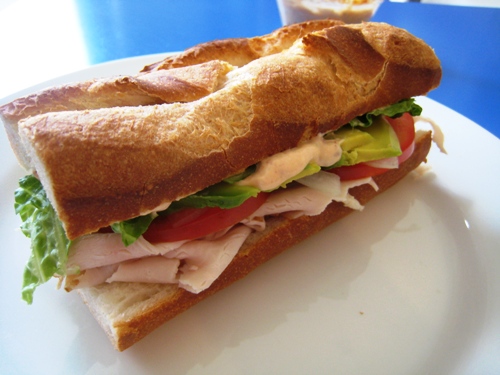 If you have turkey leftover from the big shindig, you may be wondering what to do with it. Personally, I love it for breakfast the next day.
Yes, yes, I do.
But, I'm guessing that most folk aren't as weird as I am. So, here are a few other ideas:
1. Freeze it.
If you've got a lot of turkey left, your best bet may be to chop it and slice it and then wrap it for freezing. You can later use it in soups, salads, and casseroles without a lot of fuss.
2. Make sandwiches.
I love just plain turkey on rye with a little bit of mayo, but you can get fancy too. This Turkey Avocado Baguette Sandwich with Chipotle Mayonnaise is out of this world. Really. You could also lay out a spread of a sandwich bar and let folks build their own creations. Or make a Turkey Bacon Sub.
3. Make salads.
Cooked turkey can sub in for cooked chicken in any number of salad recipes. Two of my favorites: Harvest Salad with Chicken, Apples, and Cheddar and Orchard Chicken Salad.
4. Make soup.
If you made broth with the bird like I told you, you're ready to make Turkey Soup or Chili. Yum!
5. Make a casserole.
Pot pies, enchiladas, pasta bakes, and tortilla casseroles all lend themselves to using up precooked meat. Take a favorite recipe that features chicken, and use turkey instead.
What's YOUR favorite use for leftover turkey?