Well into the school year, it's time to simplify dinnertime, if you haven't already. Prepare easy meals for busy nights so you can save money and eat well.
Although I am the quintessential food snob fairly particular about my food, my home has become fuller and busier over the years, and thus, my cooking habits have had to change. I no longer have hours to spend leisurely crafting a gourmet meal, like I did when we were newlyweds. That is for another season of my life. And that's okay.
I love to cook (and eat), yet I find that these days I have to make the most of every minute in the kitchen. So, my recipe repertoire has drifted toward easier, quicker fix meals, or abbreviated versions of favorite meals of the past.
Strategize and plan for easy meals for busy nights.

Meal Planning: Easy Meals for Busy Nights
1. Make meal components in advance.
Whenever I have a chance, I love to stash the makings of several meals in the freezer. Notice that I said, makings. Not all my freezer meals are "heat and serve". I find that sometimes it's better to serve freshly assembled meals with easy prep, that are based on homemade convenience items. Consider these:

Chicken and Bowties Pasta with Sage and Nutmeg
2. Simplify.
Simple fare doesn't have to be boring, especially in the fall, when simple soups, stews, chilis, and roasts are what we crave anyway. To "set it and forget it" is a woman's prerogative, so leaning on the slow cooker is a great strategy for busy nights.
Quick pasta dishes are one-dish dinners when you add abundant protein and vegetables. It's nothing over-the-top fancy, but it packs a great punch. Plus, there's only one dish to wash.
3. Have a plan.
Good home cooked meals are not hard to come by. It just takes a little advance planning and forethought. If you're not already in the practice of meal planning, there's no better time than the present to start.
Meal planning can be as simple as jotting down five meals you could make this week based on the ingredients you have on hand. Slap the list on the fridge and consult it each morning to make sure you're on the same page as your pantry.
Each month I publish a meal planning resource to help YOU eat well, save money, and enjoy great home-cooked meals.
Not only does each Month of Meal Plans include menus and recipes for 30 meals, but it also includes "leftover alerts" so you don't let anything go to waste as well as a prep list to help you make meals easy to assemble all week long.
I promise that it will take the hassle out of your evenings and provide all kinds of easy meals for busy nights.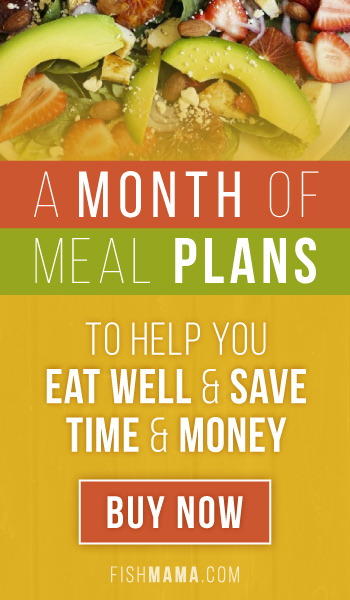 What is YOUR favorite easy meals for busy nights?