Plan a regular meal rotation for breakfasts and lunches. You'll save time and money.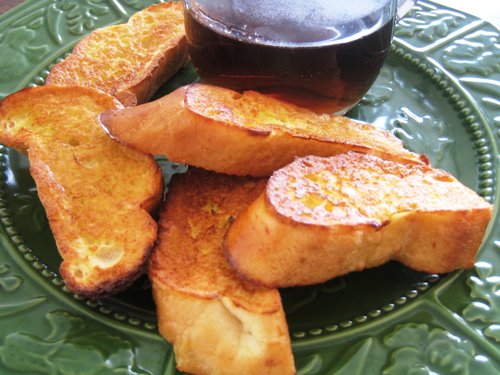 One of the brilliant strategies from the Donna Reed era of home cooks is the idea of a regular meal rotation. Sure, Meatloaf Night gets knocked in movies and sitcoms, but honestly, it's a great idea!
Last summer we talked a little about a weekly rotation or formula for the week. Then I applied it to dinnertime and the variety of ways that you can mix it up (protein, ethnic food, type of preparation). This week I wanted to address it in terms of breakfasts and lunches.
If your kids don't already eat three meals (plus!) at home, they will be doing so soon with the arrival of summer vacation. Plan ahead for ravenous young creatures, and have a regular meal rotation ready for breakfasts and lunches.
Not only will you have an answer when folks ask what there is to eat, but you'll save time and money by shopping wisely (you'll know what you need) and by eating at home. Forget the five dollar foot-long; make it yourself!
I sat down with my tween guys late last week and got their feedback. I listed out what they told me were their favorite meals for morning and midday. Then we plotted them according to the different days of the week. We left Sundays open as a wild card.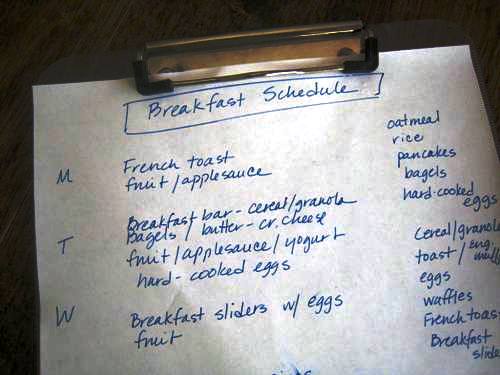 Here's our summer meal rotation for breakfasts and lunches.
Sure, I'll embellish and move things around some, but if I've got a plan, I've got a bigger chance for successful meals than I would without said plan.
Breakfasts for Summer
All served with seasonal fresh fruit.

Lunches for Summer
All served with seasonal fresh fruit and veg.
All that said, I don't really have a meal plan for our dinners this week. We're going to use up the freezer meals we've got and then replenish the stock. I say "we" because my big boys are doing the freezer cooking this month. I'm calling it the "manly plan". Check in at Life as MOM later this week for the free downloadable cooking plan.