A home juice extractor can make it quick and easy to make homemade juices from fresh fruit and vegetables.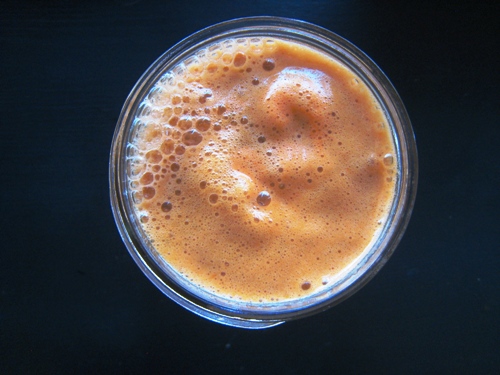 If you've been following my small kitchen appliance reviews, you have caught on by now that I'm far from being a minimalist in the kitchen. I like my gadgets.
Better yet, I like having the right tool for the job.
Until I started this series, I honestly didn't realize how many small appliances I actually owned! Hmmm….
While I've had my share of small kitchens and minimal storage space, our current kitchen is pretty large. I don't really want to be bogged down by lots of stuff, but there are some kitchen appliances that really do make my life easier. That means they are worth the kitchen real estate they consume.
One newcomer to the scene over the last year is my juice extractor.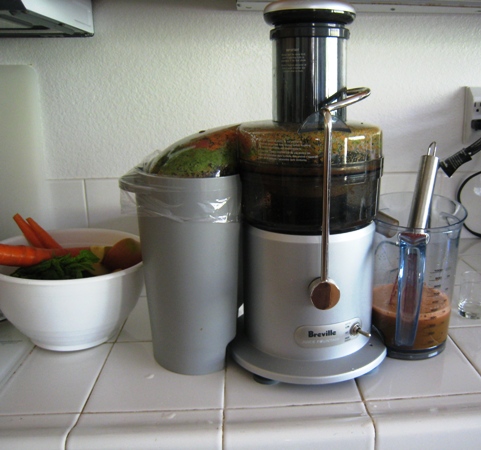 Why a home juicer?
Over the last couple years, I've received a weekly produce delivery from Abundant Harvest Organics. For $36 a week, I receive all the fresh produce my family of 8 can eat. We rarely use it all up before the week is out. But, I hate waste! I've had to be creative to avoid that.
Last summer when I had peaches coming out my ears, I started investigating juicers. In the fall I took the plunge.
Making homemade juices has been a fun learning experience for both me and the kids. We try different combinations of fruits and vegetables depending on what's in season. I can't wait for peaches to arrive again!
At our house, homemade juices serve as a supplement to what I hope is a healthy diet. I've been trying to reduce our overall sugar intake thanks to my experience on the Whole 30.
Juicing has become a refreshing alternative to the sports drinks and punches my kids might otherwise request. (It doesn't stop them from requesting them, but it's a favorable consolation prize that is quickly gaining preeminence over the junky stuff.)
Use of a juice extractor
I found that learning to use the juicer is pretty simple. Though I am usually loathe to read the instructions, I did read the manufacturer's booklet that came with the machine.
I usually collect my choice of fruits and vegetables in a bowl, scrub them well with a brush and vinegar spray, and then trim off parts that I wouldn't eat if they were for fresh eating. I'm diligent about trimming bruises and the like to preserve the integrity of the juice.
Then I just feed it through the machine. The kids have loved almost everything we've tried, though they shy away from too much celery, not yet embracing its salty taste. I recently found out that their buddies who live next door also get a daily dose of homemade juice which makes it fun for us moms to swap notes.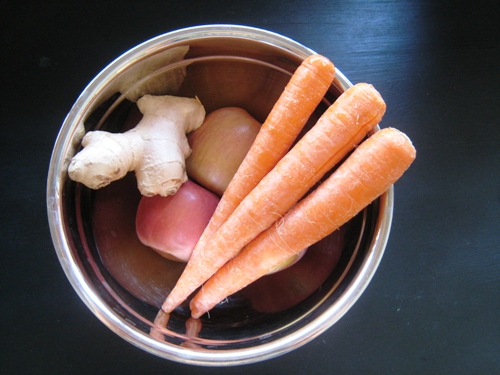 One of our favorite juice blends is this one, Carrot Apple Juice with Ginger. This juice is packed with healthy goodness: beta carotene from the carrots, vitamin C from the apples, and antioxidants from the ginger. Using different varieties of apples will give different nuances of flavor to the juice. This juice is also great for fighting off colds.
Care and storage
It's imperative that you wash your machine out immediately. If you do it right away, it will only take a few minutes. If you wait, well, imagine the baby's high chair the next morning after you forgot to wipe it down after last night's dinner. It'll be a gummy mess!
I usually line the pulp basket with a bag for easy cleaning later. I use a zip top bag if I'm going to use the pulp in baking, which allows me to just toss it in the freezer until I'm ready to bake. I use a recycled grocery bag if I'm going to discard the pulp.
(I save fruit and carrot pulp for baking, I toss the very green pulp, but you could compost it if you've got that set up at your house.)
I rinse most of the other parts with very hot water and give them a scrub if needed.
The juicing basket, of course, is the messiest part. I typically let it soak in a bowl of soapy water for a few minutes and then scrub it with the brush that came with the machine.
Purchasing a machine
Ours is a Breville Juice Fountain Plus. Again, consider buying one at Bed, Bath, and Beyond with one of their 20%off coupons. There are many, many juicers to choose from. I love this model for how easy it is to assemble and take a part.
Last fall I tried out the cheapest model that Walmart carried. I couldn't even find it online. It worked well, but it was really difficult to take apart. If something is hard to clean, you probably won't use it that often. So keep that in mind.
Friends have recommended I get an auger-style masticating juicer (like this or this), but I'm just not up for that price point. Those typically get more juice from the produce, thus reducing waste. However, I've read enough good thing about the Juice Fountain that I feel it's a good move for our family. I save the pulp for baking whenever I can to cut out the waste issue.
And yes, I'm a PC girl, not a Mac lover, either. 😉
Carrot Apple Juice with Ginger
A home juice extractor can make it quick and easy to make homemade juices from fresh fruit and vegetables, like this delicious carrot apple juice with ginger
Ingredients
4

carrots

3

apple

1/4 to 1/2-inch slice

fresh ginger root
Instructions
Scrub the produce well. Trim as you would for fresh eating. Juice according to the machine manufacturer's recommendations.
Notes
Nutritional values are approximate and are based on 1/2 of the recipe. Refrigerate leftovers promptly and use within 4 days.
Nutrition
Calories:
193
kcal
|
Carbohydrates:
50
g
|
Protein:
2
g
|
Fat:
1
g
|
Saturated Fat:
1
g
|
Sodium:
87
mg
|
Potassium:
683
mg
|
Fiber:
10
g
|
Sugar:
34
g
|
Vitamin A:
20529
IU
|
Vitamin C:
20
mg
|
Calcium:
57
mg
|
Iron:
1
mg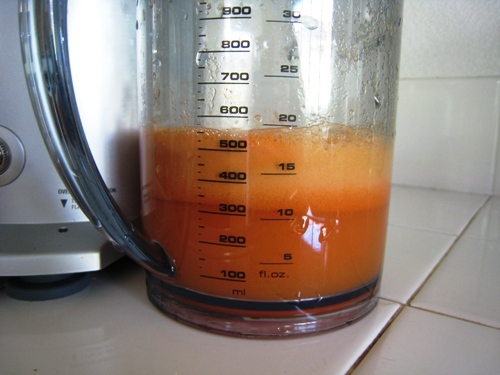 What's your experience with a juice extractor?
Love it or hate it? Let us know in the comments.
Disclosure: This post does include Amazon affiliate links. If you make a purchase through those links, I am paid a small amount in way of advertising fees.
Other appliances discussed in this series: