Hot weather meal planning looks different than when cooler temps prevail. Use these strategies to make your meal prep easy.
The forecast is in. Hot weather is approaching.
Oh, sure, we might be having a colder spring this year, but that won't prevent the temps from climbing. Soon enough, you'll be looking for ways to chill out, especially where meal planning and prep are concerned.
In past seasons and different houses, I've experienced unique circumstances. 110+ temps all summer long and no money to run the AC. Even the toilet seat was hot. West-facing windows that didn't open and a lackadaisical HVAC system. A heavy week of wildfires that brought so much smoke we couldn't open the windows and no AC.
Yes, siree, bob, I've won my spurs where hot weather is concerned.
And also where meal planning and prep are concerned. Sweat dripping down my face as I stand over the stove cooking dinner for perpetually hungry children? Not my favorite pastime. How 'bout you?
Finally, I came to my senses.
One night I didn't even make dinner.
Shocker, I know. But, I just couldn't take it any more. Doesn't mean we didn't eat. We just had an assortment of salami, cheese, pickles, and veggies, what we call a Snacky Dinner.
Another night I ran out for cold sushi, cold cuts, and cold drinks.
And another, with my appetite gone, I handed the kids cereal and milk and called it good.
As the aha moments continued to unroll, I realized that meal planning for hot weather took a slightly different tact that the cooler months. I needed to get ahead of the hot, muggy days and have a plan that helped me keep my cool — and my family well fed.
I don't want to resort to cereal for dinner — unless I want to.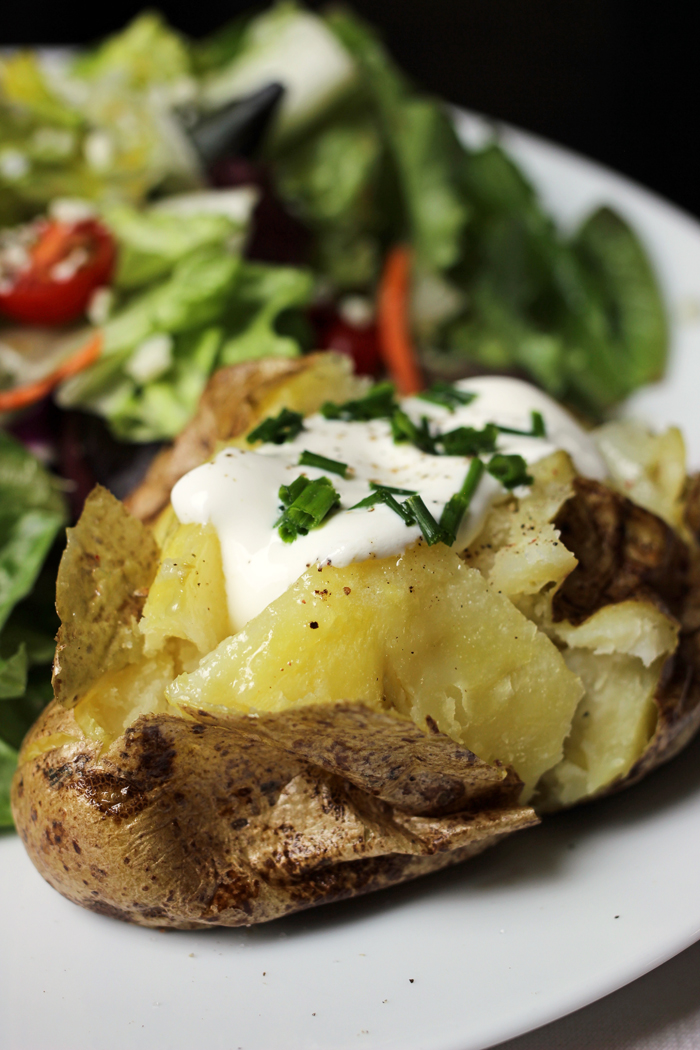 Pictured: Crockpot Baked Potatoes
Summertime and warmer temps approach; now's the time to refine your hot weather meal plan and meal prep strategies.
Not sure where to start? Consider these tips for easier and cooler meals this summer:
How to Chill Out with Hot Weather Meal Planning
Make it in advance.
Cooking in the cool of the night or morning allows you to avoid the heat of the day. Think about make-ahead meals that can be served cold, like hearty pasta salads, sandwiches, and entree-style salads.
There are lots of freezer meals that you can make in advance so that you're not cooking at all. You may need to dump something in the slow cooker or slide a tray into the toaster oven, but the basic meal prep is taken care of.
Check out these Freezer Meals Kids Love for a good match for your people.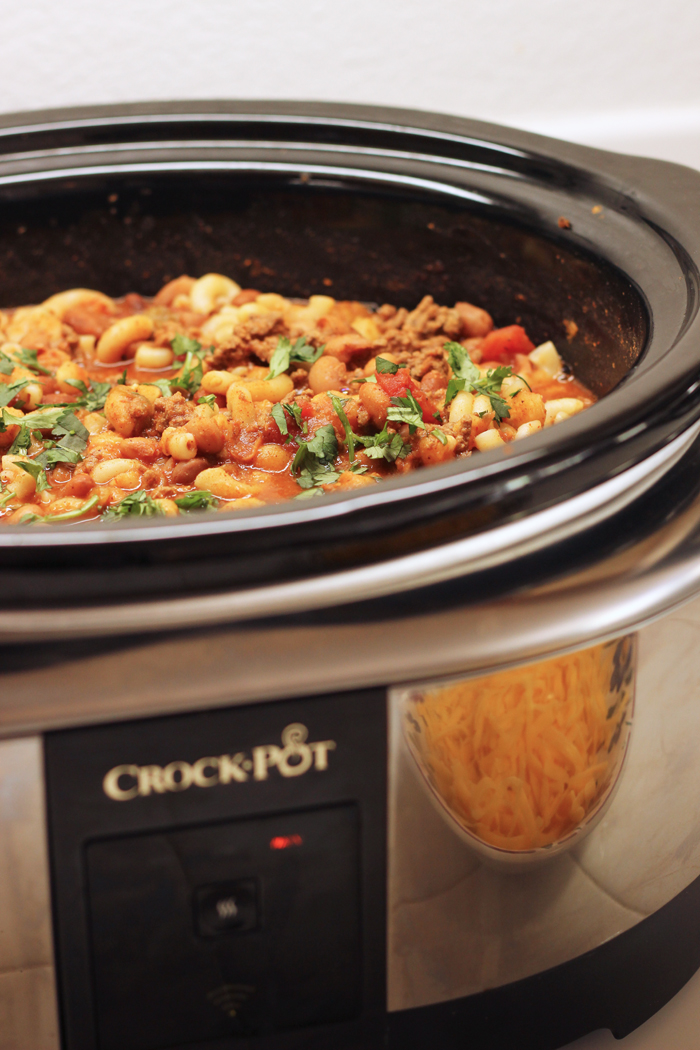 Pictured: Crockpot Chili Mac
Use the slow cooker.
The slow cooker is your ticket to ride into the evening with supper already cooked. Stews, chilis, and sloppy joes are no-brainers. But, did you know you can do hot dogs, baked potatoes, and even dessert in the slow cooker.
You can easily prep several cookers to go at one time so that the full dinner is taken care of for you. I have slow cookers in three different sizes to accommodate my different recipes: large, medium, small.
These recipes are always winners and guaranteed to help you keep your cool: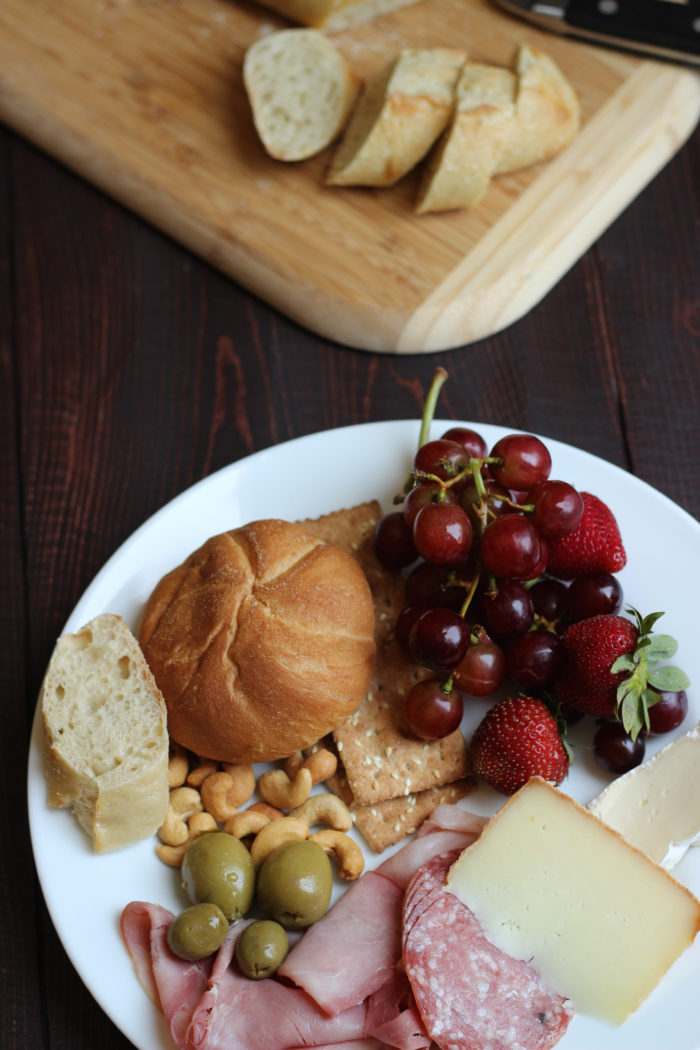 Don't cook!
There are lots of ways to serve supper without cooking. In fact, no cook suppers are some of my favorites! Serve on paper plates and you can avoid the hot dishwashing experience, too.
The Snacky Lunch fall in this category as do a sandwich bar, DIY smoothie bar, and salad bar.
Plan for a hearty protein — could even be a rotisserie chicken — as well as ample veggies. Some good bread, crackers, nuts, pickles, and olives can round out the selection.
Grocery store shortcuts can really come to your rescue here. In the produce department you'll find all kinds of salad kits and veggie trays. In the freezer section there are cooked proteins and grains just begging for be tossed together. The deli has snack packs, sushi, salads, and more.
It's really okay to take a night of cooking when it's just too hot to cook!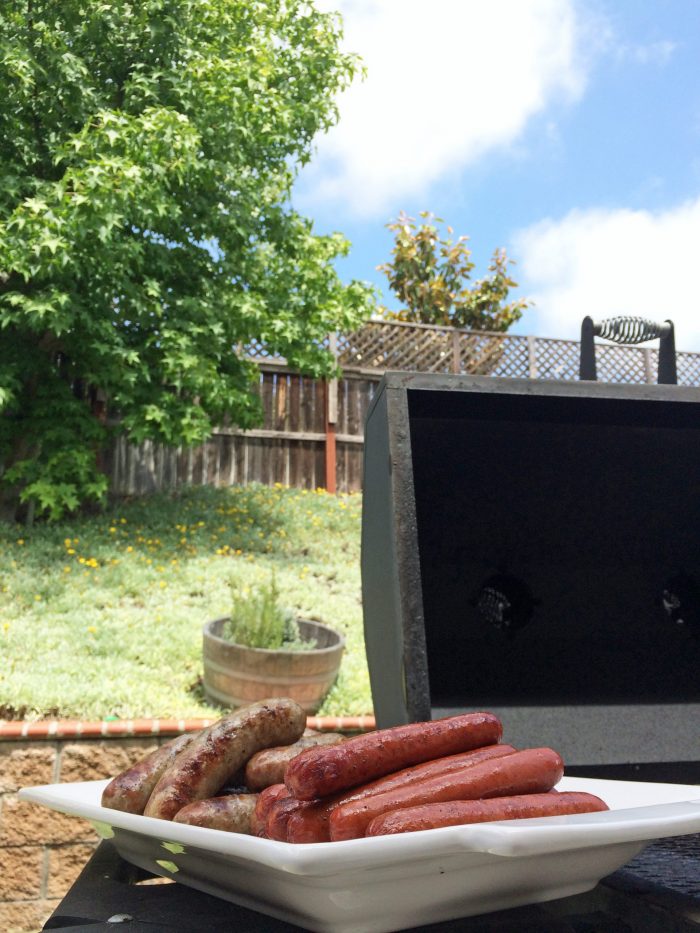 Cook out.
Cooking out of doors instead of heating up the kitchen is awesome. Not only does the kitchen stay clean and cool with the heat and mess outside, but the flavor a grill imparts to food just can't be beat. I threw a bunch of vegetables on the grill for supper one night, and FishPapa even thought he could go vegan after that meal! May wonders never cease.
If you've got a few BBQ tools, an instant read meat thermometer and a grill pan, you are good to go. Take advantage of your backyard barbecue and enjoy all kinds of grilled meals.
Make things really quick by stirring up a few spice mixes for quick flavor.
That all sounds nice, you say. But when I sit down to plan I'm stuck for ideas.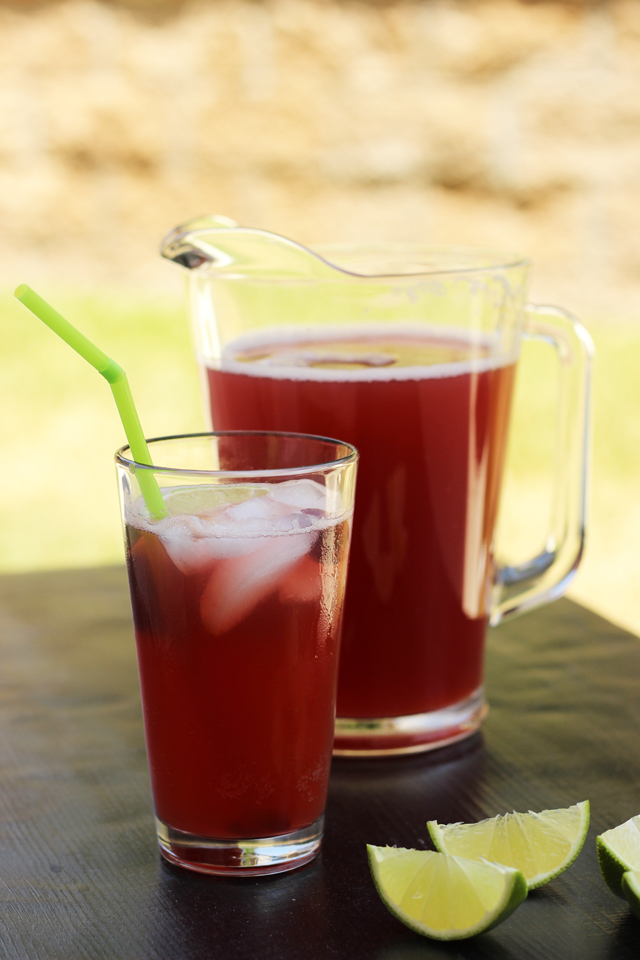 How to Meal Plan for Hot Weather when You're a Hot Mess
It never fails that ya sit down to do the thing you've already thought was solved, you get stuck for ideas. Frozen, despite the high temps, and stuck for what to make that won't work you into a lather.
No problem, sister. I gotcha covered. I created a little cheat sheet, a printable idea generator, to come to your rescue when it's hot outside as well as inside.
Download the free cheat sheet. When you join my mailing list, I'll send you the printable. Just enter your email address below too subscribe.
Print. Any paper will work, but the thicker the better.
Post your cheat sheet near where you do your meal planning. On the fridge or in the pantry cupboard are good places since that's where we gravitate when we don't know what to make.

For fun, you can even cut apart the squares and place them in a jar to play Meal Planning Bingo, just to keep things fresh. 😉
Here's a peek at the printable cheat sheet: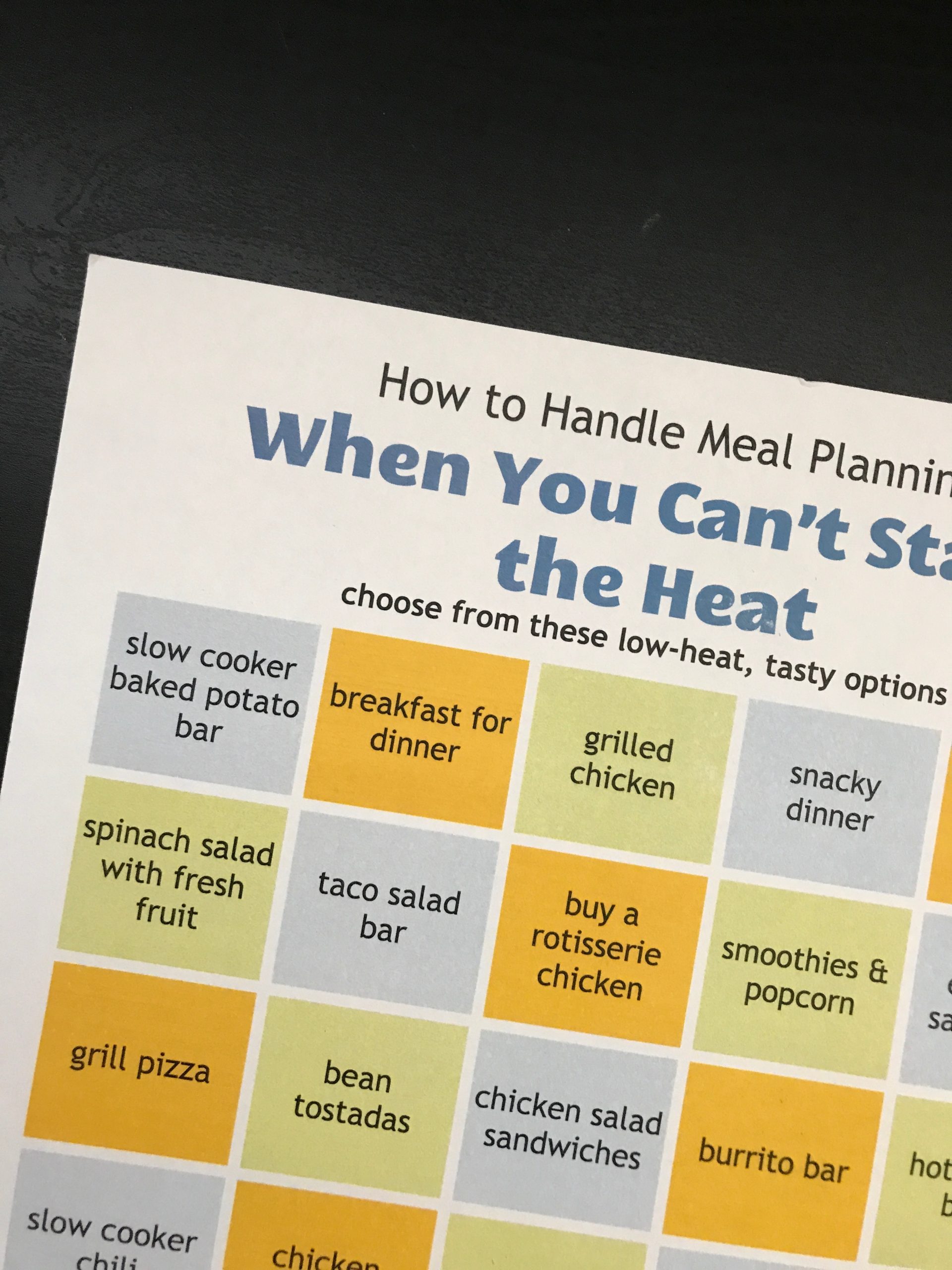 But what if summer has you too busy to meal plan?
I understand how it can be to be so busy, you just cry at the idea of making a to-do list. I've been there. And even though I'm a food writer and develop recipes for a living, my kids have been subjected to cereal, fast food burgers, and frozen entrees more often than I'd care to admit.
One of the things that I've discovered is this: you don't have to do it all.
You don't. No one can do and be all the things. Sometimes you need to delegate. And if delegating your meal plan will buy you some breathing room, then by all means, go for it.
Because the truth is, you don't need to plan the meals. Enjoying the meals with your family is what matters most.
What's YOUR favorite strategy for meal planning for hot weather?