Our meal plan during a pantry challenge comes (mainly) from what we already have.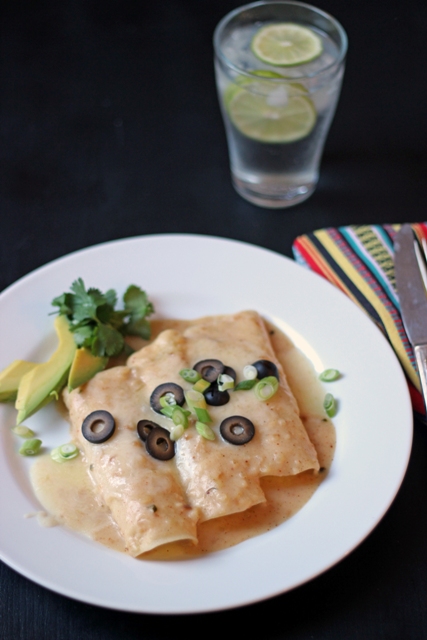 So, here we are ready to start another pantry challenge. Not sure what that is? Go here for all the details.
The short version is that for the next two weeks, I'm going to try to create meals from what we already have instead of buying more. A cursory glance at our food stores shows that we've got sufficient baking and grain items, a mediocre amount of dairy and veg, and a middling amount of meat. There are lots of odds and ends in the freezer.
My goals for the pantry challenge are manifold:
1. Eat up enough of the stuff in the freezers — I have one side-by-side and one deep freeze — so that I can defrost the deep freeze.
2. Rotate our stock and use up the random things in the pantry, especially the specialty items on the condiment shelf.
3. Save some money on groceries.
Since I'm still planning to buy milk, eggs, and fresh produce, I'll still be buying groceries, but hopefully, I won't need to buy too much else. We shall see, eh?
As I mentioned yesterday, there are five key ways to prepare for a pantry challenge. If you haven't reviewed them yet, they are:
take inventory
plan some meals
buy necessities only
cook something
bake something
think of all the money you'll save
Following these steps will ensure that your pantry challenge is a successful one. 
This round I'm doing something a little different. In past challenges, I've focused on my deep freeze instead of the little bits of randomness in the side-by-side.
But, really, I want the side-by-side to be the staging area for suppers. I want to be able to plan my week's meals, pull those ingredients from the deep-freeze, and have a place to store them during the week — and in the kitchen — until I need them.
With my new approach to the challenge, I won't end up overlooking those little bits of randomness and I can move back toward using the side-by-side as a holding station for things I want to use each week.
Best laid plans of mice and men, eh? We'll see.
Tackling the side by side with a meal plan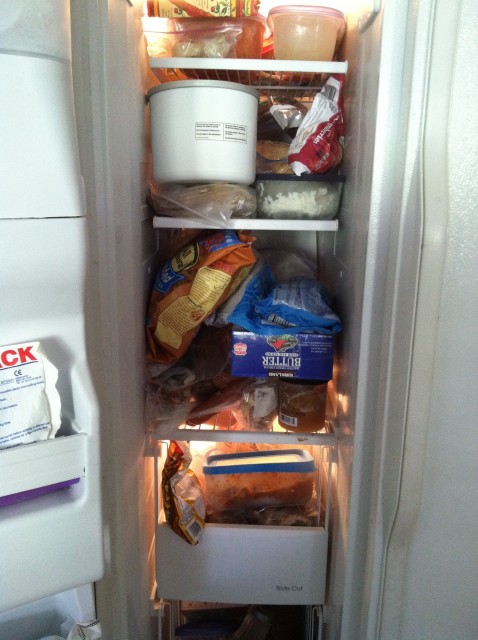 So, with this in mind, here's my inventory of the side-by-side:
frozen, uncooked shrimp
whole wheat tortillas
hashbrown potatoes
tomato soup
leftover meat sauce for pasta
cooked rice
roasted corn
corn tortillas
enchilada sauce
leftover tikka masala and coconut rice
bacon
roasted vegetable sauce
bread crusts
satay sauce
frozen fruit
kielbasa
chicken broth
sirloin steak
ham steak
frozen egg patties from Good Food Made Simple
In the pantry, I know I have pasta, rice, beans, muffin mixes, canned tomato items, crackers, and rice cakes, among other favorite pantry staples.
Out of that, I'll make these dinners and lunches for the next five days. I say five since we'll be heading out of town for the weekend and mooching off friends and family. I didn't realize that when I scheduled the challenge — Oops! But, I'll be packing snacks and meals for the road so we don't spend too much money traveling. Pantry Challenge on the road?
My people just might freak.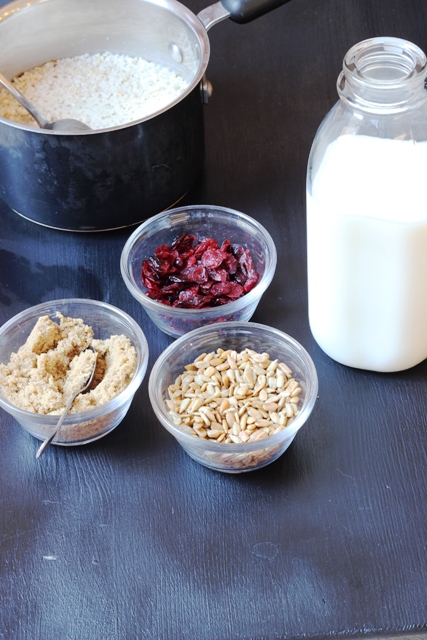 Anyway, here are the meals I've got planned for the week:
Breakfasts:
Muffins and Smoothies
Kielbasa and Eggs (my kids love this; I don't)
Lunches:
Soup and Sandwiches
Quesadillas, fresh fruit and veg
Ham Steak with Cheesy Potatoes
Dinners
It will be hit or miss with the vegetable sides and fresh fruit. But, I need to clear some space so that I can think straight.
Be sure to join me tonight (7/6/14 at 5pm PST) for a Pantry Challenge Q&A on Facebook.
What's on the menu at YOUR house this week?