A meal plan for a pantry challenge is essential! It can help you get a meal on the table in record time as well as help you prep in advance and make sure you use what you have on hand.
Wondering how to meal plan for a Pantry Challenge? Here are the strategies I'm using to help make our "eat-down-the-pantry" month go well.
Jump to:
This month we're undertaking a low-spend, Pantry Challenge kind of month. My hope is that we will spend a few hundred dollars on groceries and focus on using up what we have –without anyone freaking out too much, myself included.
When you shop the kitchen, you save time and money, avoid food waste, and learn to grocery shop better going forward.
Taking inventory and meal planning are critical to a good pantry challenge. When you know what you have, you can make plans to use it, prep ahead, and enjoy great meals. Here's how to do it:
How to Plan
1. Take an inventory.
I think that taking stock of what you have is pertinent to your having success in a pantry challenge.
Even after one day, I find that having fresh knowledge of my supplies helps me think in different ways. The stuff that needs to be used is fresh in my mind.
Be sure to do Freezer Inventory so you know what proteins you have on hand as those are going to be the building blocks of your pantry challenge meal plan. Scan the fridge and pantry as well and find those hidden ingredients that need using.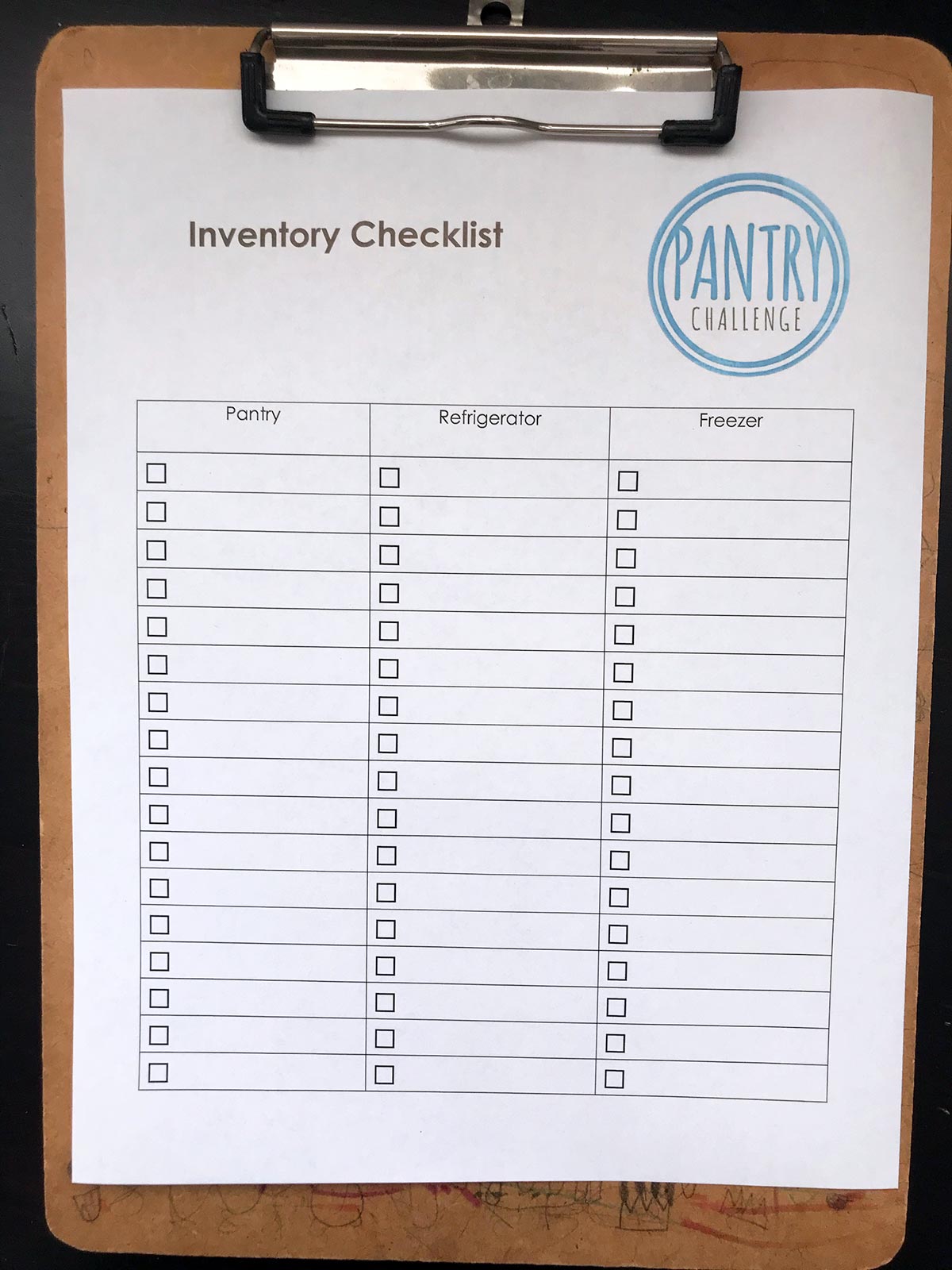 2. Brainstorm what meals you can make.
After you know what you have in the freezer, fridge, and pantry, brainstorm a list of meals you can make from those ingredients.
It's okay if you have more than one idea for an ingredient, write it all down. This will give you choices later so you don't feel locked in.
3. Plan out the month of meals.
Once you have your meal ideas out on paper, plot out a month of meal plans on a grid.
In the Good Cheap Eats Club, we call these our bingo cards. We fill in enough dinners for the month that use what we have or what we anticipate to be on sale. Remember that pancakes make a great dinner.
It's okay if you don't make each meal on a specific date, the point is to have options based on what you know you have on hand for your pantry challenge. Then you can meal plan from there.
4. Plan a new week in a little more detail.
When the start of the week rolls around, consult your bingo card. What sounds good this week? What fits your activity levels? What do you have ingredients on hand for?
These are the things to add to your pantry challenge meal plan. Once you've used the idea, be sure to cross it off your master calendar.
5. Make a list of things to prep.
Once you know your week's meal plan, make a list of things to prep. (You can grab this printable meal prep worksheet if you want to be fancy.)
If you are guilty of forgetting to thaw, you don't want that to be an issue during your pantry challenge. It will impede you from using what you have.
Instead make a list of things to thaw each well as well as set reminders for things to prepare in advance so that actual meal prep can go easily.
Sample Meal Plans
Breakfasts
I like to plan a breakfast buffet for the weekdays. Then my kids can wake up at different times, do their thing, and I'm not a short order cook. Here's a sampling of the easy breakfasts planned this month:
Lunches
Lunches may be all over the map. In order for school to go well, I need to have few interruptions. That means more sandwiches and easy-prep meals. Here are some of my go-to's for the month:
Dinners
We may have some pretty fancy dinners based on what I found lurking. I hope that my energy level is up for the task.
That said, generally we have some of the same things each week:
Sunday Roast or a pub-type dinner
Pasta
Tacos/Mexican Food
Date night so the kids make their own ramen
Soup Night
Pizza
Based on what I know is on hand in the freezer, we'll likely have these recipes this month:
What's YOUR meal plan for the pantry challenge?
This post was originally published on January 4, 2015. It has been updated for content and clarity.