Wondering how to plan for a Pantry Challenge? Here are the strategies I'm using to help make our "eat-down-the-pantry" month go well.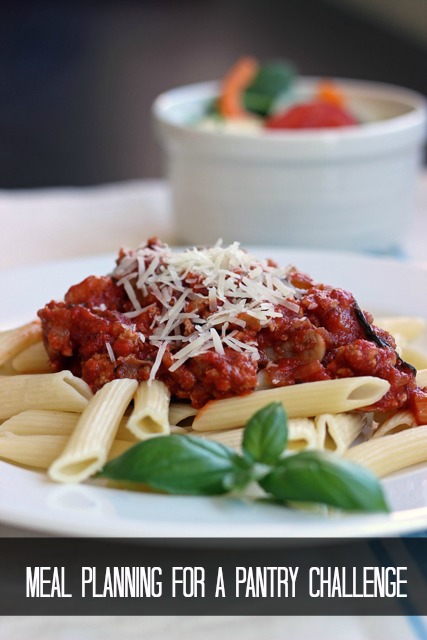 This month we're undertaking a low-spend, Pantry Challenge kind of month. My hope is that we will spend a few hundred dollars on groceries and focus on using up what we have –without anyone freaking out too much, myself included.
Yesterday I spent a huge chunk of time menu planning. As I mentioned in yesterday's post, taking inventory and planning are critical to a good pantry challenge. I am counting on the time investment paying in big dividends throughout the month.
Here's how that all went down:
The Meal Planning Process for a Monthlong Pantry Challenge
1. Inventory.
I think that taking stock of what you have is pertinent to your having success in a pantry challenge. Even after one day, I find that having fresh knowledge of my supplies helps me think in different ways. An ingredient inventory is a must-do.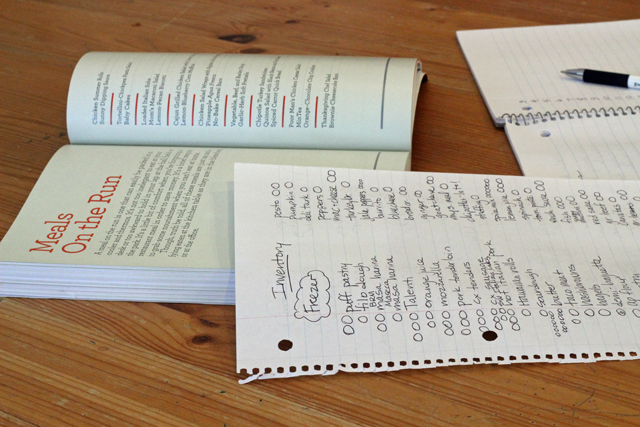 2. Meals we can make.
After I made a list of the things we had in the freezer, fridge, and pantry, I brainstormed list of meals I could make from those ingredients. I flipped through my copy of Good Cheap Eats: Everyday Dinners and Fantastic Feasts for $10 or Less to get ideas. Since I already had a mental framework for ingredients, it was easy to identify which recipes would work for our pantry challenge.
3. Four weeks of breakfast, lunch, and dinner.
Once I had my meal ideas rolling around in my head, I plotted them out on three calendars. I printed out three copies of this monthly meal planner and devoted each one to breakfast, lunch, or dinner. I'm hoping to simply have a grab-bag of snacks available rather than serve a specific snack each day.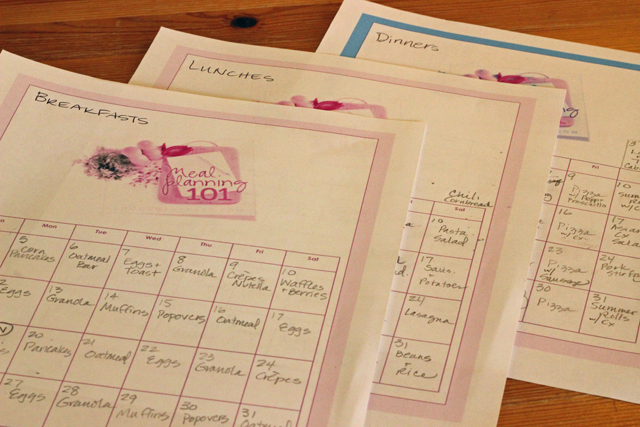 Obviously, I need to buy another color ink cartridge for my printer.
Some of these items will be subject to change since my people may eat more or less than I anticipate at this point. I might also have overestimated my supplies as well. Time will tell, eh?
4. Each week at a glance.
While I think a month-at-a-glance is good particularly for bringing variety to breakfasts, lunches, and dinners, I also wanted to see how the meals of each whole day would work out. Once I'd finessed the meals, I put together a week at a glance sheet. It's not as pretty as the others, but it will do the job.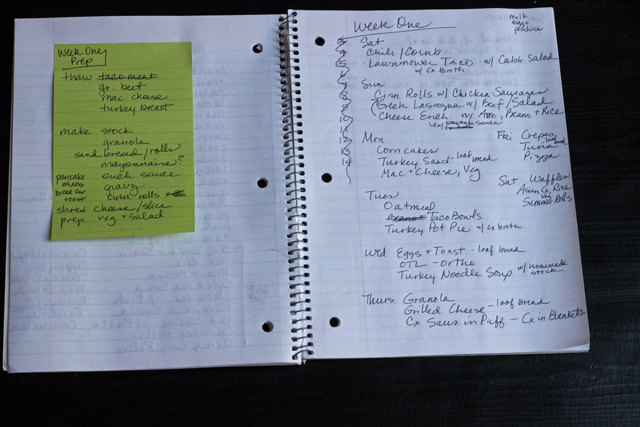 5. Lists of things to prep.
In addition to listing each day's meals, I made a list of things to prep. (You can grab this printable meal prep worksheet if you want to be fancy.)
I'm notorious for forgetting to thaw, so I don't want that to be an issue this month. I've got a list of things to thaw as well as reminders for thinks to prepare in advance so that actual meal prep can go easily.
FishChick8 and I spent some time doing this on Saturday. She is thrilled at the prospect of all this cooking.
The Meal Plan for the Month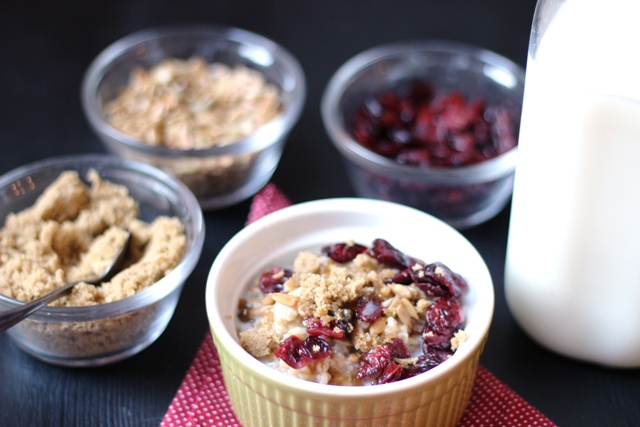 Breakfasts
I planned a type of rotation for every five days. You'll recognize the pattern. We have a lot of oats and corn ingredients on hand so those are kind of dictating the challenge.
Lunches
Lunches may be all over the map. In order for school to go well, I need to have few interruptions. That means more sandwiches and easy-prep meals. Here's the plan: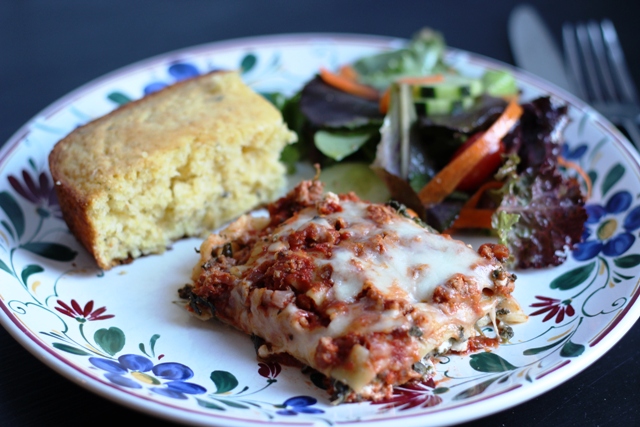 Dinners
We may have some pretty fancy dinners based on what I found lurking. I hope that my energy level is up for the task.
Yes, that was a lot of work. Oh my! I don't know that I've ever gotten this specific in my meal planning for a Pantry Challenge. Here's to it paying off!
What's YOUR meal plan got on it?