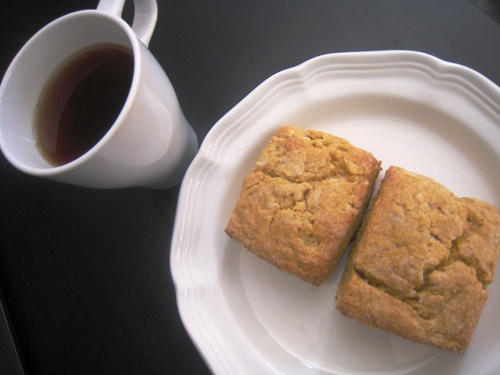 This month I've challenged myself to make the most of what we already have. The challenge has only been in full force for about a week. That holiday weekend and the accompanying trip out of town kinda threw a wrench in my plans. And I do confess to stocking up on a few really good sales that I'm not likely to see for awhile.
But, other than that, we're eating what we already have, and I've returned to cooking some old familiar favorites instead of an experiment every day. My daily log of feeding my family during the challenge is over here.
One practice I've been using more often is home baking. I appreciate store bought breads and rolls, but during the challenge I've made an effort to make more of my own. This has not always worked out the way that I had hoped. Case in point: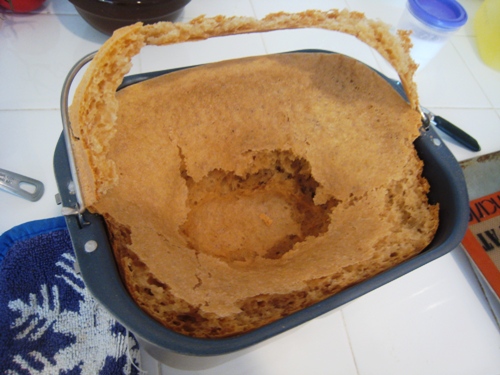 This was supposed to be bread to go with soup one day at lunch. The crater is actually much, MUCH deeper than it looks in the picture. We ended up slicing off the ends and turning the rest into croutons and bread crumbs. Not exactly what I had planned, but it works.
We've had homemade scones, cornbread, pancakes, waffles, rolls, and bread so far this month and hardly made a dent in my flour supply. So, we're good to go. As I type I've got this dough going in the bread machine to make sandwich rolls for our lunches. I was tempted to have hubs stop for bread on his way home from hockey practice, but opted to, you know, make the most of what we have.
That's the beauty of a pantry challenge — it makes me use my noggin — and what's already in the cupboard.
Welcome to What's On Your Plate?!
What's on Your Plate? is designed to be a conversation amongst good eaters.
Tell us about a recent meal. Did it meet with rave reviews? Or did it bomb? What side dishes did you pair with the star of the show? Did you try a new ingredient? Find the groceries at great prices?
What's on YOUR Plate?
Share with us a recent meal you prepared. Either link it up below or tell us about it in the comments. Please make sure that you link to www.goodcheapeats.com in your post so others know where the dinner party is.
And don't forget to visit the other good eaters participating today. I'm sure you will be inspired to make all sorts of Good Cheap Eats at your house.