Since food costs are the most flexible of your monthly spending, taking some steps to lower your grocery bill can really pay off. Follow these easy strategies to help you do it.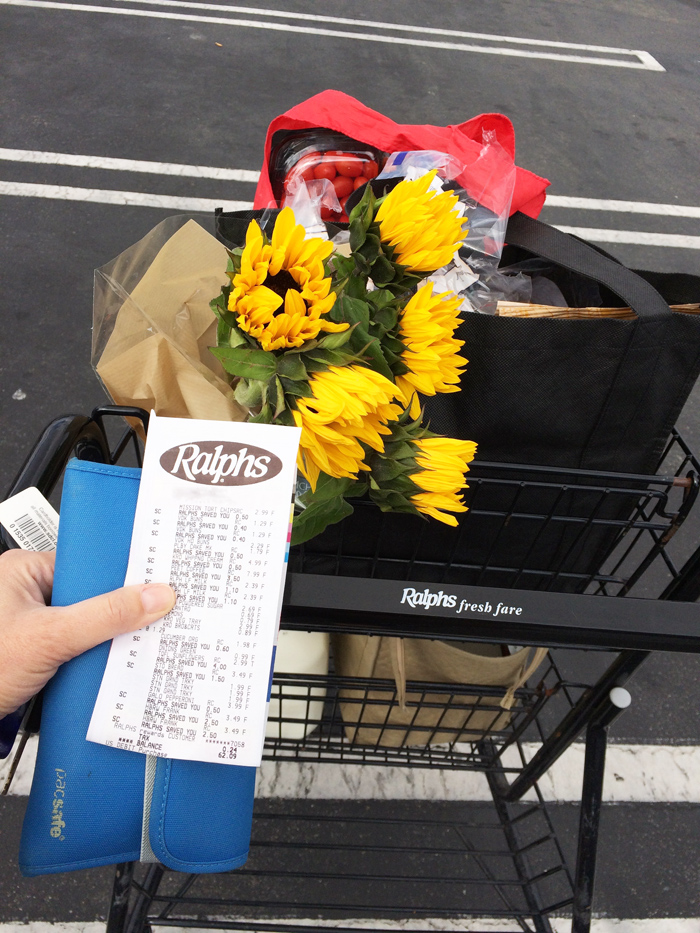 Food is one of the great comforts of life. Not only does it bring nourishment to our bodies, but it can also bring comfort to our hearts. Food is a vehicle for socializing and for showing care for others. It's also one of the biggest areas we can overspend.
Due to lack of planning, ignorance in navigating the grocery store, or simply shopping with our stomachs instead of our minds, we can easily spend more than we need to on groceries. The wonderful thing is that there are some pretty simple tricks to help you lower your grocery bill.
While this list isn't exhaustive, these 7 simple steps can help you lower your grocery bill while still eating well and bringing comfort to those around you.
Lower Your Grocery Bill in 7 Simple Steps
1. Meal plan and make a grocery list.
Having a plan is almost always a surefire way to save money and reach goals. This practice translates to many fields of interest, including food. When I meal plan for the week, based on what's already on hand, and then shop accordingly, I invariably save money and avoid waste.
If you haven't ever followed a meal plan, now is the time to start!

–> Learn how to create your own meal plan here.

–> Grab one of my free $10 meal plans here. They are shoppable at Trader Joe's and ALDI as well as your regular grocery store.

–> Download a Month of Meals – everything you need to eat well and shop effectively for four weeks.
2. Avoid extra stops at the store.
The more times you stop at the grocery store, the more things you will find to throw in the cart. Frequent shopping invariably results in higher spending.
Avoid extra stops at the store whenever possible. Do one good shop at the start of the week and then learn to do without those items you might have forgotten. While it may be hard at first, you'll be amazed at your own creativity as well as the money you save by not shopping so often.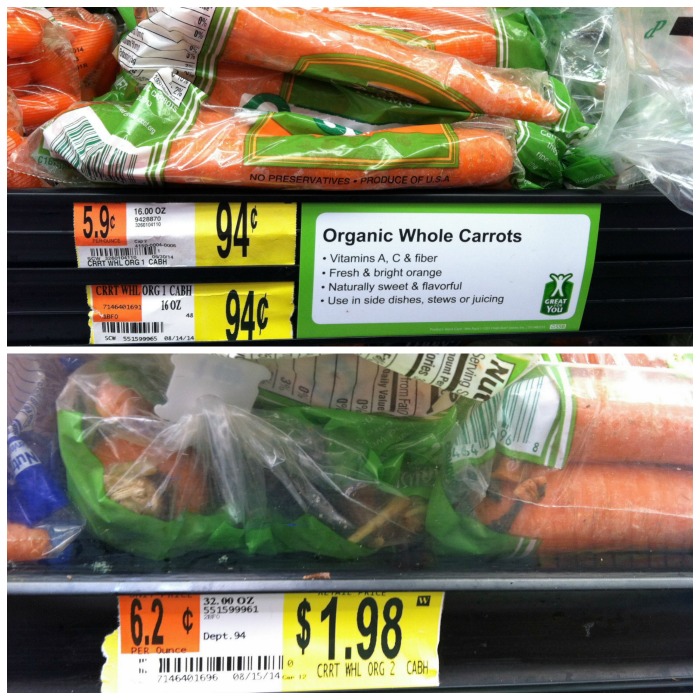 3. Check the unit price.
We've been conditioned to think that bigger is always better. This is not always the case. Costco and Sam's Club bulk purchases may not be cheaper than individual items at your local grocery store. And the bigger package at the grocery store is not always cheapest either.
Case in point: the carrots pictured above. The 2-pound bag was actually more expensive per pound than the 1-pound bag. Even if you needed two pounds of carrots, buy two of the smaller bags and save a little money. It may not seem like a big deal to save a dime, but every penny counts! Before you know it, you'll see the savings add up.
4. Buy store brands.
Unless your favorite name brand is on sale and you've got a great coupon, the store brand is often the better deal. If you haven't already, give the store brands a chance. Often times, they are just a name brand item repackaged and renamed.
Some stores, like ALDI and Trader Joe's, carry a product line that's almost exclusively store brand. What they save in big advertising campaigns, they share with their customers, lowering your grocery bill dramatically.
(As long as you stay away from the cookie aisle! Both those stores have AMAZING cookies!)

5. Scan the clearance sections.
I am a huge fan of the clearance section at my local Ralphs. Oh my. All my children know that that section is a must on every grocery stop. We've found some amazing deals on markdowns. The dairy, deli, meat, and produce sections have clearance stickers as well. Woohoo! is right.
Be sure to check expiration dates before loading your cart, but know that you can find some fantastic deals on items that are simply overstocked, being discontinued or having a packaging change.
6. Avoid the inner aisles.
If you'll notice at the grocery store, all the fresh food is around the perimeter of the store: dairy, deli, bakery, produce, and meat. The more processed items are in the middle. Hint: the processed items cost more than the raw ingredients to make those items. By shopping the perimeter you can lower your grocery bill dramatically.
I venture into the aisles for coffee, canned beans, rice, and other pantry staples, but I almost always avoid the canned soups, frozen dinners, and other heavily processed items. This is particularly true at stores like Sprouts that have great deals on dairy and produce, but have very high prices on anything canned or boxed.
While it's true you can find great sales on these items, often these items are unnecessary. You can live without them. Focus your grocery dollar on the most nutritious and economical items first.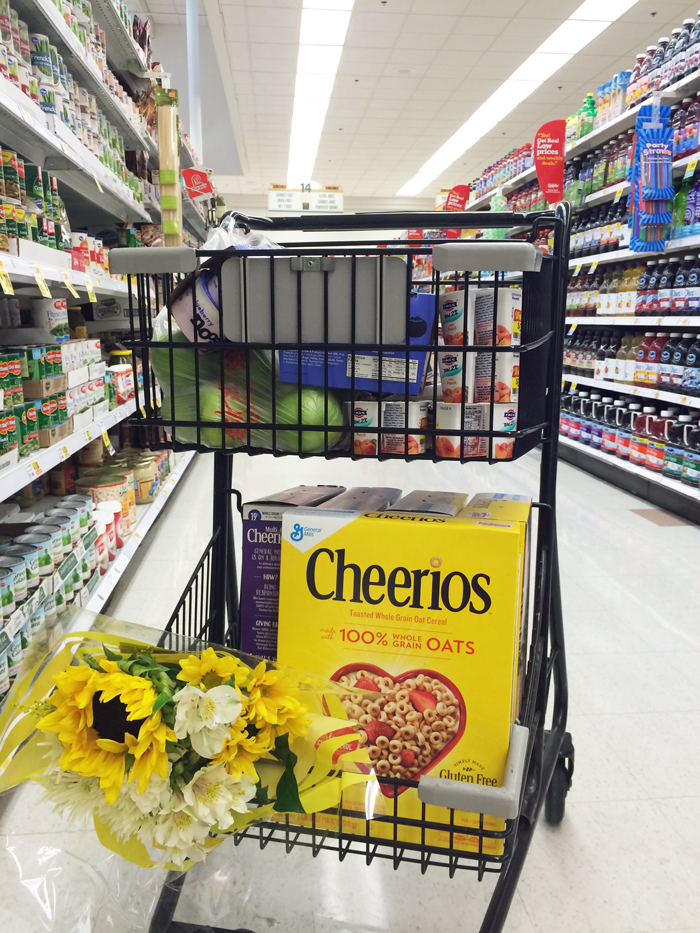 7. Use a smaller cart.
Grocery store carts keep getting bigger and bigger. There's a reason for that. They want you to fill up your cart! If you choose a smaller cart, like the "bachelor buggy" above, you'll be more mindful of what goes into your cart. The less room you have for impulse items, the more you will focus on what you actually need and have budgeted for.
And, yes, I did buy five giant boxes of Cheerios because they were like $1.50 a box after sales and coupons! 😉
You don't need to cut out all comfort foods; you can lower your grocery bill with just a few simple tweaks. These aren't the only ways to reduce your grocery spending, but they are easy places to start. I'd love to hear what tricks you have up your sleeve!
What do YOU do to lower your grocery bill?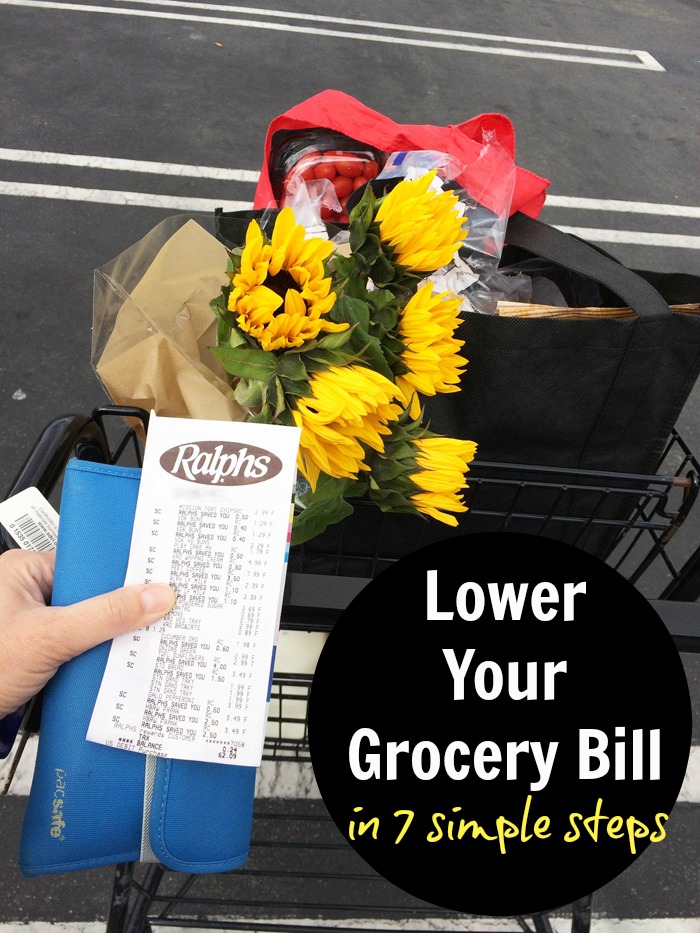 Are you looking for more ways to save and enjoy good cheap eats?
Be sure to subscribe to my weekly newsletter where I share recipes, money-saving strategies, free printables, fun giveaways, and coupon codes for FishMama products.
You can also: