Don't forget the appetizers at your upcoming feasts and get-togethers. These easy appetizers are just the ticket for tempting tummies on a budget.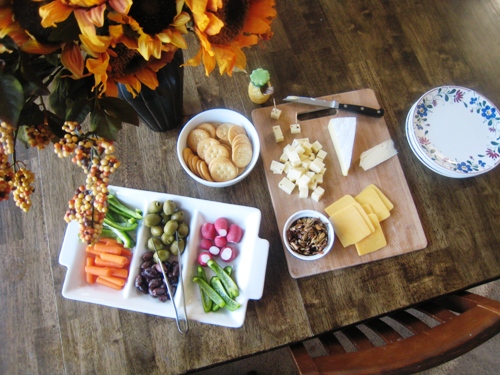 We are a snacky kind of family. If I don't have a "real" meal plan in store, we often resort to chips and salsa, vegetables and hummus, cheese and bread, and the like for a meal. We call it by the very clever name of "snacky dinner." To others, it would be the equivalent of a cocktail party without the high power beverages.
That said, appetizers are something I love to make. Savory finger foods are some of my favorites. And there's no better time to stock up and plan for appetizers than at the holidays. If impromptu guests stop by, you can offer them a morsel to eat that is casual but delicious all at the same time.
When I was a young bride-to-be, I investigated the option of having the caterer provide only appetizers. His bill was through the roof, so we chose other options. While appetizers can be time intensive and therefore more expensive if catered, you can pull off some very easy, budget-friendly appetizers that will wow your guests and fill their tummies.
Here are some ideas to get you started:

1. Homemade dips
A variety of dips is an easy and economical option to offer your guests, especially if you make the dips yourself. Homemade dip is healthier for you and friendlier to the budget. Offer chips, crackers, baguette slices, or veggie dippers for dipping.
2. Little Bites
Savory finger foods can be delicious and are often very make ahead. You can certainly buy them commercially prepared, but making them yourself is surprisingly easy and uses many pantry staples.
Anything that takes a few bites to eat is a good candidate. Some of my favorites?

3. Trays that tempt
There is an assortment of trays you can assemble that offer your guests variety and that are very simple to pull together.
Make it fit the bill.
While you probably can't offer all of these items on a limited budget, you can certainly offer a few, especially if you build your plan based on what's on sale. Keep your eyes open for manager's specials as well as special pricing on fancier ingredients. Bulk buying can often, though not always, save you on per item costs. If it's something you know you will use and you have the cash on hand, stock up.
After the holidays is also a great time to stock up on specialty items to use in the coming months. Just check expiration dates before you load your cart.
Offering an appetizer to friends and family during holiday get-togethers is an easy way to buy yourself some time in getting the final meal details together. It's also a great meal to serve on its own. Either way, it can be budget friendly, too.

This post is part of an ongoing series about how to eat well and spend less. Along with some fabulous foodies, organizers, and frugalistas, I've been bringing you suggestions on how to eat like a king without becoming a pauper to do it. This month we're discussing how to celebrate the holidays on a budget.
Be sure to check out what the other ladies are sharing this week or browse their archives:
What's your favorite appetizer to serve at the holidays?