Bruschetta made with prime summer tomatoes is absolutely out of this world. Put your feet up and enjoy this easy appetizer that can be made in advance and quickly prepped under the broiler.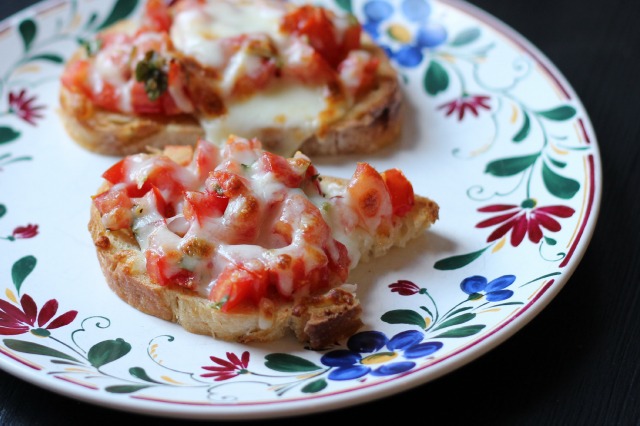 Some people might argue that we live in the land of eternal summer. It's true; the temps are mild in San Diego, particularly so this past year. But, we've got work and school and sports teams from August to June just like the rest of you.
It's June and July when things notch down a bit. Our regular pursuits slow down and we have time to sit and enjoy the summer breeze. (Honestly: usually we get cooler, foggy days in summer, but so far June Gloom has stayed away. It's only Day 3, though, so we'll see.)
On the sunny days, however, I want to relax, throw something yummy on the barby,and sit with my hubby drinking a glass of wine and eating delicious appetizers while happy kids play.
That's not too much to ask, is it?
This broiled bruschetta is similar to one that we get at a local Italian restaurant — and it's perfect for one of those put-up-your-feet kind of evenings. Making it at home allows me to enjoy one of my favorite apps without the high price tag.
In fact, this delicious tomato concoction can be made for just pennies, making it score high as a good cheap eat. Use homegrown tomatoes and basil if you have them. Toss them with olive oil and garlic for a tasty twist to salsa. Then pile the mixture onto toasted bread, sprinkle it with shredded cheese, and broil for a few minutes. Delish!
I typically buy day-old bread from the grocery store to make this appetizer super economical. Using in-season tomatoes will help you further reduce the cost and spike the flavor.
This recipe is one of my absolute favorites. The kids gobble it down when my back is turned, so make lots!
It's also part of my newest recipe collection Good Cheap Eats: Everyday Dinners and Fabulous Feasts for $10 or Less. Be sure to pre-order your copy of the book as most of the recipes will not available online. Consider this a sneak peek.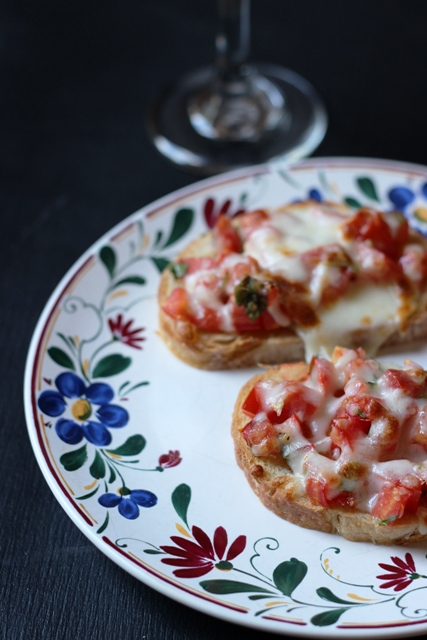 Broiled Bruschetta
Ingredients
2

tomato

diced

1

tbsp

fresh basil (chopped)

1

clove

garlic

minced

1

tbsp

olive oil

salt

black pepper

1

French baguette

sliced and toasted

4

oz

mozzarella cheese (shredded)

(1 cup)
Instructions
Preheat the broiler.

In a medium-size bowl, combine the tomatoes, basil, and gar-lic. Drizzle with the olive oil and stir gently to coat. Season to taste with salt and pepper.

Place the toasted bread slices on a baking sheet. Divide the tomato mixture among them. Top with the cheese.

Broil until the cheese is bubbly, watching carefully so that it doesn't burn.

MAKE IT AHEAD: Store the tomato topping in the refrigerator for up to 1 day. Drain off any tomato juice that accumulates before spooning it onto the toasts.
Notes
Nutritional values are approximate and are based on 1/8 of the recipe. Refrigerate leftovers promptly and use within 4 days.
Nutrition
Calories:
261
kcal
|
Carbohydrates:
20
g
|
Protein:
6
g
|
Fat:
17
g
|
Saturated Fat:
9
g
|
Cholesterol:
11
mg
|
Sodium:
221
mg
|
Potassium:
160
mg
|
Fiber:
2
g
|
Sugar:
12
g
|
Vitamin A:
364
IU
|
Vitamin C:
4
mg
|
Calcium:
74
mg
|
Iron:
1
mg