Forget the ice cream man. Make your own Ice Cream Sandwiches this summer.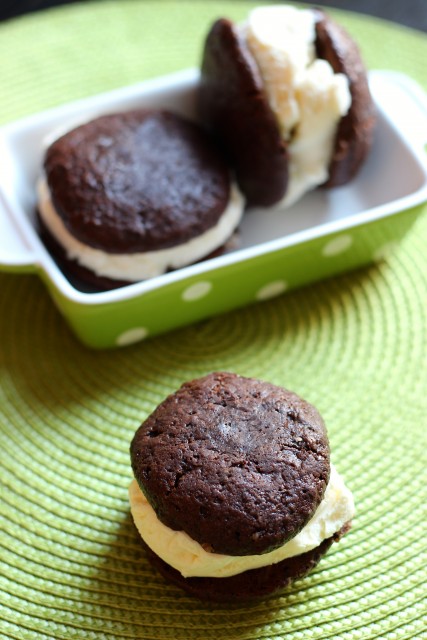 You know how much I love freezer cooking, right? I did write the book on it after all. 🙂 Freezer cooking helps me save time in the kitchen and helps us avoid costlier fast food or restaurant fare. That's all the more important during summer when I'd rather be playing at the pool with my kids or lying on a hammock reading a book.
And dessert time is no exception.
Having a stash of desserts in the freezer makes summer so much easier — and tastier.
A few years ago, I developed these homemade ice cream sandwiches for my first cookbook, Not Your Mother's Make-Ahead and Freeze Cookbook. They were so fun to test. I made them many different ways until I found a method that packed the biggest flavor and the easiest prep. These are them.
(There are over 100 other great recipes in that book that aren't available online. If you don't already have a copy, grab one now.)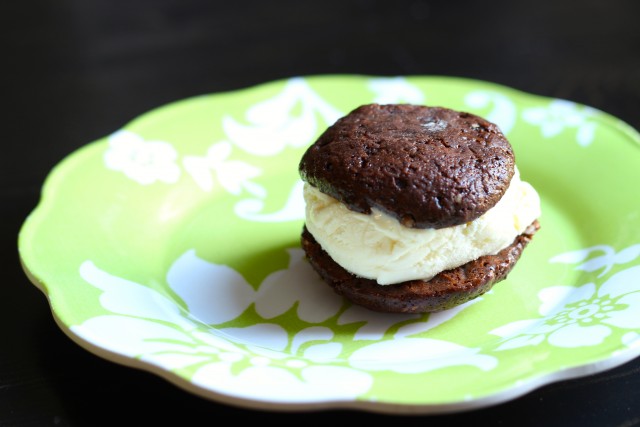 These ice cream sandwiches are so delicious. They taste better than the boxed variety, boast a better ingredients list, and are infinitely customizable. Just change the flavor of the ice cream or roll the completed item in sprinkles or chopped nuts. If you want to guild the lily, stir some mini chocolate chips into the cookie batter. Oh my!
They can be dressed up or dressed down, and are best served with a friend to share them with.
Since dishes are the bane of my existence — and that of the child on dish duty this month — we're on the hunt for dessert without dishes. These ice cream sandwiches are ranking top at our list.
I have a few tools that help making these a little bit easier:
If you've got those gadgets in your kitchen, they will help you make quick work of this recipe. And making them quickly (about 5 minutes to mix, 10 to bake, and 10 to fill) will get you enjoying them all the sooner. Yum-O! As they say….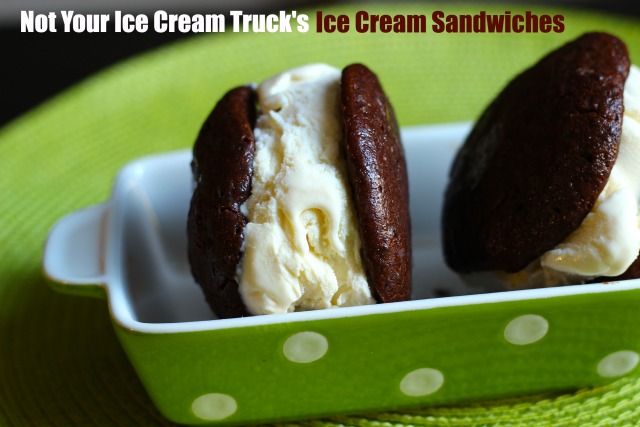 You'll be so pleased with these, you really won't think twice about chasing down that scary looking van playing freaky music this summer. All you need to do is open the freezer door.
Not Your Ice Cream Truck's Ice Cream Sandwiche
Forget the ice cream man. Make your own Ice Cream Sandwiches this summer with a homemade cookie and your favorite ice cream
Ingredients
6

tablespoon

butter

, melted (¾ stick)

1

cup

granulated sugar

¾

cup

unsweetened cocoa powder

3

egg

½

cup

unbleached, all-purpose flour

1

teaspoon

vanilla extract

½

teaspoon

baking powder

½ to 1

qt

vanilla ice cream

or other ice cream of your choice
Instructions
Preheat the oven to 350°F. Line baking sheets with parchment paper or silpat baking mat.

In a large bowl, combine the butter, sugar, cocoa, eggs, flour, vanilla, and baking powder. Stir until well blended.

Drop rounded tablespoonfuls of the batter onto the prepared sheets, leaving at least 2 inches between them. You should have 16 cookies.

Bake for 8 to 10 minutes, or until set. Remove to racks to cool.

Remove the ice cream from the freezer to soften slightly at room temperature.

Place one cookie, flat side up, on a small sheet of plastic wrap. Place a scoop of ice cream on the cookie. Place a second cookie, flat side down, on top of the ice cream. Press the cookies together until the ice cream flattens and spreads to the edges of the cookies. Wrap the sandwich tightly in plastic wrap and place immediately in the freezer. Continue assembling the sandwiches and placing them in the freezer. When all the sandwiches are have been assembled and wrapped, place them all in the freezer bag and store in the freezer.
Notes
Nutritional values are approximate and based on 8 ice cream sandwiches using ½ quart of ice cream. Freeze leftovers promptly.
Nutrition
Calories:
367
kcal
|
Carbohydrates:
50
g
|
Protein:
7
g
|
Fat:
18
g
|
Saturated Fat:
11
g
|
Cholesterol:
110
mg
|
Sodium:
74
mg
|
Potassium:
297
mg
|
Fiber:
3
g
|
Sugar:
38
g
|
Vitamin A:
601
IU
|
Vitamin C:
1
mg
|
Calcium:
109
mg
|
Iron:
2
mg