Try one of these easy, no cook suppers for quick summer fare.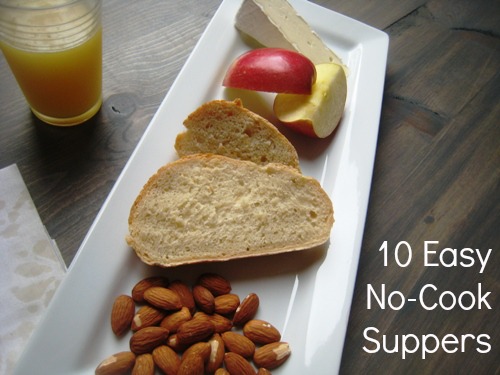 — You don't have to cook every night. Just eat real food. – Chef Thierry Rautureau, as quoted in The Kitchen Counter Cooking School
As I mentioned awhile ago, reading Kathleen Flinn's book was a huge boost to my cooking experience. Its emphasis on cooking at home and focusing on the basics was a great reminder that good meals don't need to be complicated. The above quote was so simple, but helpful, I had to make a note of it.
The chef in question had been explaining how some nights after a long day of work, he just wants some good bread and jam and a cup of hot cocoa, what I imagine to be the french equivalent of "Breakfast for Supper".
It made so much sense!
We don't need to abandon ourselves to fast food or meals from a box, simple no-cook "meals" can be just as good and filling as a four-course feast.
Just make sure you're eating real food.
Here are some easy no-cook suppers to pull together on these carefree summer nights.
1. Hummus, flat bread, and crudite veggies
2. Hard-cooked eggs, fresh fruit, and a whole-grain roll
3. Apple slices, almonds, cheese, fresh baked bread
4. Cottage cheese, cut-up melon, whole wheat toast
5. Yogurt, granola, fresh berries
6. Sliced cheese and meats, crackers, and in-season fruit
7. Salad of sliced tomatoes, fresh mozzarella, basil leaves, and a drizzle of balsamic. Add baguette slices to sop up the juices.
8. Rice cake or whole grain bread with a swipe of nut or seed butter, sliced fruit, and a glass of milk
9. Fruit smoothie, made with yogurt or protein powder
10. Drained tuna or salmon tossed with chopped celery and fresh dill, crackers, fresh fruit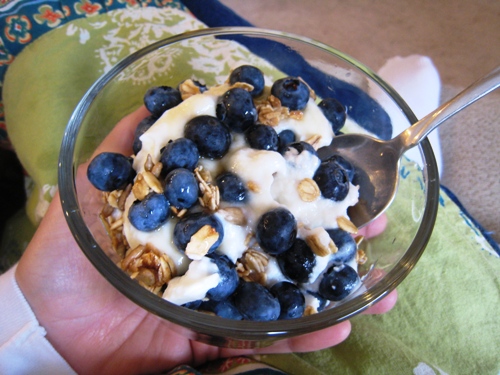 Summer dining can be simple!
In the heat of summer, light meals are often preferred. These "meals" are all good old, healthy, real food. Add a glass of your favorite summer beverage and watch the sunset with someone you love.
What's your favorite no-cook supper?