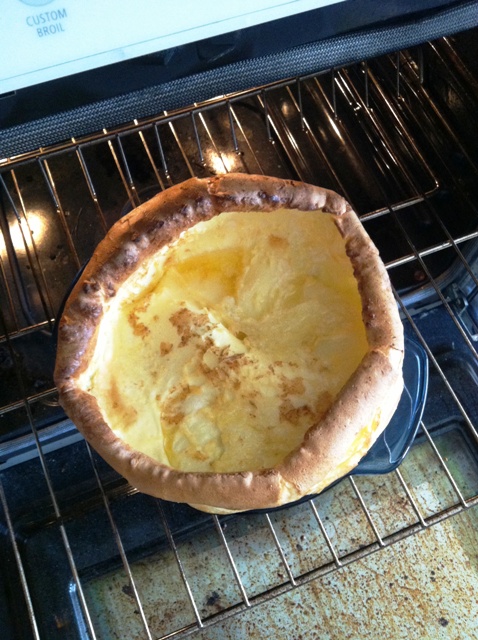 Meet the world's largest popover!
Remember that recipe book I told you I made for my family many Christmases ago? One of the mystery recipes in there was a recipe for Oven Pancake. I never remembered my mom having made it, but it sounded interesting 15 years ago when I was rifling through her recipe box.
Finally last month I made it. My 9-year old was extremely skeptical when I poured the batter into the pie plate. He was even more so when we turned on the oven light to see the batter clinging to the sides of the pan like pie crust.
What neither of us expected was it to puff so high that it nearly touched the ceiling of the oven! Nor did we expect it to be so gosh darn tasty. The kids devoured the first pan and then proceeded to make a second pan. And devour that, too.
It's hilarious to hear them critique the different pancakes. Some prefer less butter; others want it soaking in butter. You can adjust how much butter you use at the start, 2 to 3 tablespoons. Either way, there's never leftover or any going to waste. (I hate waste.) [Continue reading...]