Got ham? Transform your ham leftovers into something extra delicious.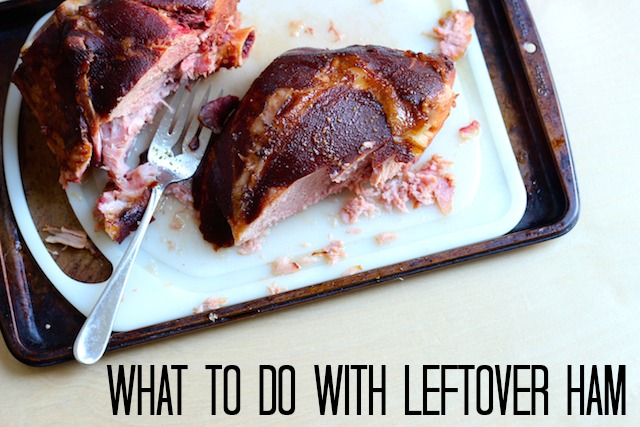 My boys love ham. Love it. My husband can go either way on it, but now that the boys have a larger voice in culinary choices, we make ham about twice a year. I cook up a large honey-baked ham, sometimes in the crockpot, a pan full of the best scalloped potatoes on the planet, and a few vegetable sides.
In the days following we transform the leftovers into something new and different, but still delicious. The potatoes rarely last past one meal, anyway.
If we don't feel like having ham several days in a row, we package it for the freezer. Actually, FishBoy16 does this. He is my resident "I-need-meat-for-it-to-be-a-meal" diner. Which isn't totally true, because he does great with vegetarian meals, provided they have hearty, healthy fats like avocado or nuts included. So, whatever. Let's just say he's a big ham fan.
He does all the slicing and dicing and packages it in personal size packages for freezing. That way, anytime, he wants to make Ham and Eggs or another hammy breakfast dish, he's ready to go.
Here are some of our favorite ham dishes to use up the Easter or Christmas leftovers: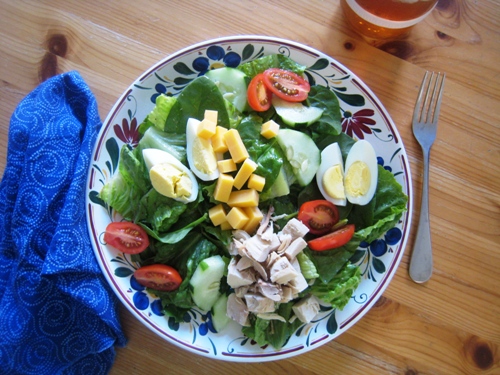 A typical chef's salad boasts hard-boiled eggs, cucumbers, tomatoes, cheese, and meat on a bed of dressed greens. This version features a garlicky anchovy vinaigrette that adds some punch to the melange.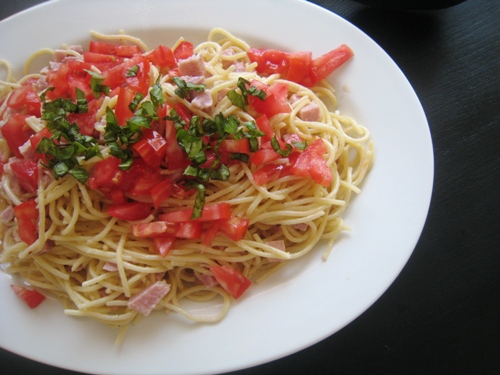 This pasta dish is the result of a pantry challenge when I put leftover spaghetti and ham from the freezer to good use. I had a tomato and basil from the produce box and just a bit of cream to make a delightful carbonara-esque pasta dish.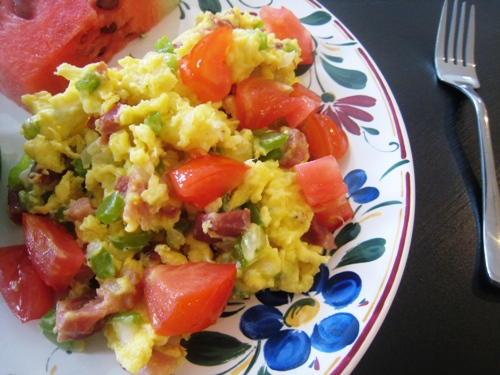 Denver Scramble is one of the tastes of my childhood. It's basically a Denver Omelet for the omelet-impaired. So filling, it works for breakfast, lunch or dinner.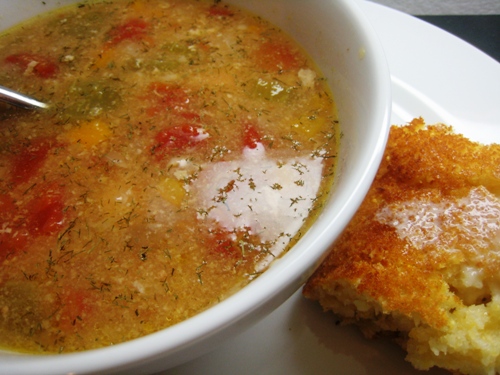 I know this California Chicken Gumbo for a Crowd isn't "authentic" but it sure is good. The fact that it cooks in the slow cooker is an added bonus, so you can just set it and forget it.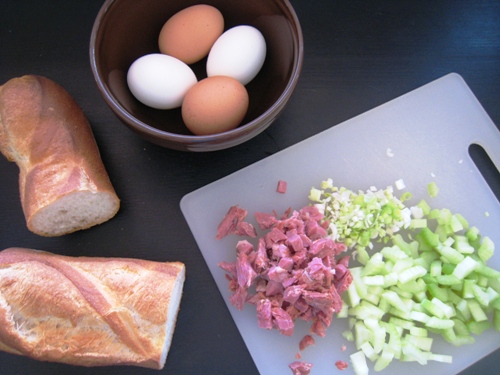 We didn't dye eggs this year. I had every intention to do so. We were going to experiment with natural dyes. But, then I ran out of eggs and the price of eggs at the closest store did not make it easy to hard cook enough eggs so SIX kids could dye them to their hearts content. If you've got leftover hard cooked eggs, though, consider making this Ham and Egg Salad.
And if you just can't look that ham in the eye right now, just toss it in the freezer, well-wrapped. It will be good for a couple months until you're ready to enjoy it again.
What do YOU do with leftover ham?