Seasoned ground beef and vegetables combine in a symphony of flavors, making a great topping for pasta or rice.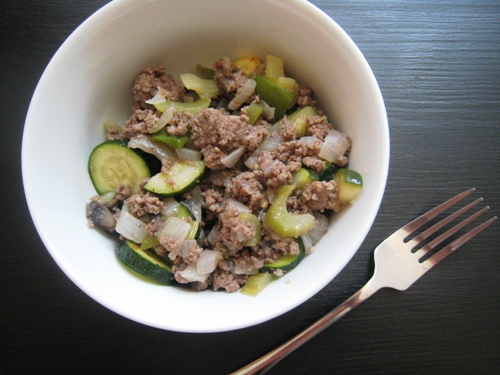 I grew up in the era of hamburger gravy and casseroles. Ground meat was the basis for many dishes due to its low cost and ease of preparation.
Over the years, I've become a little pickier about what ground meat I buy. While grass-fed beef isn't quite in my price range, I do try to buy better beef when I can. It's not quite as cheap as it was when I was a kid.
This dish came about from happenstance. I had originally planned on making my Vegetable Bolognese during my last freezer cooking session, but the eggplant had gone bad and I forgot to buy tomatoes.
So, what to do with a load of vegetables and some ground beef?
This dish was the result, sauteed vegetables and beef with a healthy dose of seasonings. I divided the batch into meal sized portions for hubby's lunches and held my breath.
My taste testing revealed that it had wonderful flavor. I'm happy to report that he concurred. Serve this over rice or pasta for a filling lunch or supper.
Recipe: Seasoned Beef and Vegetables
Ingredients
1 tablespoon olive oil
2 cups chopped onions
1 cup chopped celery
1 tablespoon chopped garlic
1 1/3 pound ground beef
2 cups chopped zucchini
1 cup chopped bell pepper
5 ounces sliced mushrooms
2 teaspoons kosher salt
1/2 teaspoon red pepper flakes
freshly ground pepper to taste
Instructions
In a large heavy pot, heat the oil until shimmering. Add the onions, celery and garlic. Cook until the onions start to go clear.
Add the beef, zucchini, pepper, and mushrooms. Cook, stirring until the vegetables are tender and the meat is no longer pink.
Season with the salt, red pepper, and black pepper. Serve immediately.
To freeze: cool mixture completely and place in covered dish. Chill before freezing.
Preparation time: 10 minute(s)
Cooking time: 15 minute(s)
Number of servings (yield): 6
Got a favorite recipe for ground beef?