In case you'd forgotten the merits of the slow cooker, well, let's review them today. 
This post does include Amazon affiliate links. If you make a purchase through those links, I am paid a small amount in way of advertising fees.
Which of your friends and neighbors will spend hours cooking a meal while you go galivanting around doing whatever else is on your to-do list? Who will fill your home with good smells and make you feel like a rockstar chef? Who will do it all without making a sink full of dirty dishes?
Who will make this awesome Salsa Verde Beef that your kids scarf down and your husband raves about?
Yep, the slow cooker, that's who.
I probably don't need to tell you all the beauties of this small kitchen appliance, do I? Twenty years ago it was relegated to a garage shelf to gather dust. I was a newlywed then and slow cookers were not as highly respected as they are today.
The slow cooker has found new life in the new millennium, thanks to cookbooks like Not Your Mother's Slow Cooker Cookbook and Make It Fast, Cook It Slow. (As a side note, as I type this, the Kindle version of Make-It Fast is only $1.99 right now, so go grab it before they change the price.)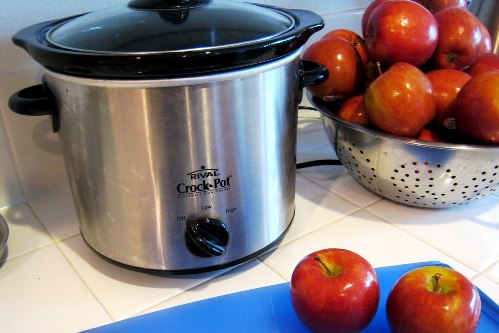 Yep, the slow cooker is cool again. But, I was slow cooking back when slow cooking wasn't cool. (Sorry, I couldn't resist.)
Anyway, the slow cooker does all that I've said:
limits the number of dishes used
fills your home with good smells
cooks a meal while you go do something else
makes you a rockstar chef in the eyes of your family
Use of a Slow Cooker
The slow cooker is incredibly easy to use, provided you remember a few guidelines.
1. Don't overfill.
A slow cooker's optimum capacity is around 2/3 to 3/4 full. Any more or less will throw off the recipe.
2. If space allows, have a couple cookers of different sizes.
Since the size of the cooker matters, Beth Hensperger suggests in Not Your Mother's Slow Cooker Cookbook to have multiple and varied sizes and shapes of slow cookers. When I read that, I let my mom treat me to a couple smaller sizes than I had. I currently own 1-, 5-, and 6-quart sizes in different shapes.
3. Don't expect it to look pretty.
Slow cooked food tastes fabulous, but rarely is it "eye candy". Be content that it can take cheap, tough meat and transform it into something wonderful. Case in point: my children's absolute favorite, Sauerkraut and Pork.
Some of my favorite recipes include:
Care and storage
There aren't too many tricks to caring for a slow cooker. Make sure you wipe down the sides well after each use. Do not immerse the electronic metal casing in water. Wash the removable crock and lid well with soap and water. Dry everything well and store the pieces together in the cupboard.
Purchasing a machine
I've never done any real research when purchasing a machine. Mine have been whatever Target had on hand when I happened to go there. I have two Crockpots (a 5-qt round and a 6-qt oval so oval that it's not made anymore, but this is similar) and one small Proctor Silex.
I've seen slow cookers go on clearance often. OFTEN. So, watch for mark-downs. Likewise, you're bound to find used or new machines at yard sales and thrift stores. Ask around among friends and relatives. Someone might have one getting dusty on a shelf because they don't know that slow cooking is cool again.
What's your experience with a slow cooker?
Love it or hate it? Do tell.
Disclosure: This post does include Amazon affiliate links. If you make a purchase through those links, I am paid a small amount in way of advertising fees.
(Check out past posts in which I wax eloquent about the bread machine, the food processor,the immersion blender, the waffle maker,  the Keurig, the electric griddle, the home juice extractor, and the toaster oven.)