Busy days call for quick lunches. With an easy formula for pulling together a great salad, you can eat good as well as cheap.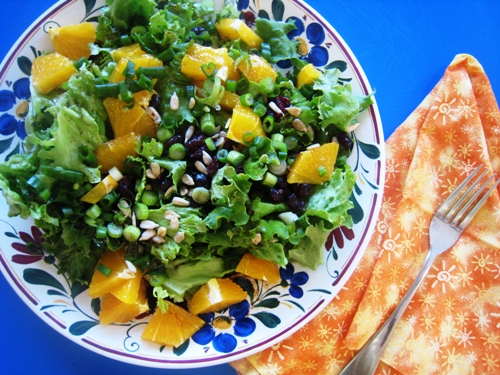 My days are fairly non-stop. If I'm paying attention, that it. Don't get me wrong. I like to just lie around. But, folks depend on me, so I don't take that luxury too often. But, I do love to take a tasty lunch break somewhere in the middle of the day.
While my kids might have Sunbutter and Pomegranate jelly sandwiches, I'd rather have a salad. I sometimes get lazy and think that a salad will take too long, but I'm developing a system that helps me pull together very quick salads that are the perfect, fresh pick-me-up to my days.
1. Lettuce or spinach
Typically in our produce box I have a load of spinach as well as a head of lettuce. Different from store bought, these fresh-from-the-farm greens tend to the sandy/gritty side. So, I dunk them in a bowl of cool water, swish, and run them through the salad spinner. A few quick tears and I'm good to go for a bed of greens.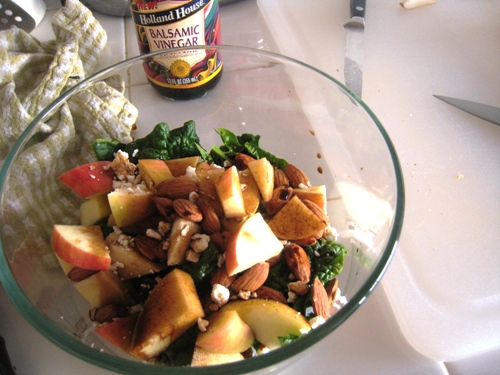 2. Tasty toppings
Lately, I've surprised myself by what I've found in the cupboard or fridge. It doesn't seem like there's much there and then when I get started adding salad toppings, I find myself with a tasty salad. These miraculous toppings would include:
cubed or crumbled cheese
nuts
sunflower seeds
dried cranberries
chopped apple or oranges
chopped scallions
chopped deli turkey, grilled chicken or steak
3. An easy dressing
I don't often buy bottled salad dressings. In fact, I think I buy about one or two bottles a year. But, we enjoy salads often — with homemade dressings. Somedays, I just dress my salads with a dose of balsamic vinegar and another of extra virgin olive oil. I might add a sprinkle of salt and a few grindings of pepper. The Balsamic vinegar that I received from Holland House offers enough flavor that I really don't need anything more than this.
A note on taking salad on the go:
I regularly pack a picnic for the kids and I to take to the park. While they can handle the aforementioned sunbutter sandwiches, I would rather take a salad. This is super easy to do with the new Glad-to-Go lunch boxes from Glad (pictured above).
I first saw these at BlogHer last summer and have since stocked my cupboards with these great boxes. They are BPA-free and include a dressing cup that fits into the lid. The smart folks at Glad have made all the lids in the same way, so I can add a dressing cup to a bigger sized container if I want.
Keeping things simple helps me enjoy quick salads on busy days.
Disclosure: Holland House has provided me with sample product as well as compensation for my time spent writing this post. All opinions are my own. You can read more about Holland House and other simple ways to dress up everyday foods on their Facebook page.
Related: Salad Dressings to Make Yourself