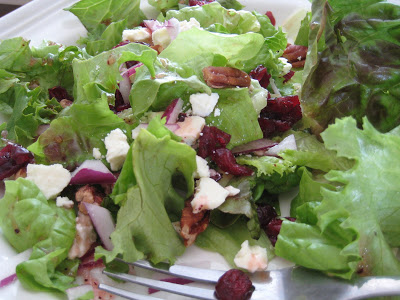 Our family is a salad family. My kids devour Caesar Salad as well ChiChi's Italian Salad. And my husband and I can easily polish off a batch of Broccoli Slaw all by ourselves.
One thing that we love in salads is a little bit of crunch.
Croutons are a great way to add crunch. However, packaged croutons, though shelf stable, aren't super healthy what with all the sodium and preservatives. And homemade croutons, though delicious, don't last long in there here parts.
That's why I love nuts and seeds to add crunch to salad.
Not only are they an easy pantry staple to keep on hand, but a little goes a long way. Consider topping your next salad with chopped walnuts, toasted pecans, sliced almonds, sunflower seeds, or pepitas. They add great texture and flavor to any salad.
How do you like to top your salads?


Want the dish on delicious ways to act your wage? Subscribe to GCE in a reader or via email.