Ready to rock it on New Year's Eve? Try out our family's tradition with New Year's Eve appetizers that kids can make.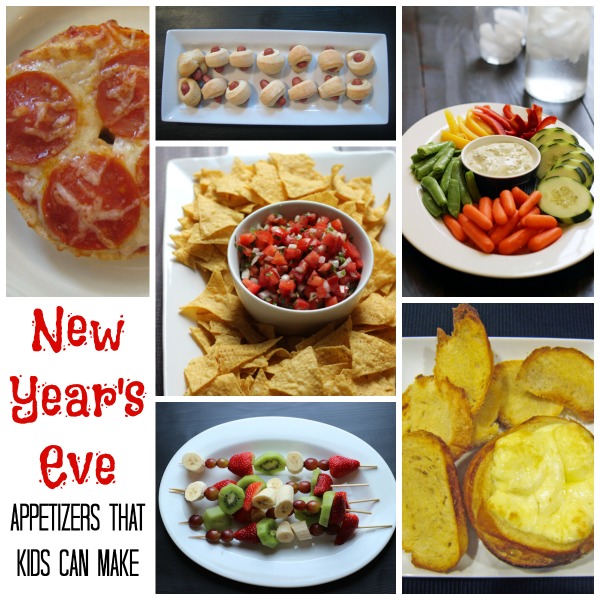 For as long as I can remember, our supper on New Year's Eve has been a variety of appetizers accompanied by fizzy drinks. As a mom with lots of littles it was an easy meal for me to prepare that was fun for me and easy for them to eat. I could indulge myself with Jalapeño Poppers and Garlic Brie Bread while the kids lived it up with Pigs in Blankets.
And since every item on the menu is eaten without utensils, clean up is usually a breeze.
Now that my children range in age from 6 to 17, they are able to do more in the kitchen, often independently. A few years ago, we decided that each member of the family could choose an appetizer or finger food to prepare for New Year's Eve. Bonus points if he or she could prepare it all on his or her own.
We've had some very tasty New Year's Eves as kids experiment with Beer-Battered Shrimp and Homemade Fried Eggrolls. This year, the FishKids have toned down their choices a little bit.
Here's what's on our menu this year: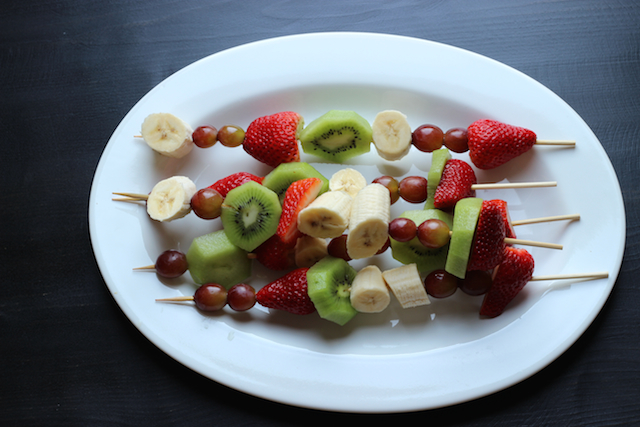 Fruit Kabobs
This is pretty easy. Just buy a variety of fruits. FishChick8 insists that she'll do all the chopping and slicing. String them on bamboo skewers. Kids love to do this.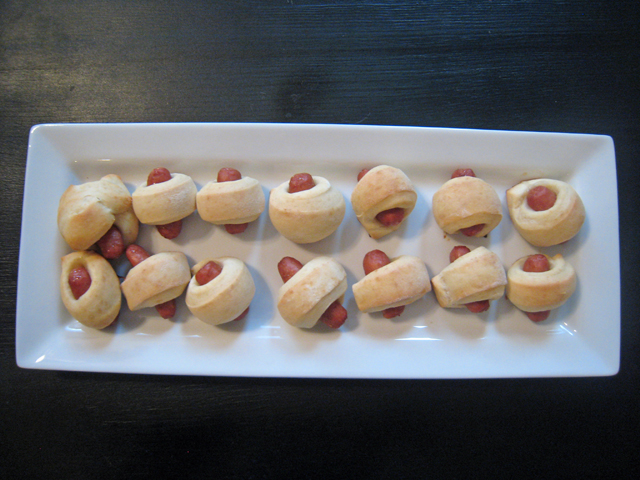 While you can use canned crescent roll dough and regular smoked cocktail sausages, it's a bit healthier to make a homemade dough. This year I'm healthifying it just a notch more and using Aidells healthier mini sausages if I can find them. If I can't, we'll just wrap the dough around slices of larger Aidell Chicken and Apple Sausage. Once you make the dough, kids can easily wrap pieces around the sausage. You can leave some sausage without blankets for folks who want to go gluten free or avoid the carbs.
Grab the recipe for Homemade Pigs in Blankets.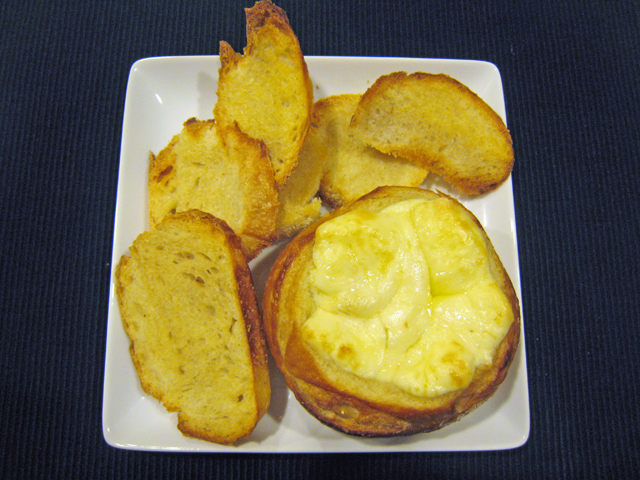 This four-ingredient recipe is super easy. All you need is Brie, sourdough bread, olive oil, and garlic. Brush the bread with garlic-infused oil and toast. Cube the cheese and fill the bread bowl. Bake until melty. Serve with toast dippers. This is super simple for kids, particularly since they could love to brush and cut. Offer a plastic knife to little ones.
Grab the recipe for Garlic Brie Bread.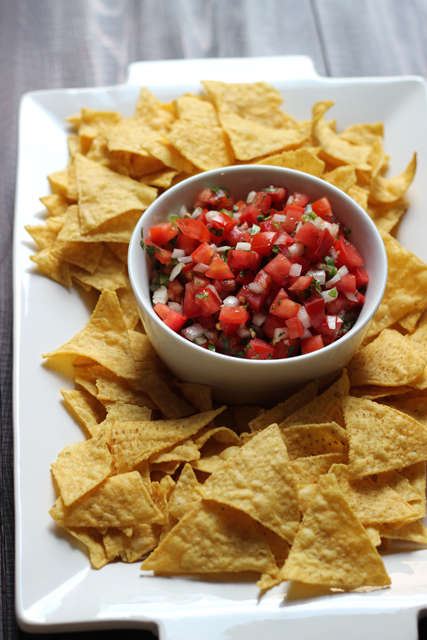 Chips and Salsa
We love our chips and homemade salsa here. Yum-O. It's so easy to make your own, though in winter, I usually use canned tomatoes for better flavor. While you may need to do some chopping, kids love to run the food processor or stir the ingredients together.
Grab the recipe for Salsa with Fresh Tomatoes or Homemade Salsa with Canned Tomatoes.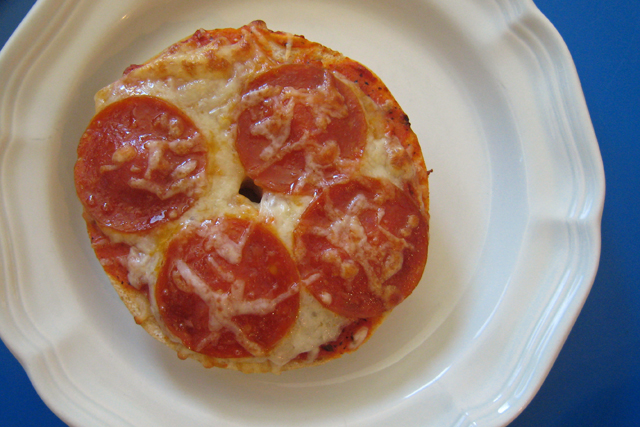 These are particularly fun when you make them on mini bagels. They stretch farther and are cuter for a cocktail/mocktail party. Kids love to top their own pizzas.
Grab the recipe for Pizza Bagels.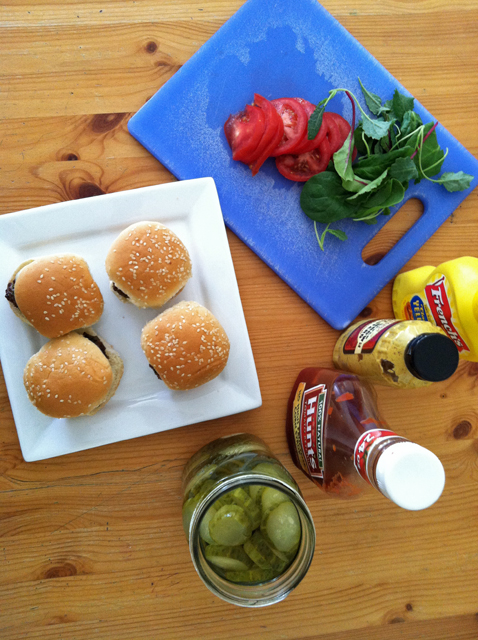 Make itty bitty burgers and it's really fun. Folks can fill up on your "appetizers" without feeling like you've deprived them. Go as simple or as complex with your condiments or simply make them "house style". These are particularly tasty with spinach in the meat patty. Kids can help form the patties and assemble the cooked sliders. You can serve some of the patties "lettuce-wrapped" if you've got folks who need to pass on the bread.
Grab the recipe for Popeye Burgers.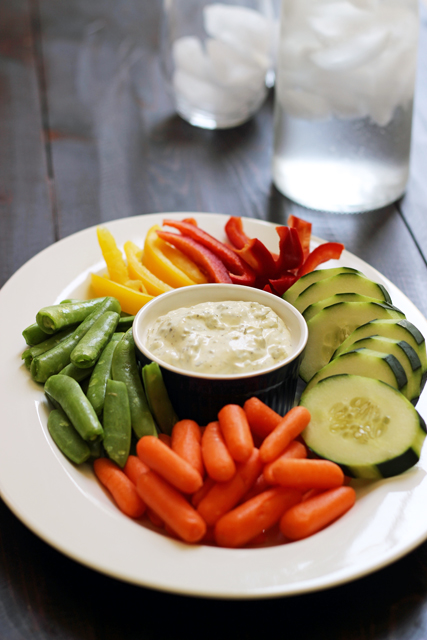 Easy Veggie Tray
If I chop a veggie tray on any day of the week, my people will eat it all. Well, maybe except the celery. I've got a tray on the table now that just has celery. Kids can very easily mix up a sour cream dip (try this one or this one) or hummus for a dairy free option and arrange the vegetables. Slicing is super easy when you do it this way.
Shrimp Cocktail
Sorry, no picture on this one. We've never made it in daylight. I'll have to change that this week. It's super easy to make. Buy cooked and peeled shrimp or steam the uncooked kind yourself. Make your own cocktail sauce: mix together ketchup (I use the healthier kind), prepared horseradish, a little lemon juice, and freshly ground black pepper to taste. Picture and recipe forthcoming.
What's on YOUR New Year's menu?