For best texture and reduced freezer burn, chill foods completely before freezing.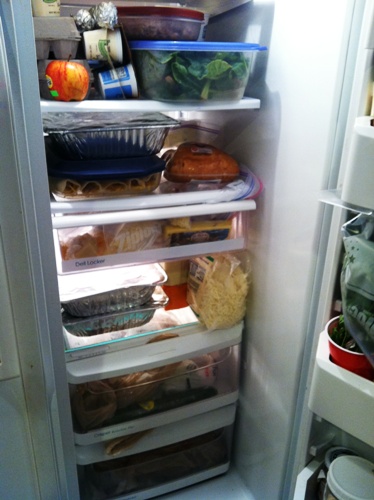 This is what my refrigerator looks like on a busy freezer cooking day. When I tackle a large freezer cooking session, I find refrigerator storage to be a challenge. I need to use the fridge to store all the groceries I've bought, thaw those that I might be cooking up (like whole chickens or roasts) as well as have space in the refrigerator to chill the finished dishes before freezing them.
One of the keys to good texture in your frozen foods is to chill it well prior to freezing. This helps it freeze more quickly and avoid large ice crystals and unsightly freezer burn.
Typically I allow foods to cool to room temperature (out for no more than two hours) before chilling in the fridge. Sometimes I cook in shifts, alternating cold ingredient assembly items (like meatloaf or marinated chicken) with those that require cooking, cooling, and chilling prior to freezing.
In this way, I can maximize my refrigerator storage space at the same time as stay on task with my cooking plan.
31 Days of Freezer Cooking
For more ideas about how to make freezer cooking work for you, follow along with us here in October as I post 31 Days of Freezer Cooking. You can see past posts here.
For even more Freezer Cooking how-to's you can also buy my book, Not Your Mother's Make-Ahead and Freeze Cookbook.
Don't want to miss a post in this series? Subscribe to 31 Days of Freezer Cooking by RSS oremail.