You can make homemade pizza easily and economically. You'll save a ton of money and eat better pizza. Learn how to make pizza at home that's cheaper and way better than ordering it. Guaranteed.
If you've ever paid too much for a pizza or found yourself without pizza on a Friday due to cost or unavailability, well, today's the day to discover pizza freedom.
Pizza Freedom.
You can make pizza at home, with all your favorite toppings — none of this having to choose just one since they cost $2 each! — pizza that tastes amazing and costs just a few bucks.
Homemade Pizza is one of those things that you can make yourself to save money.
Homemade Pizza is also a regular feature on the FishFam menu. I try to make it at least once a week, usually on Fridays. Sometimes we make these easy 5-Ingredient Pita Pizzas or these fun kid-friendly Pizza Bagels. But today, we are talking about traditional pizza with some homemade dough.
This makes a great start to our weekend. Coupled with root beer/wine/beer, a movie, and snacks, it creates a fun family night for my husband and me and our kiddos.
It's a non-negotiable part of our week, and thankfully, we don't have to rely on anyone to make it happen. Homemade pizza is easier than you think!
Ingredients for your homemade pizza dough
To make the dough you will need:
water
olive oil
honey
salt
yeast
all-purpose flour (but bread flour or a combination would also work)
What is the best flour for making homemade pizza?
We used regular all-purpose flour for our pizza dough and it works great. I wanted a pizza dough recipe that uses a flour that I have on hand all the time.
That being said, if you are finding the dough in the end doesn't have enough chew or is tearing as you are trying to roll it out try using bread flour (or a combination of AP flour and bread flour). Bread flour has a higher protein content that will result in a stretchier dough that results in nice, chewy crust.
How to make homemade pizza
Fun fact: you don't need much to make homemade pizza. A few baking supplies, a can of tomato something, a bit of cheese, and maybe some toppings. My daughter eats vegan pizza without any cheese, so there ya go!
Even if the cupboards look a little bare, you can still pull off a great pizza.
In fact, I'd call it the king of pantry meals.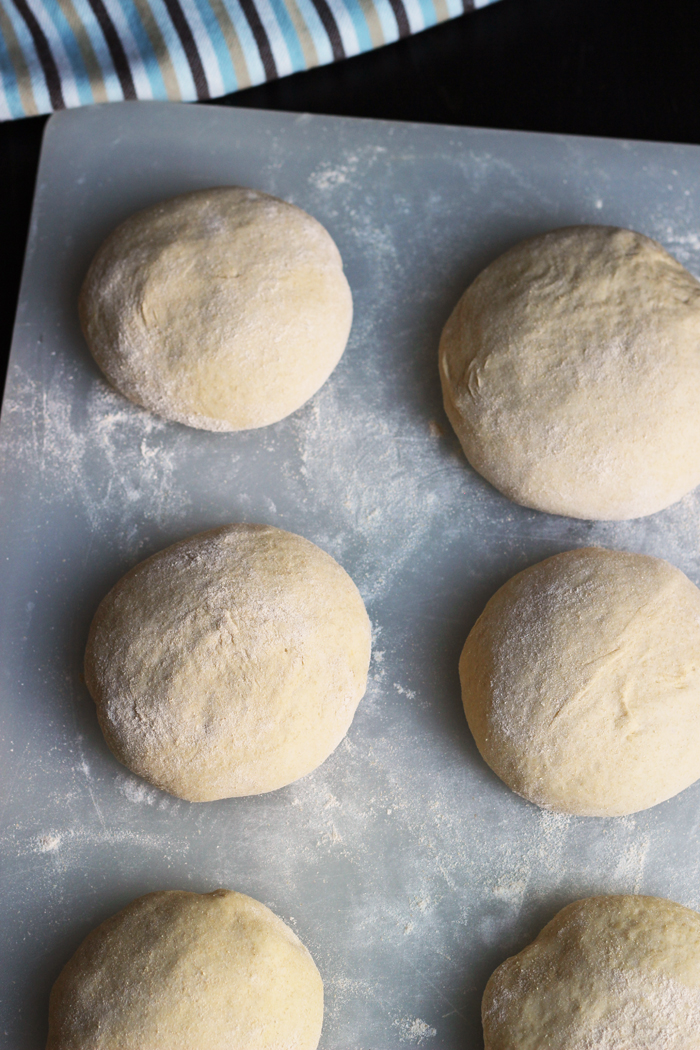 A homemade pizza dough isn't difficult to make, especially if you have a bread machine or a stand mixer. Make the dough a few hours before you plan to bake the pizza(s).
This Homemade Pizza Dough makes enough for 4 medium pizzas. You can cut the dough into smaller portions for smaller pizzas.
Can you make pizza dough ahead of time?
You definitely can! And it will result in a more flavorful dough. Simply make the dough and then lightly cover it. Pop it in your fridge for 1 day, letting it rise slowly in your fridge.
Can you freeze pizza dough?
If you don't want to bake all four pizzas, you can freeze the extra dough balls for a later date. When the dough is ready, divide it into 4 sections. Place a dough ball in a greased ziptop, freezer bag and place it in the freezer immediately.
When you're ready to use the dough, remove one frozen ball from the bag and place it in a greased bowl at room temperature for several hours. The dough will thaw and rise. When it has doubled in bulk, you can form and bake the pizza.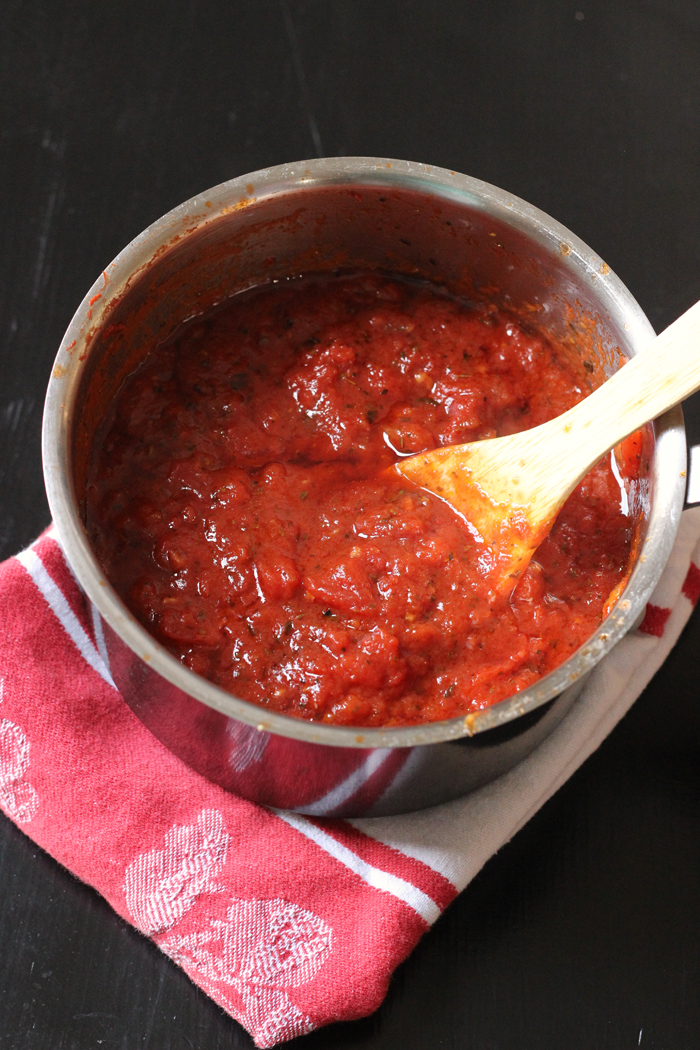 Once you've got your dough prepped, you're going to need the other two components: sauce and toppings.
Homemade Pizza Sauce
You can use whatever pasta sauce you have on hand. It can be a jar or homemade. You can also get creative and use pesto, BBQ sauce, or some other savory sauce that you have on hand.
Usually I use something I've made myself, like this homemade pizza sauce recipe. It's pretty amazing.
When I don't have any simmered sauce ready to go, I use this Last-Minute Pizza Sauce.
You'll need about ⅔ cup sauce for large pizzas, ⅓ cup for smaller, individual size pies.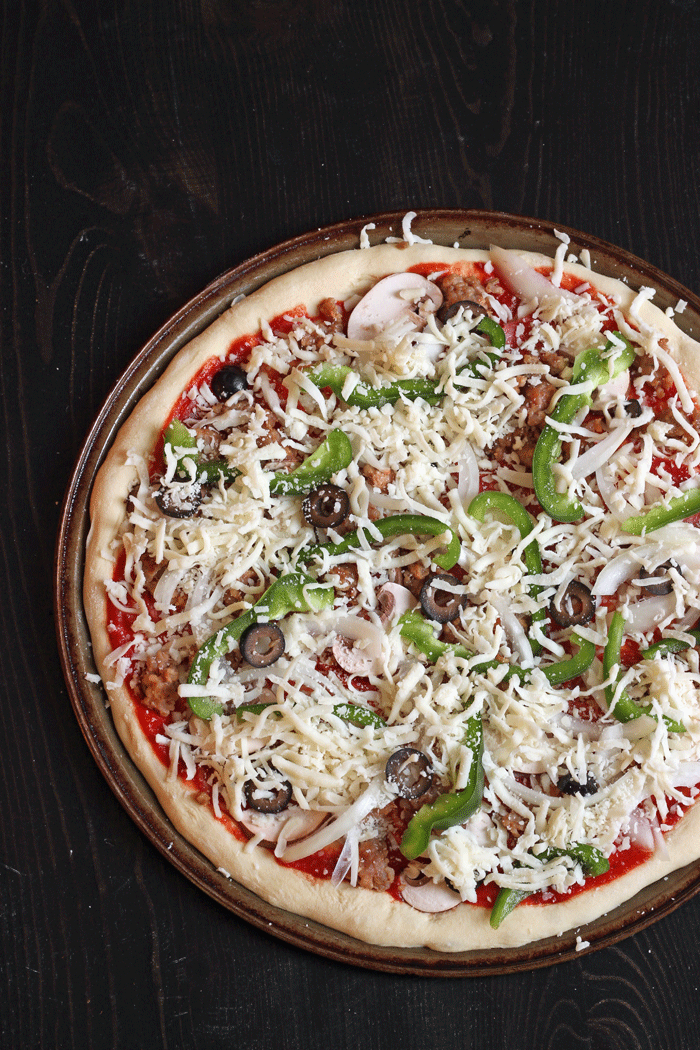 Homemade Pizza Toppings
You can keep it simple or feel free to have some fun and creative with your toppings. Here are a few fun ways to do just that:
You can use whatever toppings you like best. Prep them before you start to assemble the pizzas, just to make things easier.
Standard pizza toppings include:
pepperoni
cooked and drained Italian sausage
sliced mushrooms
diced onion
diced tomato
sliced, black olives
chopped zucchini
sliced bell pepper
You don't have to limit yourself to these toppings, though. You can pretty much put anything on a pizza: bacon, pulled pork, cooked chicken, grilled steak, black beans, etc. I've even seen mashed potatoes on a pizza!
Check out our Burrito Pizza and the French-inspired Tartiflette Pizza.
Place a thin layer of toppings on your pizza and cover with a layer of cheese. We like a combination of shredded jack and mozzarella cheeses.
Take care not to use too many toppings as that may prevent the dough from cooking properly.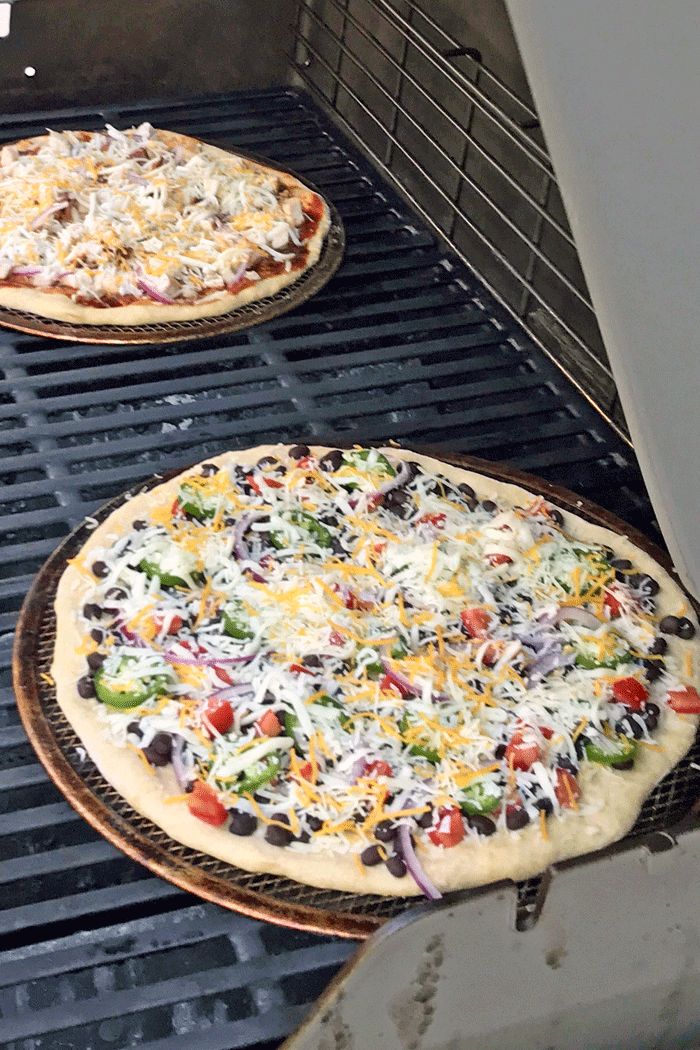 Do you put the sauce or cheese on first?
I'm not going to lie I have heard people doing it both ways. But for a traditional homemade pizza it's customary to spread the sauce on first, then your cheese.
Do you cook the pizza dough before adding on the toppings?
No you don't need to. Just assemble the pizza – dough, sauce, cheese and toppings and then bake or grill your pizza!
How do you get a crispy pizza crust?
To get a crispy pizza crust you can try a few things:
Make your crust very thin. Ideally around ⅛-inch or ¼-inch thick.
Go light on the toppings and sauce. The more you add the soggier your crust might become.
Pre-cook some of your toppings. Certain toppings, like fresh veggies, benefit from being cooked first to help remove some of the water.
Bake on a pizza screen. Pizza screens allow heat to reach the bottom of your crust making for a crispy crust.
Bake on a hot pizza stone. If you use a pizza stone, then it helps to place in the oven and pre-heat and get very hot before you place your pizza on it.
Use a HIGH oven temperature. A low oven temperature just isn't going to cut it for getting a crispy pizza crust. I recommend baking your pizza at 475 degrees.
How to Bake Your Homemade Pizza
You don't have to have a fancy pizza oven to make great homemade pizza, but you do need a hot oven or grill.
To bake your pizza in the oven:
A preheated oven is key to a great crust. Up to an hour before baking, set your oven to 475 degrees. Bake pizzas for 8-15 minutes, depending on their size.
Use the shorter baking time for smaller pizzas, the longer time for larger ones. Pay close attention to how your oven operates and how brown your pizzas are getting. I cook only one large pizza at a time.
To grill your pizza on the BBQ:
We love grilled pizza. We assemble the pizzas just like we would for baking, only we "bake" them on the grill.
Heat the grill to 400 to 500 degrees. Once you have the grill hot enough, place your pizzas on the grill. Close the lid and bake for 5 to 7 minutes or until the crust is crisp and the toppings are hot.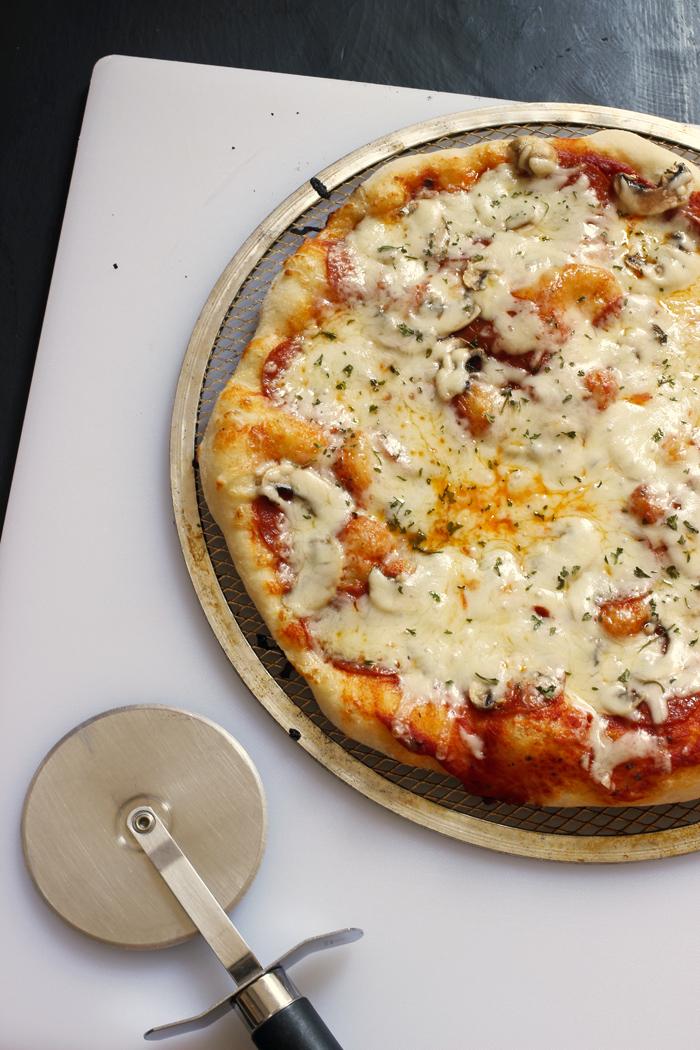 What do I serve with homemade pizza?
Of course you can simply dig in as is! But pizza night always goes well with a garden salad topped with this Easy Homemade Italian Salad Dressing Recipe. Or try this Italian Salad with Crispy Prosciutto.
Of course you can't go wrong with a Quick and Easy Caesar Salad.
Tools To Help You Make Homemade Pizza:
While you really only need a baking sheet, there are some tools that I've found helpful over the years of pizza making:
Watch the video.
When you're first starting out shaping pizza dough, you might feel like a dork. It takes a little practice to be able to flip it and make perfectly round pies. Don't worry if they look like amoebas. Just call it an artisan pizza and no one will know you didn't do it on purpose.
Here's a very old video that shows how to form small pizza rounds. Those are super easy to make when you're just beginning. Mini pizzas make for a super duper easy pizza night. Check out these easy pizza recipes for pizza topping ideas.

If you prepare this recipe, be sure to share a picture on social media and hashtag it
#GOODCHEAPEATS
. I can't wait to see what you cook up!
Basic Homemade Pizza Dough
You can make homemade pizza easily and economically with this recipe for homemade pizza crust. It tastes great, better than the pizza parlor.
Ingredients
1 ½

cup

water

warmed

¼

cup

olive oil

2

tablespoon

honey

4 ½

cup

unbleached, all-purpose flour

1

tablespoon

salt

1

tablespoon

active dry yeast
Instructions
To make the dough by hand:
Place the warm water in a large mixing bowl. Stir in the honey and sprinkle the yeast over the top. Allow this to set for five minutes. The mixture will start to foam and bubble.

Add the oil, flour, and salt, and stir until a shaggy dough forms.

Transfer the dough to a lightly floured surface and knead for about five minutes until a smooth dough ball is created.

Transfer the dough ball to a greased bowl, cover, and allow to rise until doubled in bulk, about an hour.
To make the dough in a bread machine:
Combine ingredients in the bread machine pan according to the order recommended by your machine's manufacturer.

Set on "dough" and start the machine, checking after ten minutes to make sure all the ingredients have been incorporated and not stuck to the side of the pan. Scrape down any stray ingredients.
To make the dough in a stand mixer:
Place the warm water in the mixing bowl. Stir in the honey and sprinkle the yeast over the top. Allow this to set for five minutes. The mixture will start to foam and bubble.

Add the oil, flour, and salt.

With the dough hook, stir the mixture on low until a smooth, elastic dough ball forms. Scrape down the sides, if needed.

Transfer the dough ball to a greased bowl, cover, and allow to rise until doubled in bulk, about an hour.
Once the dough is ready:
Grease four 12-inch pizza screens or prepare four baking sheets by lining them with parchment paper or greasing and then sprinkling with corn meal.

When the dough is ready, divide it into four equal portions. Shape each portion into a flat, 12-inch round. Place each on a prepared pan and proceed with your pizza recipe, adding your preferred sauce and toppings. Bake at 475 degrees for 8 to 12 minutes, until the crust is crisp and the cheese is melted.
Notes
To freeze the dough: divide the dough into portions BEFORE it finishes its first rise cycle in the bread machine, about 20 minutes into it, if making dough by hand. Place each dough ball into a plastic sandwich bag and freeze immediately. To use later, remove the frozen dough ball from the packaging and allow to rise in a greased dish in the refrigerator overnight or at room temperature for about 6 hours.
Nutritional values apply to ONE 12-inch pizza.
If you would like to prepare just enough dough for ONE pizza, adjust the number of servings in the recipe card to adjust the ingredients.
Nutrition
Calories:
666
kcal
|
Carbohydrates:
116
g
|
Protein:
15
g
|
Fat:
15
g
|
Saturated Fat:
2
g
|
Sodium:
1753
mg
|
Potassium:
160
mg
|
Fiber:
4
g
|
Sugar:
9
g
|
Calcium:
24
mg
|
Iron:
7
mg
Tried this Recipe? Tell us what you think!
Your reviews help us develop better recipes and give newcomers the confidence to try your favorites. Scroll down to leave a starred comment.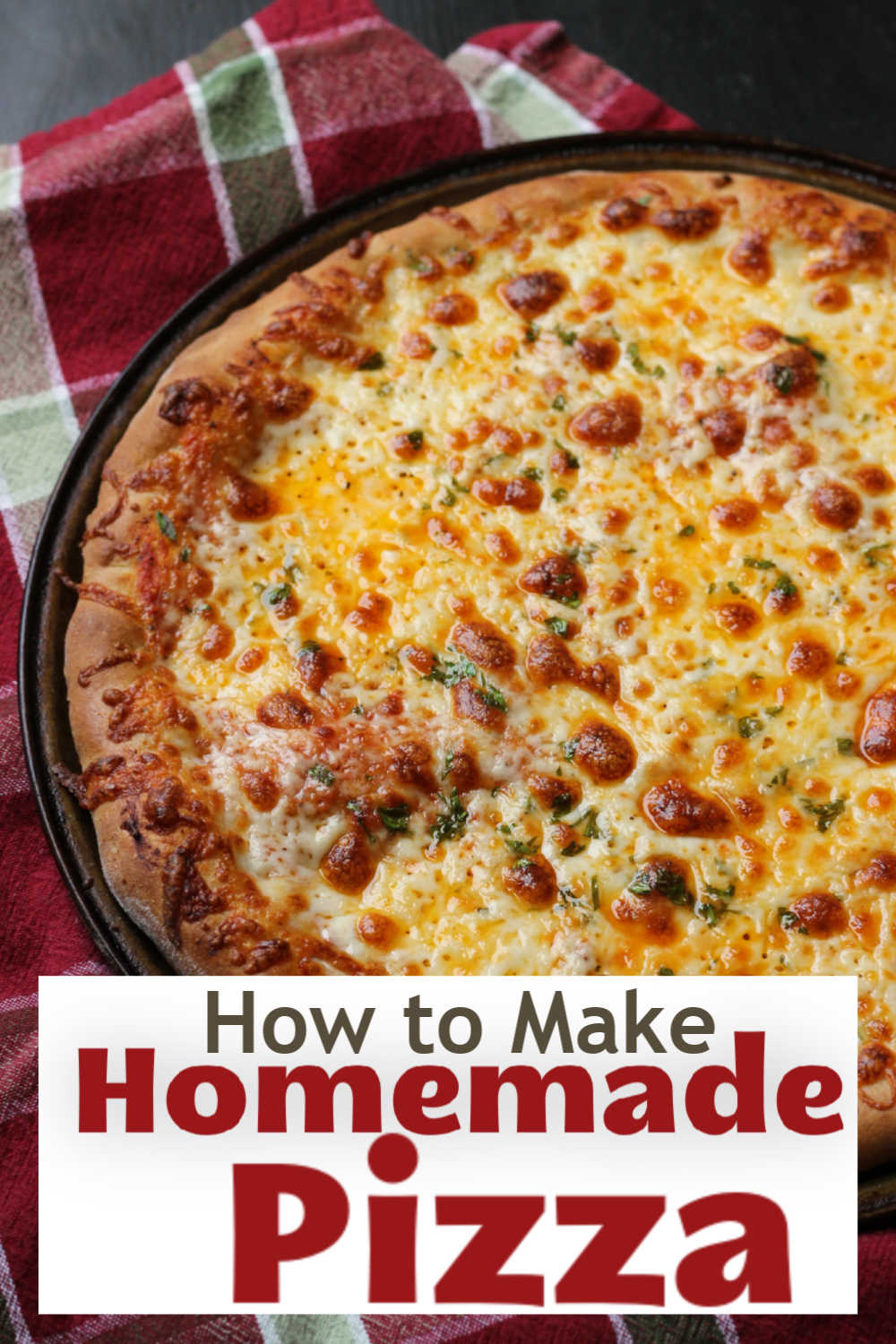 This post was originally published on July 24, 2009. It has been updated for content and clarity.