Afternoon tea can be a wonderful way to break up the day, enjoy a sweet and a hot spot of tea.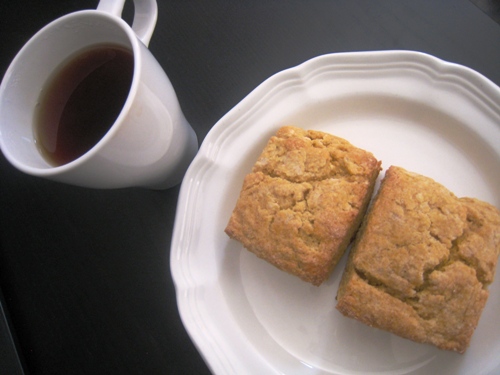 Tea time has such a cozy ring to it. My kids embrace tea time, little hobbits that they are, because of all the British literature that I've fed them. Well, that, and the cakes and cookies.
Right about two o'clock each school afternoon, I, personally get the doldrums. We still have schoolwork to finish, but a little pick-me-up is so nice to help me finish strong. And sharing a snack with my kiddos helps us all.
Make tea time special.
I don't have any British blood in me to help me find my way. So, our tea times are simply FishFam inspired. We just make what sounds good! A little sweet, a little hot beverage, and a moment to just  take a break.
Serve a little sweet.
It really doesn't take that long to prepare a sweet baked good. Cookies and scones lend themselves to tea time. They are small, finger foods that can pack some punch. Muffins and cake work well, too. Quick breads are delicious with tea. And in a pinch, simple Cinnamon Toast hits the spot.
The beauty about so many baked goods — besides their great taste — is that you can make them ahead of time and freeze them. Just bake and cool the goodie completely. Wrap it well in a freezer bag or plastic container and stash it in the icebox. Individual portions thaw pretty quickly.
Here are some of our favorite baked goods for tea time:
Serve a hot spot of tea.
Believe it or not, I developed a taste for tea when I was living in France. My friend Sarah and I would raid the cookie aisle of the local supermarche and head to my apartment for tea and cookies. It wasn't French, but we loved it nonetheless. Thankfully, Sarah has spent enough time in England, as well, to show me the ropes.
I must confess to liking mine with cream and sugar.
Lipton recently sent me a lovely tea time basket, complete with tea kettle, tea travel tumbler, tea storage box, and of course, tea!
We're trying out Lipton's new Green Tea Superfruit. There are three flavors: Purple Acai and Blueberry, White Mangosteen and Peach, and Red Goji and Raspberry. You can visit Lipton's Facebook page for a coupon. I'm looking forward to warmer weather and serving this new green tea on ice.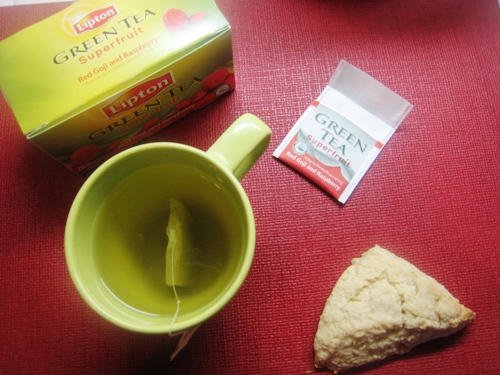 I've got a basket to give away to one reader this week!
To Enter:
Simply complete the information on this form. Please know that the information is only being gathered for the purposes of mailing you your gift basket in the event that you are chosen as the winner. This information will not be sold, traded, or given away.
This promotion is open until Sunday, March 4, at 8 pm PST and is limited to US residents, 18 years or older. Friends and family of Jessica Fisher and Good Cheap Eats are ineligible for entry. The winner will be chosen randomly. This post will be updated with the beginning of the winner's email address. The prize for this promotion is provided by and shipped by Lipton and/or its representatives. Jessica Fisher and Good Cheap Eats will not be held responsible for unclaimed or undelivered prizes.
THIS GIVEAWAY IS NOW CLOSED. CONGRATS TO THE WINNER: tlrclark@
Disclosure: This post was created in connection with my appointment as an Ambassador in the Lipton Tea Tastemaker Program. Visit Lipton's Facebook page to join the conversation.
Have you got a favorite way to enjoy tea?