I am continually impressed with Phoebe. Not only have she and her husband made huge changes in their life in order to be debt-free, but they do so in the healthiest way possible. Whether it's planting an orchard or learning how to grind her own wheat, this girl is constantly learning. And she is just a sweet, young thing. I think I am old enough to be her mom. 😉 Today Phoebe shares how to store whole grains.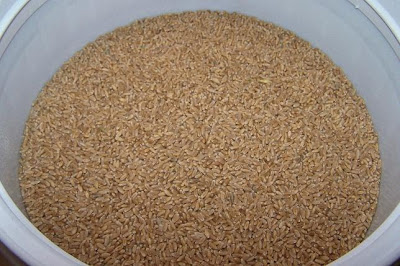 For the last year or so, I've become increasingly interested in nutrition. One of the biggest changes we made was switching to mostly whole grains in our diet, and eliminating most of the white, processed flour. With this change came a realization that making our snacks and bread products would also be beneficial, as well as the most frugal option. After a few months of buying whole wheat flour from the grocery store, I started researching the option of grinding my own grain, for a few reasons. One reason was the added nutritional benefits of fresh milled grain, and the second was the savings versus the cost of store bought whole wheat flour. However, the main reason was that we were given a very large amount of organic spelt wheat. The only issue was we had to find a way of storing the grain that would be easy to get into, as well as keep it fresh and bug free.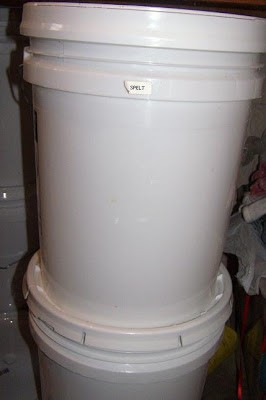 This is how we came up with storing the wheat in food safe 5 gallon buckets. These work best since they can stack on top of each other and are air tight. One of the things you have to worry about when storing wheat and other whole grains is bugs! While it would just add some extra protein, I'm just not for it. We bought Gamma Lids for the buckets that I restock my kitchen with, since they easily screw on and off. For the other buckets that are my extra, we left the regular lids on them and added oxygen absorbers. The oxygen absorbers are just small little packets (similar to the silica gel packets that you see in various products) that absorb all of the excess oxygen. This will help keep out the bugs, and also help your product stay fresh longer. We were able to get ours from a retailer that specializes in canning/bulk foods for about .10¢ a piece. Currently we store our spelt berries, spring white wheat berries, and our oats this way. If stored correctly, wheat berries have a shelf life of up to 50 years!
The cost of the buckets and lids does add up, but I've still seen a significant amount of savings. If I were to buy everything in their smaller containers from any other grocery store, I would have spent roughly twice as much as I did for buying it all at once in bulk. If you do not have a lot of extra storage space to accommodate 5 gallon buckets, you can also place your wheat berries in the freezer. This will help it to maintain its freshness and will kill any weevil or insect eggs already in there.
How do you store your whole grain purchases?
— Phoebe is a stay at home mother to 3 children, with another one set to arrive in July. She loves to share her family's journey at debt freedom, as well as their love for the unconventional life on her blog, Getting Freedom.
Want the dish on delicious ways to act your wage? Subscribe to GCE in a reader or via email.