Apple season is beginning! While the timing and length of the season depends on the climate and weather where you live, now is the perfect time to start planning what to do with apples this harvest season.
There are so many great ways to enjoy apples, fresh, cooked, or baked into your favorite recipes. Apple recipes can be sweet as in apple cake or savory, served alongside pork chops or ham. Learn how best to buy, store, and serve apples.
Jump to:
It wasn't until adulthood that I encountered a fresh-from-the-tree apple. Wow! was my life changed!
Since then, I've looked forward to apple season with much anticipation, knowing there were so many tasty apple recipes.
If you've not yet enjoyed a homemade apple pie or drank fresh pressed apple cider, make this your year to enjoy new apple recipes and a local orchard harvest.
Why It Matters
It's affordable. Since they grow in more than 30 states and can keep for up to a year in cold storage, it's a generally affordable fruit to enjoy which provides fiber and nutrients. Apples deserve a spot on your budget grocery list. Stock up on these fruits when you see a great price, generally under a buck per pound or go pick your own if you have the chance.
It's delicious. Apples are a great food to enjoy on the go as well as at home. There is no end to what to do with apples!
Buying Tips
If you don't have a tree in the backyard or friends who want to give you them for free, you'll likely need to buy your apples, either from the grocery store, farmer's market, farm stand, or pick-your-own orchard. Keep these tips in mind for best results:
Choose fruit that are firm and well colored.
Avoid musty- or alcohol-scented fruit, but those with a fresh aroma that smells of apple.
Pick firm fruit with smooth skin, no bruises or gashes. Scald (a dry, brownish area on the skin) isn't usually bad.
Select varieties based on how you plan to use them. For instance, Braeburn and Gala are good all-purpose apples. Golden Delicious and Fuji are good for applesauce, while Rome Beauty is the classic choice for baked apples.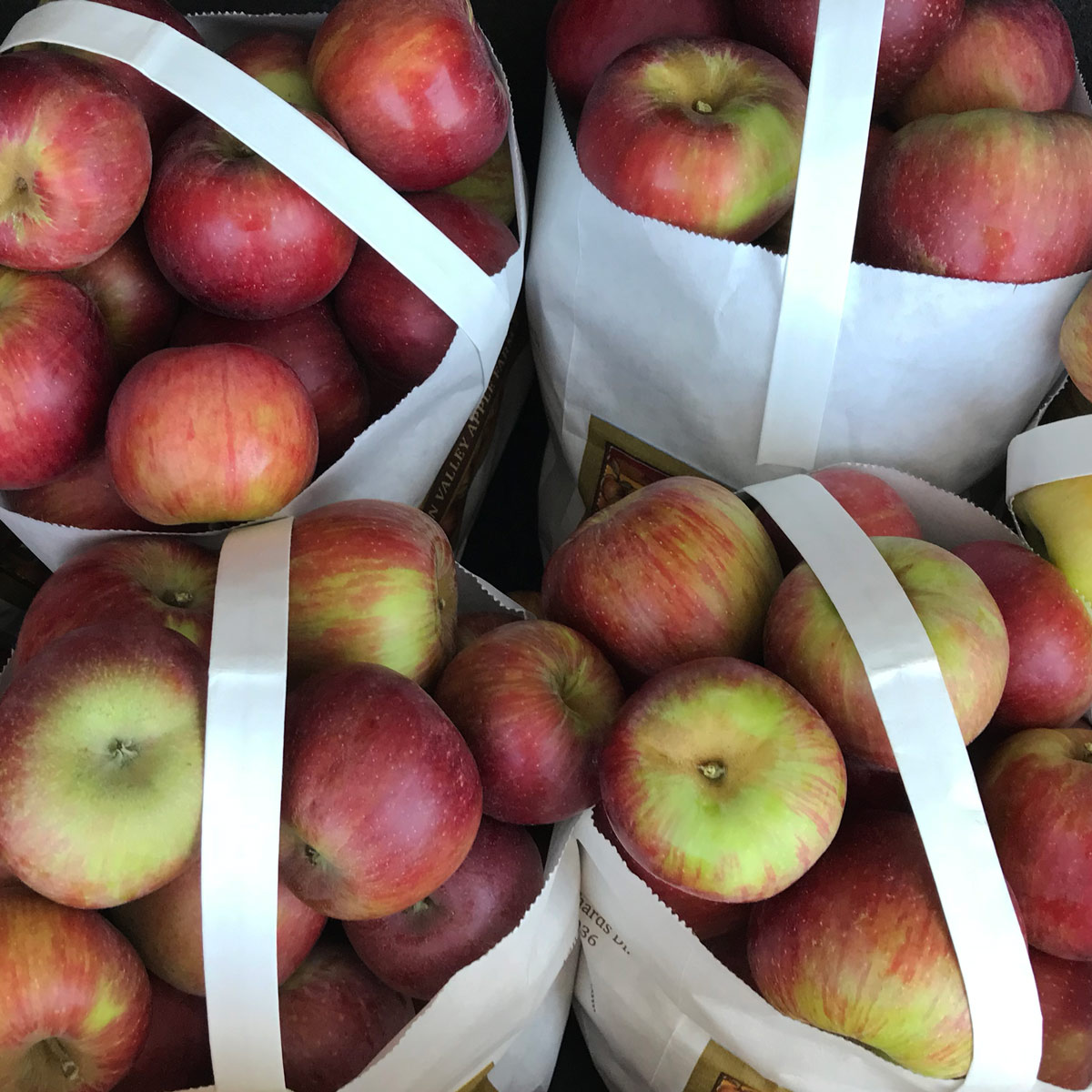 Storage
Apples can keep for a very long time, depending on how they are stored. A cool, dark place is ideal. Short of a cellar, store your apples in a plastic bag in the fridge. There is a small issue of off-gassing with apples, so if you can store them in their own drawer in the fridge, that is ideal.
You cannot freeze whole apples, but you can process apples in such a way that they may be frozen. You can pack sliced apples in syrup, blanch them, or cook them into applesauce.
Unbaked apple pies are one of my favorite things to stock in the freezer. I've been doing this for over a decade. It is just so fun to go to the freezer and pull out a pie, especially once the weather starts to chill a bit. An hour later we have a piping hot apple-scented slice of heaven ready to emerge from the oven without doing any work. Yum!
Serving Ideas
There's no shortage of what to do with apples! They are delicious eaten fresh, cooked, or baked. In many instances, you can freeze the cooked or baked item to enjoy later as well.
Fresh Apple Recipes and Ideas
I love it when my kids ask for something to eat because now I have a good, healthy answer. Apples! I keep the crisper filled with apples and the kids know that they can eat them whenever they want.
There are so many great ways to serve fresh apples! And so many easy ways to slice apples for serving. Don't get stuck in a rut.
Serve apple slices with peanut butter, almond butter, or sunflower seed butter or dip them in maple whipped cream. It makes for a lovely, nutritious snack.
While you can make caramel apples, it's easier and more fun to serve Apple Slices with Caramel Sauce and topped with whipped cream and a cherry, like an ice cream sundae, but with apples instead of ice cream.
Fresh apple are also delicious chopped or sliced into salad. You can make a cabbage and apple salad, a riff on coleslaw, or stir chopped Granny Smith apples into chicken salad for a little twist.
Cooked Apple Recipes and Ideas
There are myriad ways to cook apples. Simple baked apples are a classic dessert, but don't stop there!
FAQs
What to do with apples after picking?
As soon as you get your apples home from the orchard, you'll want to store them in a cool place. Check to make sure there are no bruised and cut apples in the batch as these will decay and cause other apples to rot as well. Remove those from the apples you plan to store. Ideally place them in their own drawer in the fridge or in a plastic bag.
What to do with apples without an oven?
You don't need an oven to enjoy tasty apple dishes. You can cook them in butter, sugar, and spices, either as a compote, applesauce, or apple butter. You can also cook them in the slow cooker, instant pot, or air fryer. Apples are also delicious eaten fresh with salted caramel sauce. A no-bake apple crisp recipe option is to prep a compote and top it with granola.
What to do with apples that are going soft?
Apples that are going soft can still be used, provided they aren't total mush or starting to mold. Peel them and cook them down into applesauce or apple butter.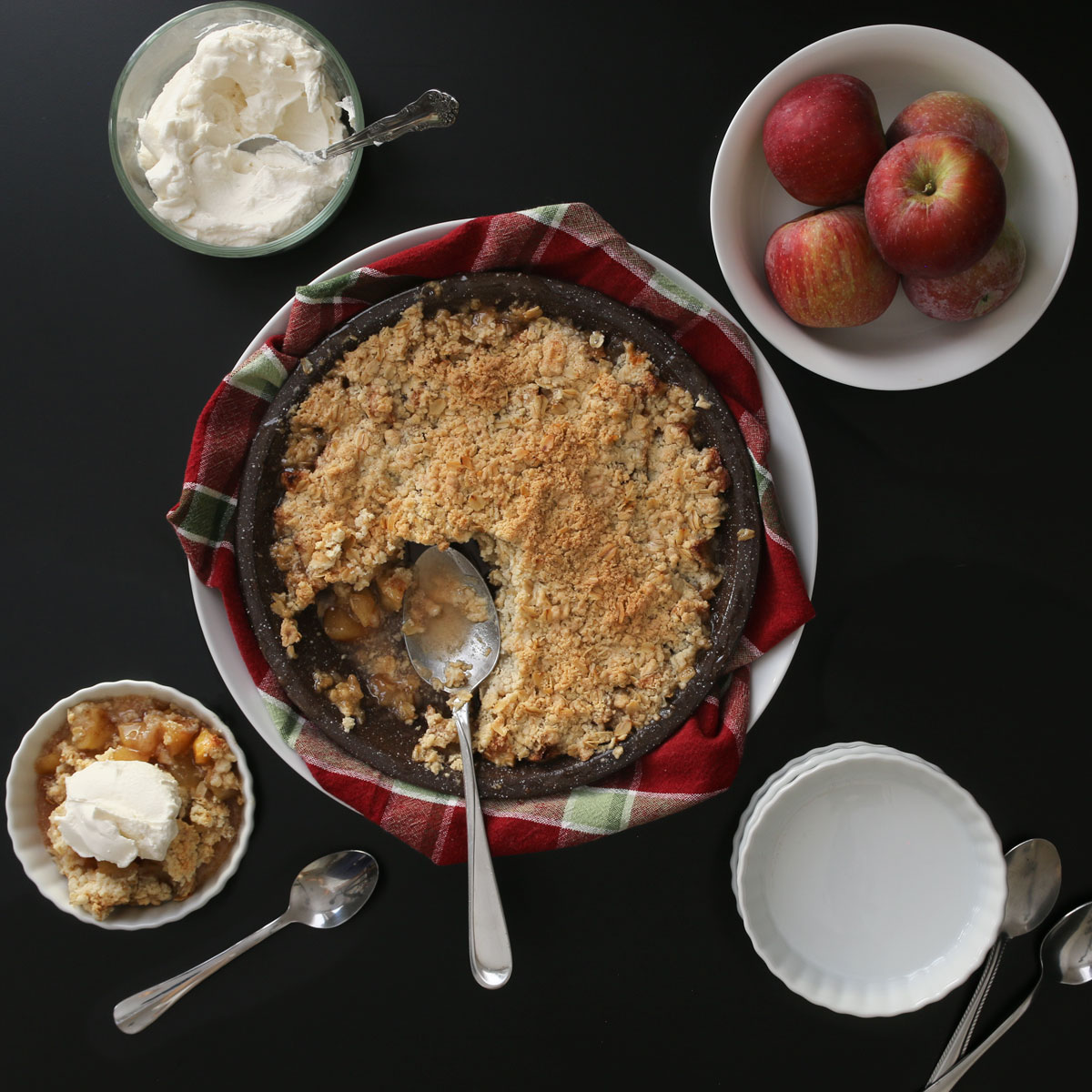 This post was originally published on October 1, 2012. It has been updated for content and clarity.