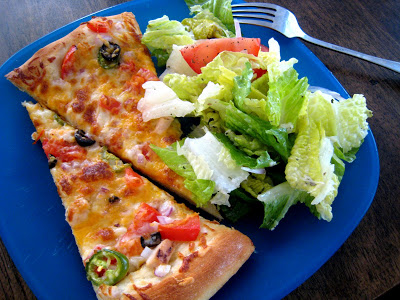 Dinnertime at our house tends to be somewhat of an event. It's the time of the day when our whole family is together. And now with my youngest brother living with us, it's a lively, full table. The girls and I and six guys!
Since we all enjoy eating, I tend to prepare a more "fun" meal for dinner as compared to breakfast and lunch. That is to say, I use my imagination a little more and try to be creative. Last week I experimented a little. I can't tell you how rewarding it was to hear the men in my family talk about the meal the next day — because it was that good, and not the train wreck that all-too-often results.
(Yeah, I don't think I'll be the Next Food Network Star anytime soon.)
How to Plan a Meal lays out the basics to how I approach menu planning. Using what we have on hand and what is on sale that week, I map out a "culinary agenda" for our family. While the main dish is usually my focus, I try to plan side dishes as well. Those can fall by the wayside and if I don't have a plan, well, the meal just isn't as fun or filling.
When selecting side dishes, I look at two categories: starches and fruits & veggies. I once heard the suggestion to make your plate half fruits and veggies, one-fourth protein, and one-fourth carbs. While I would like to say this works well at our house and everyone gets his 8 a day, it's more of a guideline than a rule.
Starches
For starches, I rely on the four greats: taters, rice, bread, and pasta. I serve each one 1-2 times per week. Usually, we will have some bread item as a main dish like sandwiches or pizza, so that night I don't usually add a carb-rich side. Some of our favorites include Mexican Rice, Cheesy Potatoes, Pasta Salad, Macaroni and Cheese, and Homemade Baguettes.
I try not to serve the same starch two nights in a row, unless we're having beans and rice one night and then having those as sides the next night with another Mexican main dish. I don't know if my kids notice that I mix it up, but I like to have the variety.
Fruits and Vegetables
Most dieticians agree that we should have at least eight servings of fruits and vegetables each day. This works out to 2-3 servings per meal. Yikes! So, it's good to plan a couple different options with your meals.
Salads are an easy side dish for me as everyone in the family enjoys them. Our kids don't embrace other vegetables as much as I would like, though green beans and broccoli usually go down fairly well. But, I admit, it's usually a battle.
Fruits, on the other hand, are generally not a problem. When I serve fruit or fruit salad at dinner, I usually hold it until the end so that I can bribe reward them with it when they are reticent to eat their veggies.
My Plan This Week
Salsa Verde Beef Tacos, Green Salad, Fruit
BBQ Pork Sandwiches*, French Fries, Green Salad, Veggies and Dip
Jambalaya Pasta with Shrimp and Sausage*, Green Salad, Garlic Bread
Homemade Pizza, ChiChi's Italian Salad*
Grilled Herbed-Yogurt Chicken*, Quick Seasoned Rice,* Grilled Peppers, Green Salad
*recipes to follow. Stay tuned at Good (&Cheap) Eats.
For more menu-planning inspiration, visit I'm an Organizing Junkie every Monday.
Do you plan side dishes? What's one of your favorites?