Dotted with juicy blueberries and scented with lemon, this Lemon Blueberry Scone Recipe makes a bulk batch so you can freeze extra for later.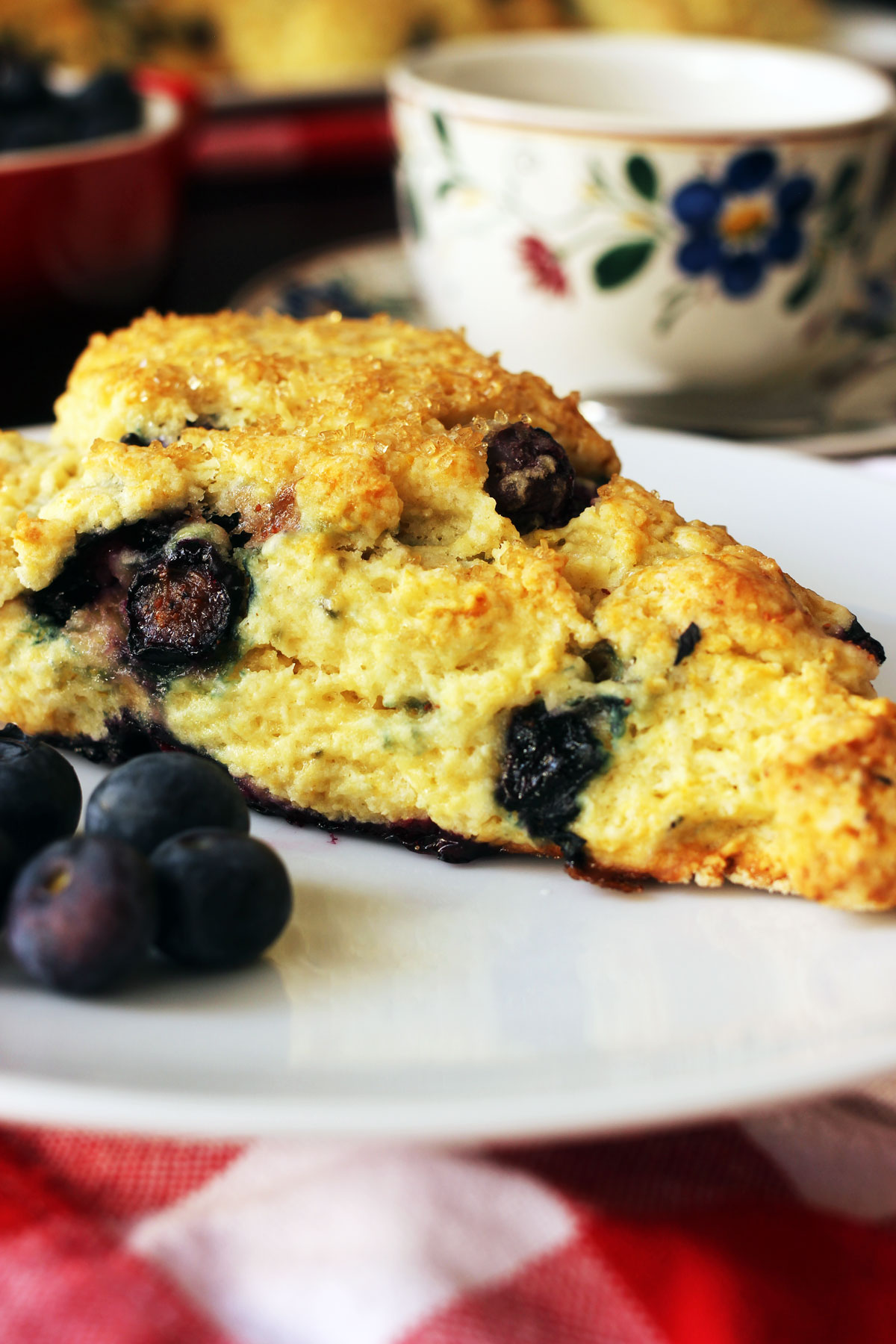 Jump to:
These Lemon Blueberry Scones rock. I made them with fresh blueberries, but you could use frozen as well. The lemon flavor comes through quite nicely. If you want to gild the lily, you could drizzle on a glaze, but I don't think you need it.
What's a scone?
A scone is a quick bread of Scottish origin. In the US, a scone is like a sweetened American biscuit. Originally scones were made with oats, triangular-shaped, and baked on a griddle. Nowadays scones are made with wheat flour, cut into any number of shapes, and baked in the oven.
Serving suggestions
Scones are typically served for breakfast or a snack served with coffee or tea. These Lemon Blueberry Scones are delicious served with extra berries.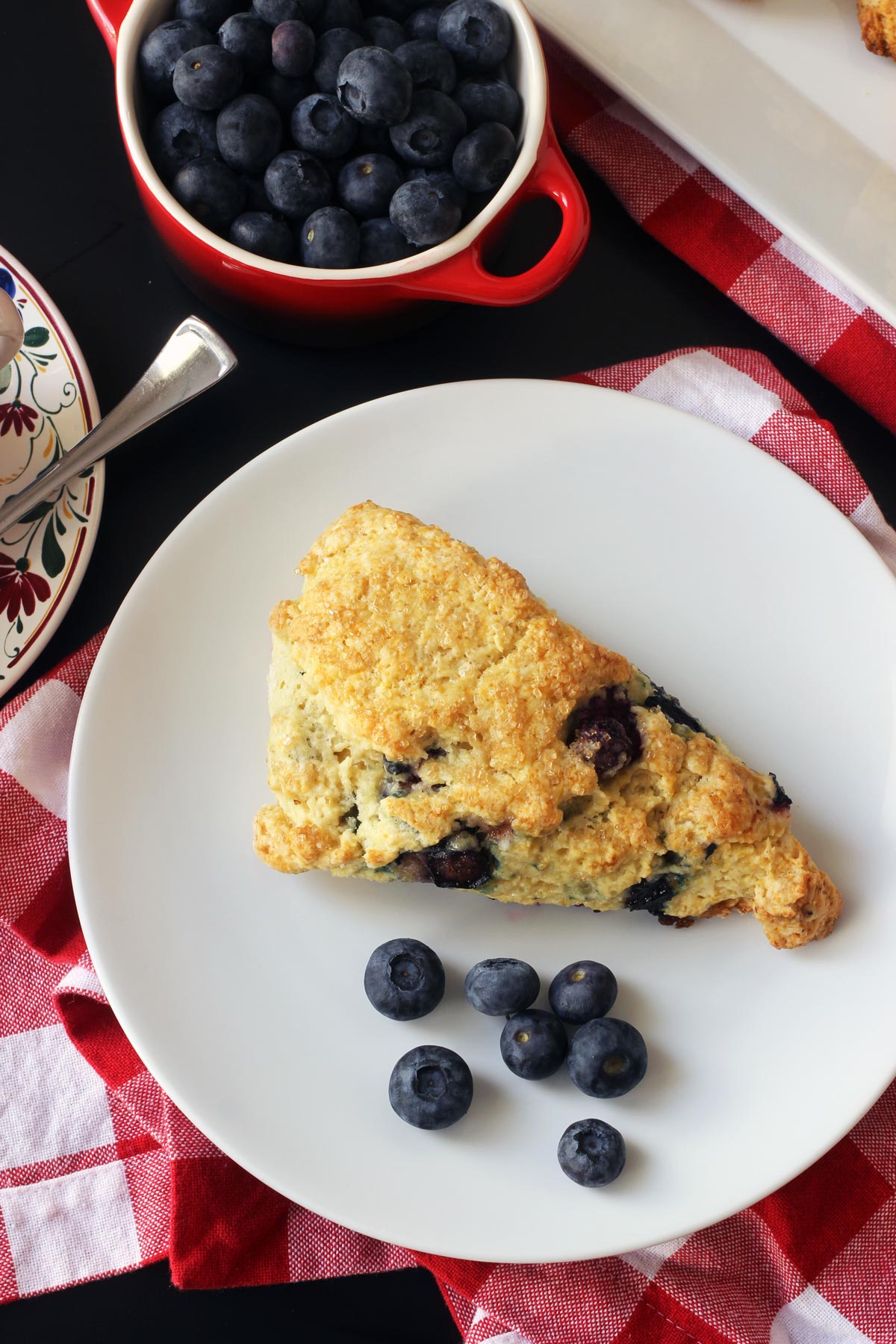 Ingredients
Flour: While I have made my Cranberry Orange Scones with whole wheat pastry flour, some scone experts recommend only using all-purpose flour. That's what I've used here.
Leaveners: This recipe calls for salt, baking powder, and baking soda to give it some lift. You can't find a substitute for salt or soda, but you can make your own baking powder if you run out.
Butter: Keep your butter cold for this recipe. You want to cut the chunks of butter into the flour as you would do for pie crust.
Liquid: I like to use cream, half and half or buttermilk in my scones. I call for half and half here but either of the other would be a fine substitute.
You can use milk or a plant milk if you prefer, just be sure to substitute 1 tablespoon of white vinegar for part of the liquid. This will help the baking powder react and give the dough a lift.
Instructions
Making homemade blueberry scones is really quite simple, but in the middle of the process in can feel a little overwhelming, especially when the dough gets sticky.
Note: this recipe produces a fairly shaggy dough, but trust me it works out.
Prepare the pans. Preheat the oven to 375 degrees. Line a baking sheet with parchment paper. This makes it easy to work the dough and reduces the chances of the scones sticking to the pan.
Combine the dry ingredients. In a large bowl or the bowl of a food processor fitted with a metal blade, combine the flour, cup sugar, baking powder, baking soda, and salt. Mix well.
Add the butter. Add the butter cubes and cut them in with a pastry blender, or if using the food processor, pulse until coarse crumbs are formed. If using the food processor, transfer the mixture to a large bowl.
Add the liquid. Fold in the half and half with a few turns of a rubber spatula, until a shaggy dough is formed.
Add the berries and zest. The dough will not be completely mixed yet, so this is a good time to add the berries and zest. The less you stir, the less likely the berries are to break and smear purple through the dough. You want the dough to stay a bit shaggy.
Knead the dough lightly. Turn the dough ball out onto a lightly floured surface. I simply do this on the prepared parchment, sprinkling it with a bit of flour. Knead just until the dough holds together. I use the parchment paper to fold and knead the dough. This way, it doesn't all stick to my hands.
Shape the scones. Pat the dough into a large, 2-inch thick circle and cut into 12 wedges. Separate the wedges carefully and arrange them on the parchment, about 2 inches apart. If you need a second baking sheet, that is fine.
You can freeze the scones at this point if you like. See notes below.
Top the scones. Brush the scones with milk or half and half and sprinkle heavily with sugar.
Bake the scones. Bake in the oven until golden, 15 to 18 minutes. Cool on a rack and serve.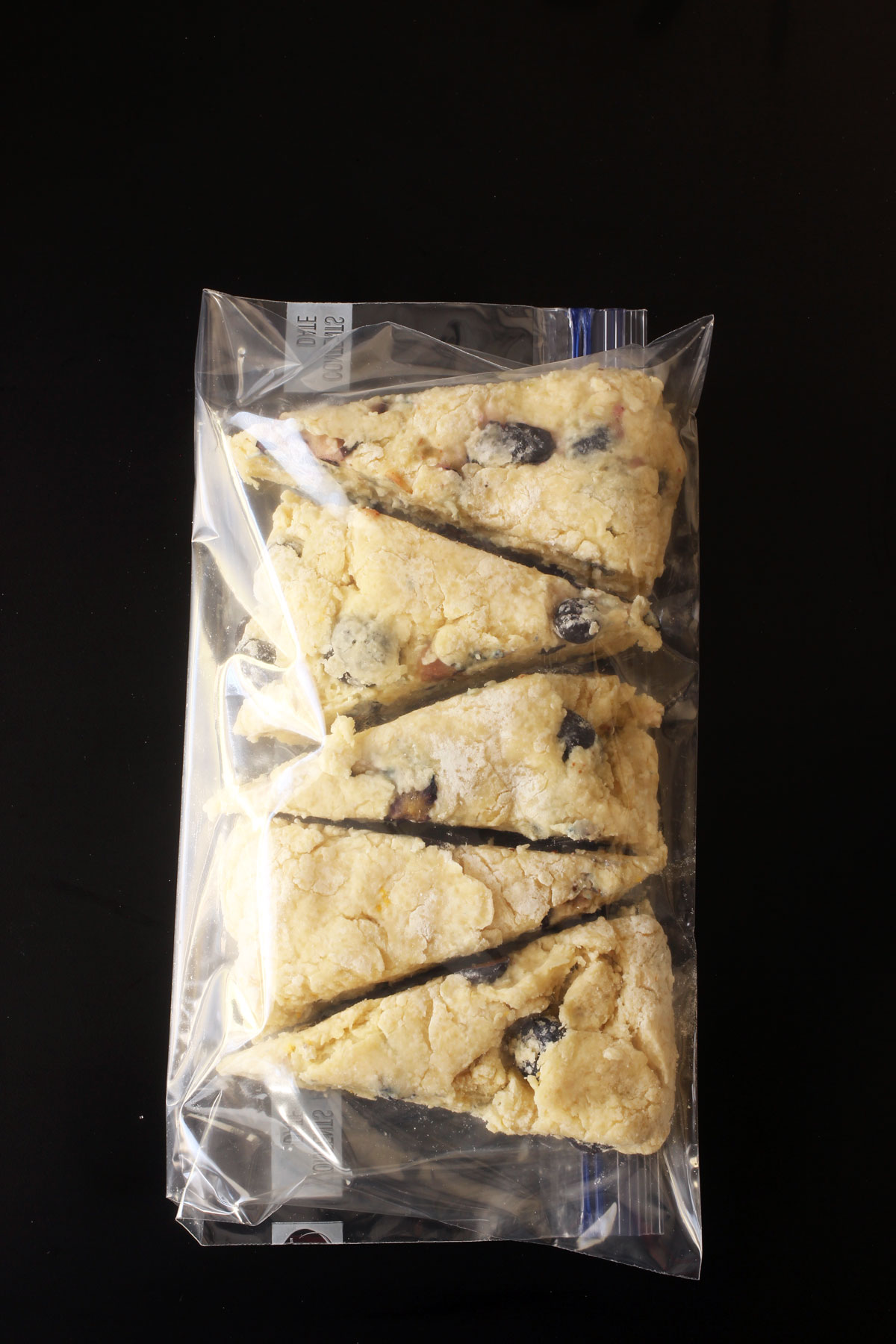 Freezing tips
Serving these scones fresh from the oven is the best. That's why I love to freeze scones to bake for later.
You can make them as a mix, but that is just not as much fun as popping flash frozen, unbaked scones in a hot oven and having them ready to eat in less than 20 minutes.
To freeze: prepare the scones according to the recipe, but do not bake them. Instead slide the tray of scones into the freezer and let them freeze solid. Once firm, you can transfer them to a ziptop freezer bag or container. Be sure to label the package with the date, recipe name, and baking instructions. Store in the freezer for up to 2 months.
You can also freeze baked scones. Cool completely and wrap well for freezing. Use within 6 weeks.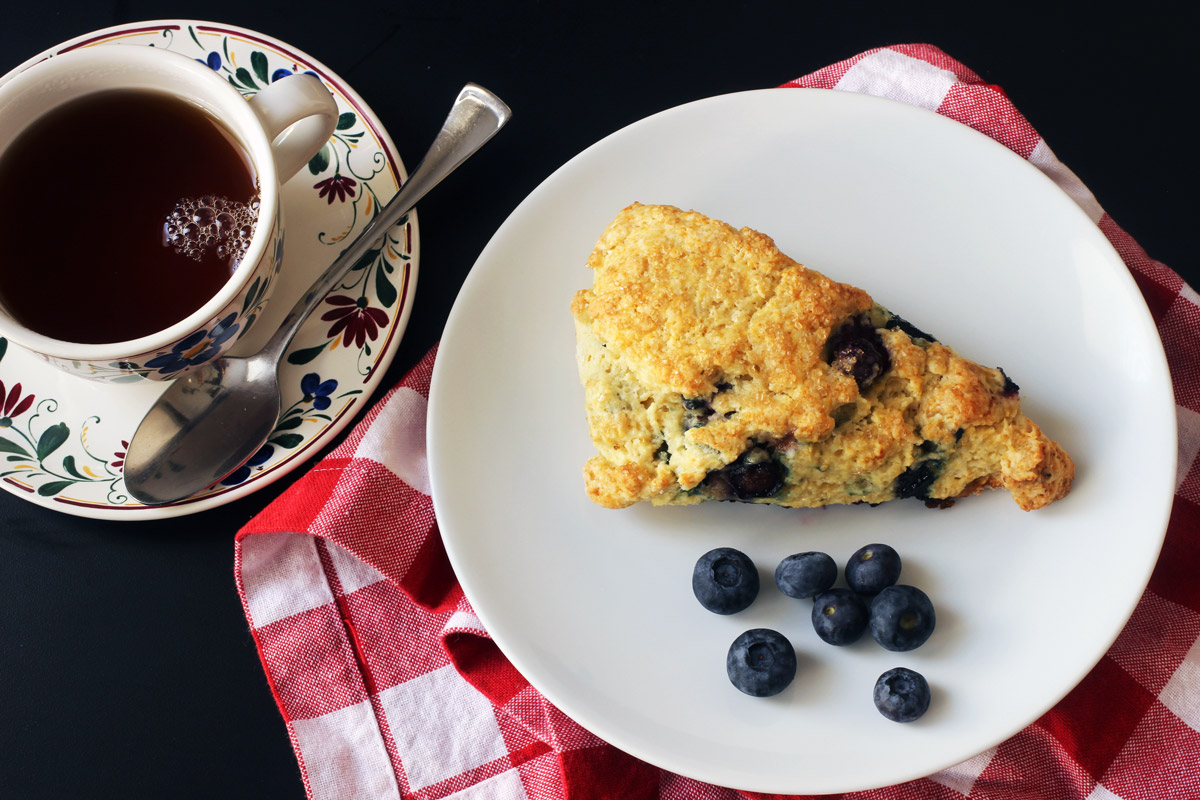 Recipe costs
Knowing how much it costs you to prepare a recipe can help you decide if it's the type of recipe to make regularly or one you might want to save for special occasions. Let's crunch some numbers and see how this recipe pencils out.
flour – $0.75
sugar – $0.17
baking powder – $0.06
baking soda – $0.02
salt – $0.01
butter – $1.38 (based on $3.69/lb)
half and half – $0.74
lemon zest – $0.25
blueberries – $1.97
These are non-sale prices at a mid-range grocery store in Southern California. Your mileage may vary. But, as an estimate, a batch of 12 large scones costs $5.35 or 45 cents a piece!
Conversely, a blueberry scone from Starbucks costs $2.75 and a grocery store mix for lemon blueberry scones that makes 8 costs $6.99. No matter how you mix it, homemade it best. Cheaper and guaranteed better tasting!
How to save even more
You can save even more when you work the Good Cheap Eats System:
Shop the kitchen – Use what you have. This is simple to do with the extensive substitutions we've listed above. Don't have blueberries? Use raspberries or cranberries or nuts or chocolate instead.
Make a plan for leftovers – Food waste equals money waste. If you end up wasting the rest of the lemon or the half and half, you cancel out any savings from baking homemade. Find recipes in our archive to help you use up these bits.
Visit the store with the best prices – Not all stores are created equal, nor do they offer the same prices. Do some comparisons to see what store is the best place to spend your grocery dollar.
Check the sales and clearance – butter is the biggest line item in this recipe. Wait for a sale and stock up. Butter freezes beautifully, so you can always have some on hand for baking. Likewise keep an eye out for when blueberries are on sale.
Freeze extra for later – Chances are you won't eat all 12 scones in one sitting. Be sure to freeze or share the extra scones to save time as well as avoid food waste.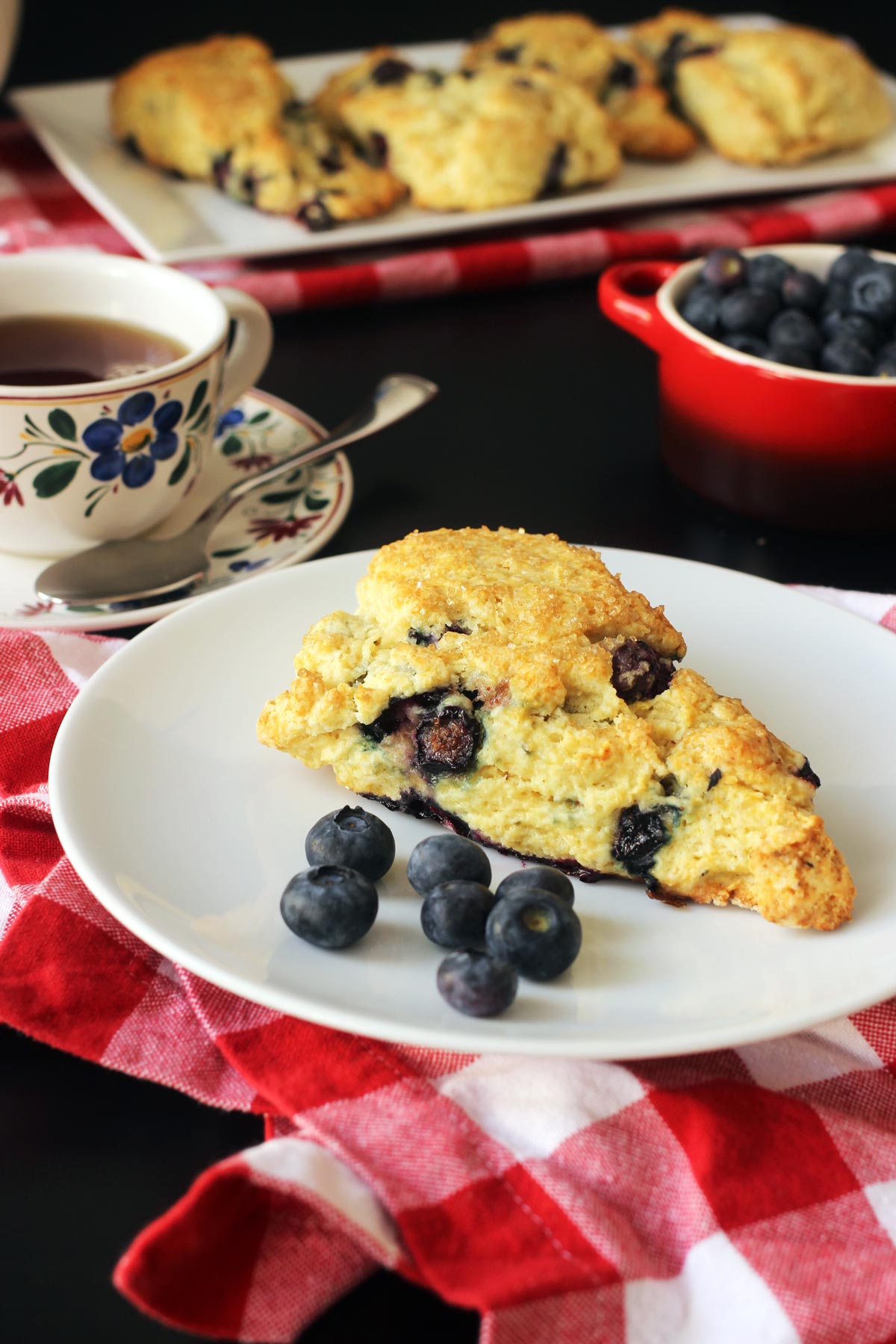 Kitchen equipment
This recipe really couldn't be easier than it is, but having the right kitchen tools can really make your time in the kitchen more enjoyable. Over time, I've honed my collection so that they are perfect for my needs.
Lemon Blueberry Scone Recipe
Dotted with juicy blueberries and scented with lemon, these Lemon-Blueberry Scones will brighten up any morning.
Ingredients
5

cup

unbleached, all-purpose flour

3/4

cup

granulated sugar

plus extra for sprinkling

1

tbsp

baking powder

1

tsp

baking soda

1/2

tsp

salt

3/4

cup

butter

cut into cubes (1 1/2 sticks)

1 1/2

cup

half and half

plus extra for brushing

1

lemon, zested

1 1/2

cup

blueberries
Instructions
Preheat the oven to 375 degrees. Line a baking sheet with parchment paper or a silpat baking mat.

In a large mixing bowl combine the flour, sugar, baking powder, baking soda, and salt. Cut in the butter with a pastry blender. Or use the food processor in batches to cut in the butter quickly. Gently mix in the half and half, just until mixed. Fold in the berries.

On a lightly floured surface, pat dough into a 2 inch thick rectangle. Cut into 12 squares or triangles, depending on how big you want them.

Place the scones on the prepared tray, keeping the scones about 2 inches apart. These will spread a fair amount.

Brush them with the extra half and half and sprinkle with the extra sugar. Bake for 15 to 18 minutes. Cool on a rack before serving.
Notes
If preparing ahead of time, flash freeze the scones on a lined tray. Once they are frozen solid, transfer them to a ziptop freezer bag. Bake according to directions in step 3, increasing baking time if necessary. (Baked scones can also be frozen in a ziptop freezer bag.)
Nutritional values are approximate and based on 1/12 the recipe.
Nutrition
Calories:
391
kcal
|
Carbohydrates:
56
g
|
Protein:
7
g
|
Fat:
16
g
|
Saturated Fat:
10
g
|
Cholesterol:
42
mg
|
Sodium:
304
mg
|
Potassium:
222
mg
|
Fiber:
2
g
|
Sugar:
15
g
|
Vitamin A:
470
IU
|
Vitamin C:
7
mg
|
Calcium:
90
mg
|
Iron:
1
mg
This post was originally published on August 17, 2010. It has been updated for content and clarity.