Enjoy a grown up "lunchable" with this simple Bagel Box. Supplement the humble bagel with homemade flavored cream cheese and plenty of fruits and veggies.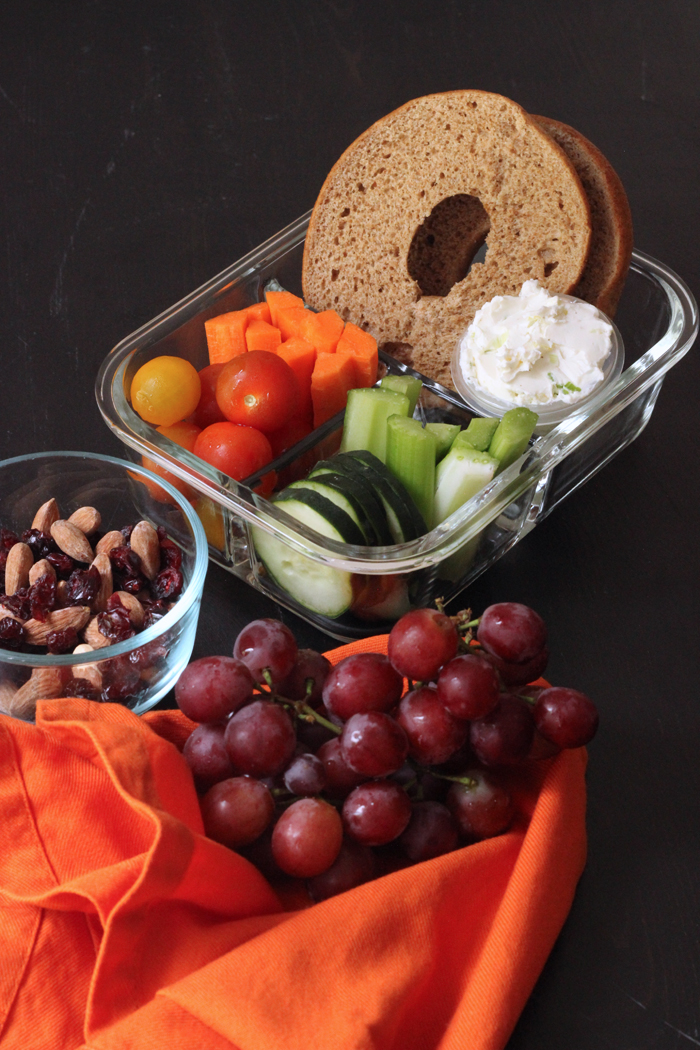 I remember when the first Lunchables hit the market. I was a junior in high school and I wanted them. I didn't really care if they were created for little kids, I thought they were totally awesome, dude. It was, after all, the late-80s.
And even today, the look of packaged meal kits still appeals to me. I have no idea why, but I still think a boxed lunch is totally awesome. Part of the attraction, I think, is the idea of instant gratification. When you see a boxed lunch at a catered event, at the grocery store, or at a cafe, you know that a good meal is within reach.
That's why this summer and now into the school year, I've been making my lunches in advance. I tell you: it's a total game changer.
Having my lunch already for me in the fridge takes some of the pressure off during the day. It makes it easier to stick to my healthy eating goals. And it makes clean up a breeze.
Basically, it appeals to my lazy side.
If you've got a lazy side that needs indulging, then it's time to pack up a Bagel Box! These are my grownup version of the Lunchable: whole wheat bagel, seasoned cream cheese, trail mix, and loads of fresh fruits and vegetables. Your future self will thank you. I promise.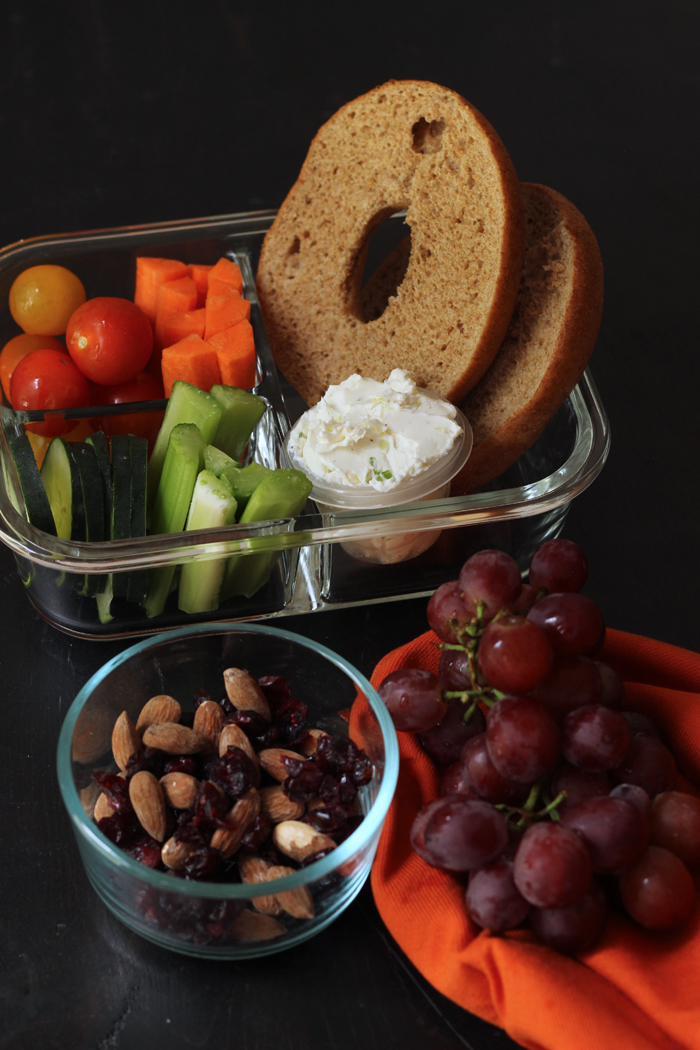 How to make this good and cheap:
Here are some of the strategies you can use to make this recipe more economical:
Stock up on ingredients when they are on sale. Instead of paying full price, buy more than you need when you see it on sale. Then you always have it when you want it. FYI: Bagels freeze well, so buy them on sale and toss them in your freezer.
Bake your own. My friend Kate bakes her own bagels all the time. I did it once and then never got back into the swing of it. It's on my list of skills to tackle this year. In the meantime, when I want to get the price point down on this box, I can substitute Pumpkin Onion Rolls or Italian Sandwich Rolls for the bagels. We couldn't call it a bagel box, at that point, but it would be cheaper.
Shop the stores that have the best prices. When I did

 

my big grocery store showdown, I learned that Costco has the best price for a lot of the things I buy, but not all. I might get the dried cranberries at Costco, but stock up on veggies on sale at Sprouts. I might grab the almonds from Trader Joe's and the cream cheese from ALDI. I just try to work my shopping trips in with errands I'm already running, and keep a specific target price in mind so that I'm not spending more than I should.
How I make this recipe easy:
This recipe really couldn't be easier than it is, but having the right kitchen tools can really make your time in the kitchen more enjoyable. Over time, I've honed my collection so that they are perfect for my needs.
Here are the tools that I use for this recipe: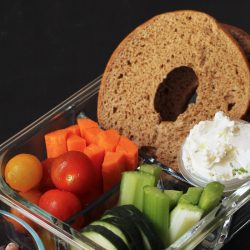 Bagel Box Recipe
Enjoy a grown up "lunchable" with this simple Bagel Box. Supplement the humble bagel with homemade flavored cream cheese and plenty of fruits and veggies.
Ingredients
4

ounces

Neufchatel cream cheese

softened

2

scallions

finely chopped

1

tablespoon

chopped fresh basil

1

tablespoon

minced fresh parsley

salt and pepper

4

whole grain bagels

4

cups

veggie dippers

such as carrot sticks, celery sticks, bell pepper strips, grape tomatoes, and sugar snap peas

4

cups

or pieces seasonal fruit

1/2

cup

favorite nuts

1/2

cup

dried cranberries
Instructions
In a medium mixing bowl, whip the cream cheese until light and fluffy. Stir in the scallions, basil, parsley, salt, and pepper. Chill until ready to serve. If packing the boxes for take-away, divide the cream cheese mixture into four small containers with lids.

Slice the bagels in half horizontally. Toast if want them toasty.

Divide the ingredients among four containers with lids. Refrigerate until ready to serve.