This month we're avoiding the grocery store and shopping the kitchen. Here's how we're eating. It's like reality TV, for food.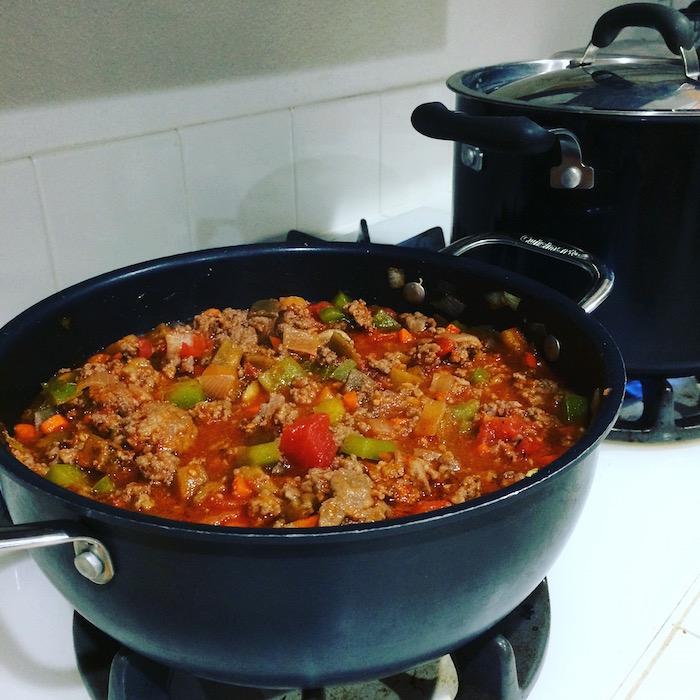 It was a go-go-go kind of day. Three kids had science co-op so we were out of the house by 8:45 in the pouring rain, but we got breakfast done before we left.
We came home famished, so the kids had beans/rice or nachos or both. One child had leftover mac and cheese from the other day. Since I had made my lunch yesterday, it was easy to heat it up and just eat.
By the way, did you know that soy sauce makes a great topping for chicken and spaghetti squash? I never would have tried that except for my husband showing me how. So good!
Dinner was a big pot of bolognese jam-packed with veggies. There was enough leftover for tomorrow's lunch and/or maybe to poach eggs in for a meat shakshuka. Yummy!
Pantry Challenge Meals, Day 9
Breakfast: Greek Eggs; oatmeal
Lunch: Nachos and Rice and Beans for the kids with veggie dippers; Squash bowl with chicken and roast veggies for me
Dinner: Vegetable Bolognese with LOADS of veggies, penne or spaghetti squash; fruit for dessert