Let's get this Pantry Challenge started! Ready to save some money and avoid food waste this month? Then it's time for a pantry challenge.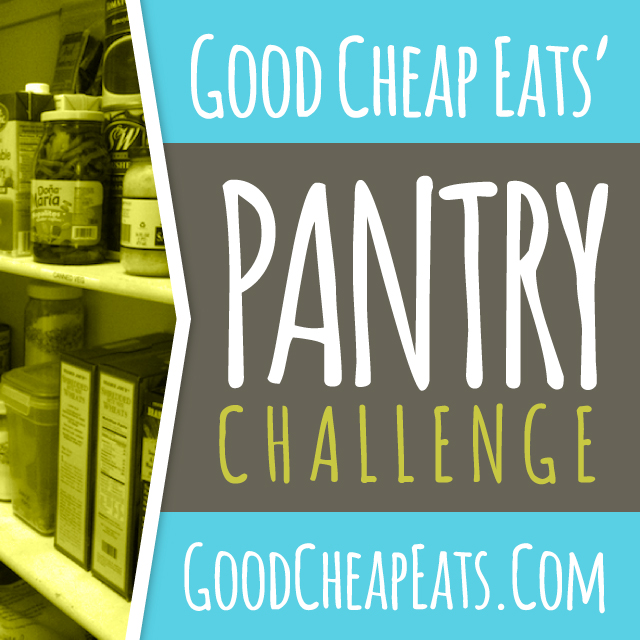 It's that time of year! One of the busiest times of year , in fact, for Good Cheap Eats because it's time to rock the Pantry Challenge. Are you ready for it?
Every year since my youngest was a baby — she's now 8 — I've dedicated part or all of the month of January to shopping the pantry instead of the grocery store. After over-shopping in December, the new year offers me an opportunity to pare down, clean out, and recoup some savings. We'll eat up what we have, avoid wasting good food, and save some money.
You with me?
This year I've put together a Pantry Challenge Starter Guide, a quick read to help you get started on challenging your pantry. 😉 You can sign up for the guide here:
If you already get the Good Cheap Eats Newsletter, no worries. I'll be sending out the guide in tomorrow's email. Just be sure to check your inbox!
What's a Pantry Challenge?
A Pantry Challenge is simply a time where you focus on using up what you have instead of buying more. Read more here.
How many of us have full pantries and freezers right now? Staying out of the grocery store, at least for the big shops, is in order.
Here's what things are looking like in the Good Cheap Eats kitchen today, December 31, 2017: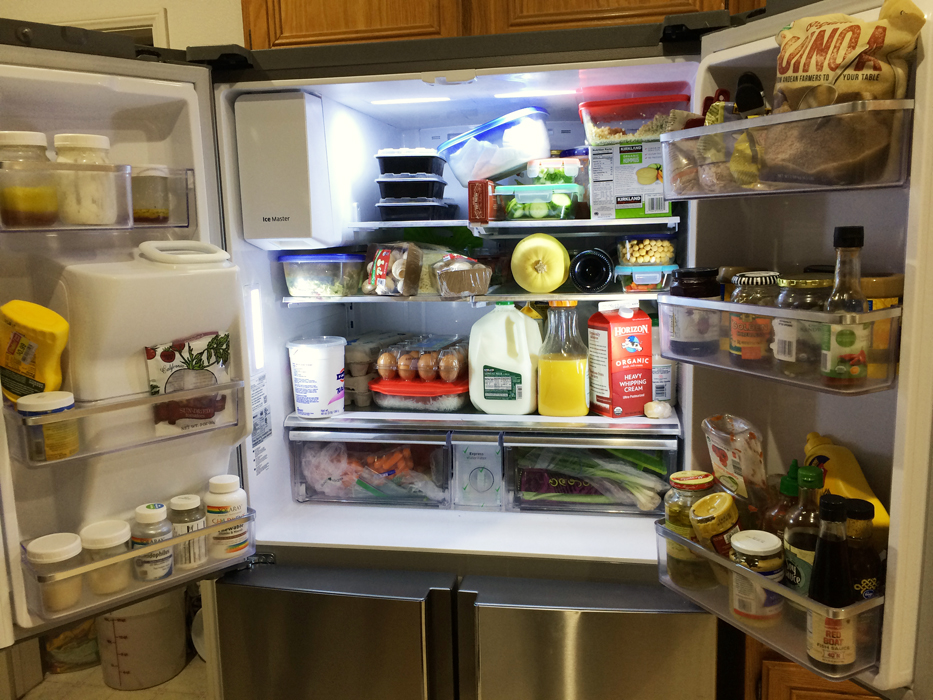 The top fridge.
We've been busily filming for my Healthy Eating Made Easy course, so there are lots of movie stars in here. 😉 It looks full now, but that is a passing phase. I do have six kids.
The freezer/bottom fridge
At the end of last year's FOUR MONTH PANTRY CHALLENGE — we were evacuated by the landlords in order to have the house fumigated — our refrigerator busted, leaking blue fluid. As it would happen, we found the Samsung refrigerator I'd been eyeing for over a year ON SALE. What I love about this, is that the bottom right section can be a fridge or a freezer. Yay!
I would like to get the freezer side more orderly, so I'm looking forward to using stuff up.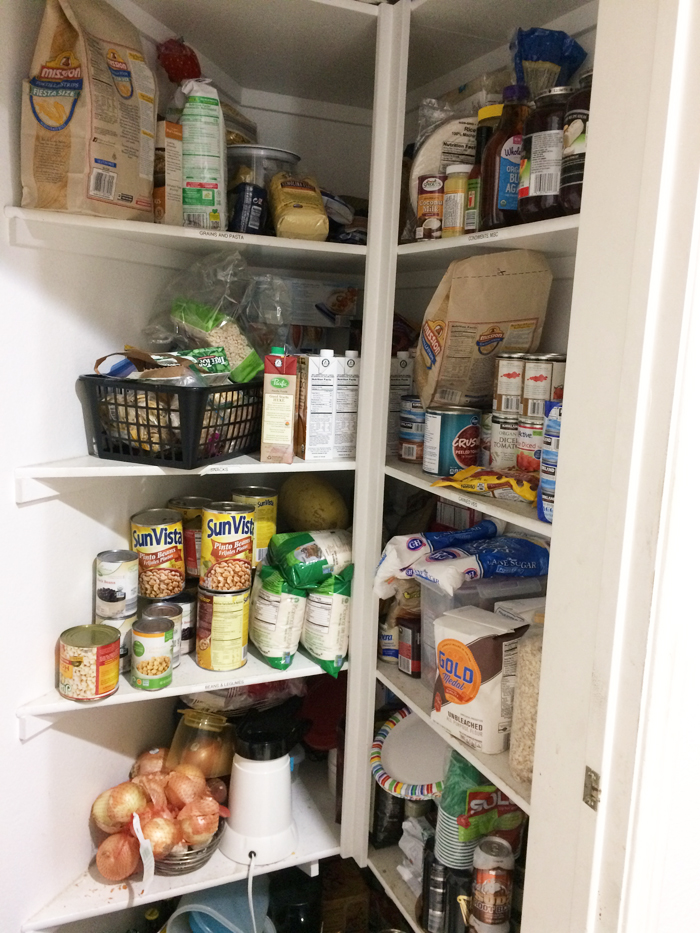 The pantry
We have the weirdest shaped pantry on the planet. It follows the curve of the stairwell and is a major design flaw of this house.
I'm not sure what all is in here, but I'm looking forward to seeing some white space.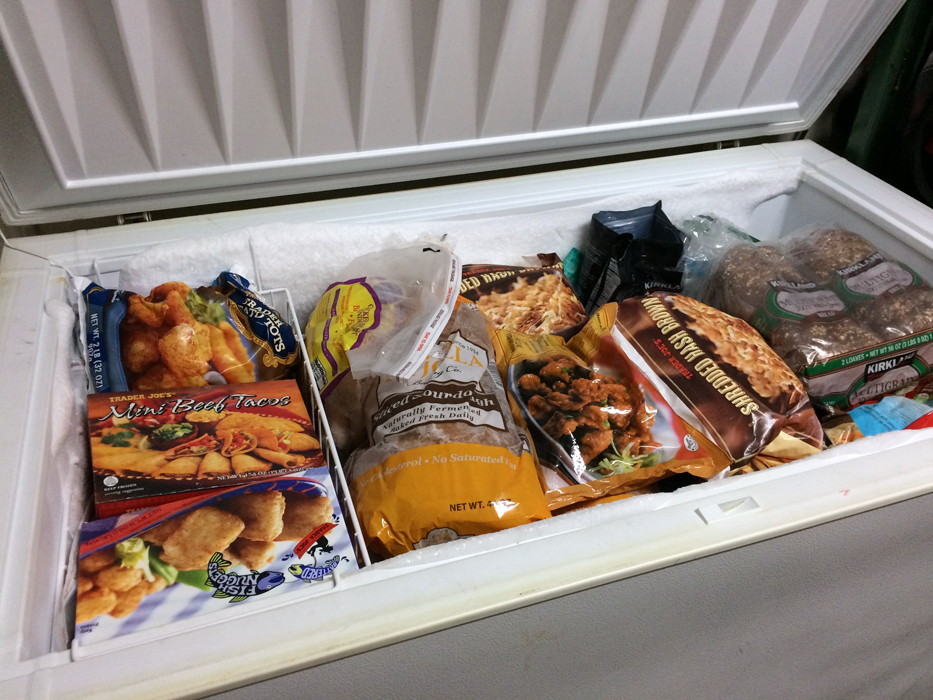 The big freezer
Ahem. There's no room in the inn. That's what holiday trips to Costco, Trader Joe's, and Ralphs will do to me in December. (Those tacos and fish nuggets are part of our NYE Party tonight.) I need to go digging actually for some other ingredients as well.
I'd like to empty this completely this month and thaw all that ice!
My goals for this pantry challenge:
My goals are often very similar from year to year.
I'd like to use up what's in the freezer in order to thaw it.
I'd like to do a big cupboard clean out.
I'd like to recoup some money by NOT shopping so much this month.
As always, you get to make your own rules. This is not a no-spend month, but hopefully it will be a low-spend month.
I'll be posting daily or almost daily what I cook, what I'm buying (if anything), and how we're saving money in January. Please come back tomorrow and let us know what you're doing! If you post your efforts on social media, use the hashtag #pantrychallenge so we can follow along!
Tell me in the comments what your hopes are for this year's pantry challenge!
What are you hoping for from this pantry challenge?