Ready to eat down the cupboards? I'll be leading a Pantry Challenge this month, showing how our family is using up what we got and saving money.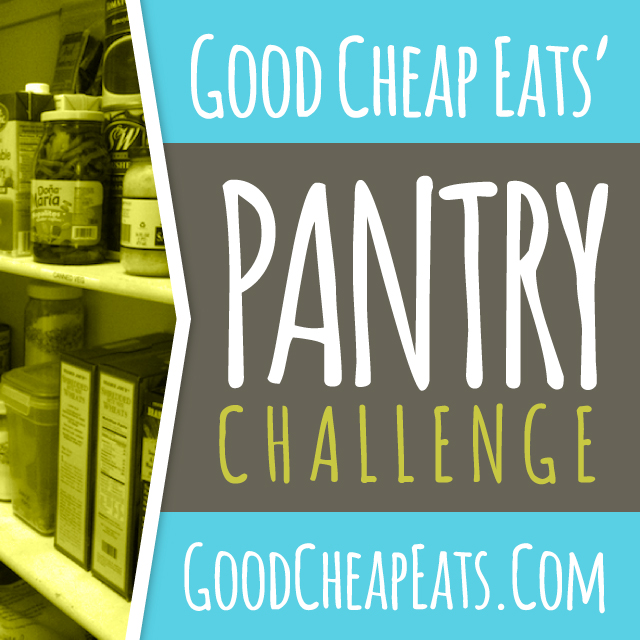 You knew it was coming, right? It's time for a Pantry Challenge! Every January I set aside time to use up our food storage. While we still buy groceries, we focus on using up the food we already have in the freezer, fridge, and pantry.
This year it's particularly important for me to use up what we have in the freezers because our house will be tented later this month for a termite mitigation. Womp. Womp. Such a bummer. And since I really don't want to bag up tons and tons of food, we're going to eat it up first.
Consider this your official invitation to take the Pantry Challenge!
Pantry Challenge 2016
I think this is my SEVENTH year live blogging a Pantry Challenge, and it's become so much fun, particularly since we get pretty chatty in the comments section. I love it that Sandi, Stephanie, Heather, and so many others (sorry for not listing others) chime in, encourage each other, and build camaraderie. The Pantry Challenge really has become a bonding experience.
I'm gonna need your support, ladies. Usually I poop out after two weeks, but I really need to get BOTH freezers clean. So, cover me — and come with all your encouraging words.
If you're on Periscope I'll be scoping the freezers tomorrow at some time, so tune in @jessicagfisher. I'll be blogging this everyday, so hopefully no one will get too bored. I might scope my daily food prep and planning if there are enough people interested, so let me know.
If you're new here, welcome! You might have come for the healthy recipes and tips for the Whole 30. I hope you'll stay for all that plus the tips for saving money and using what you have.
My fridge is not that full right now, so I am going to do some shopping for basics tomorrow as well as inventorying my freezer if I'm brave enough.
My purpose for this Pantry Challenge is to use up what we have so if I need to buy groceries to complement it all, I will. I hope you'll join me — whether in your own kitchen or just in spirit!
Let's do this!