This month our family is participating in a Pantry Challenge. We're focusing on using up what we have in order to save money and time as well as to reduce waste.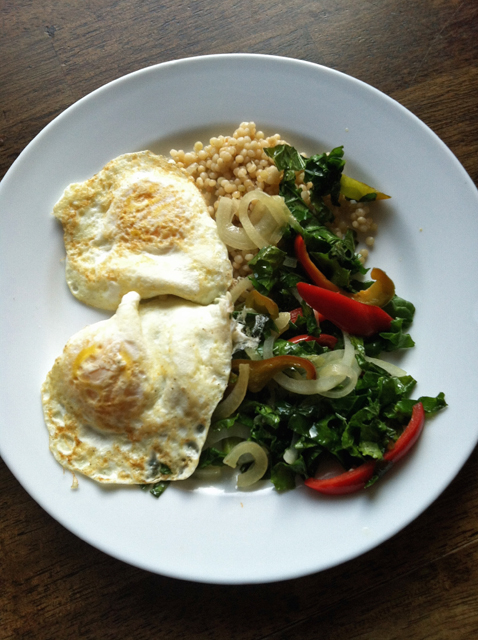 Gah! iPhone photos at night do NOT work. Why do I keep trying? This is breakfast, since dinner, though delicious, did not look good. Since I rely on natural light for most of my other pictures — and I'm so old I can't hold the good camera still without a tripod — I didn't drag out the good camera, either. So, here's the repeat that you saw on Instagram this am.
Breakfast was eggs, veg, and couscous for me. Granola for the kids.
I had my follow-up mammogram, etc this morning. Result was benign cysts. Amen, hallelujah. I treated myself to a Costco hotdog and Pepsi, something I haven't done in a couple years, probably. The kids had bean and rice bowls while I was gone. 
Yes, I went to Costco. And I stuck to the list except for the peanut-free almond butter that I found.
Dinner was pretty awesome: this yummy Alfredo pasta with chicken, broccoli, mushrooms, peas, and tomatoes. I will make it again and take good pics so I can share it with you.
The littles went shopping with me at the mall after dinner, so See's candy was dessert. 🙂
Breakfast: Granola, milk, fruit; eggs, couscous, veg

Lunch: Bean and Rice bowls; Costco hot dog

Dinner: Creamy Alfredo Noodles with Chicken and Veg
How did YOUR day go?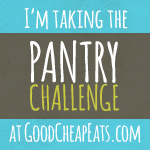 This post is part of the 2015 Winter Pantry Challenge. Read through the archives to catch up.