Want to save some money? Want to waste less food? Want to improve your shopping habits? Then a Pantry Challenge is for you!
I don't know about you, but my freezers are packed to the gills. There is a lot of bulk grains stored there, but there's also all kinds of randomness that needs to be used up. Now that I'm getting to the end of photographing my fourth book, it's time to get a fresh start. Time to use up what we have. Time to save some moolah!
That means it's time for a Pantry Challenge!
A pantry challenge is a concentrated time to eat up what we have so we can save money, waste less food by rotating our stock, and learn from previous bad purchases so that we make better choices in the future. If you're looking to clean up your diet, it's also a great time to use up what you have without feeling guilty that it's going to waste.
I've lost count how many Julys I've done a challenge like this. I do it every January, too. Back in my big couponing, stock-piling days, we could eat for a month from what we had on hand. Nowadays, I shop a little differently and my work revolves around food, so I adopted a 2-week challenge model so that I could stay sane and my people wouldn't revolt.
Now is that time!
I'll be starting our two-week pantry challenge on Sunday, and I hope you'll join me. If you'd like, grab the button above or use this fancy-schmancy one: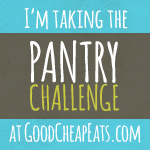 Just right click the image, save it to your computer, and load it to your blog. Easy peasy.
I'll be posting daily my endeavors in the kitchen here on the blog and possibly on instagram. You can post every day or just weekly. I'll have a spot for you to share your posts each Saturday night.
What is a Pantry Challenge?
I've written about this pretty extensively, so take a gander at these articles:
Feel free to leave questions and comments below. I'm happy to chat and help you troubleshoot your cupboard and what you can do with what you have on hand. There are lots of past posts that answer lots of questions, so be sure to browse the archives if you have time.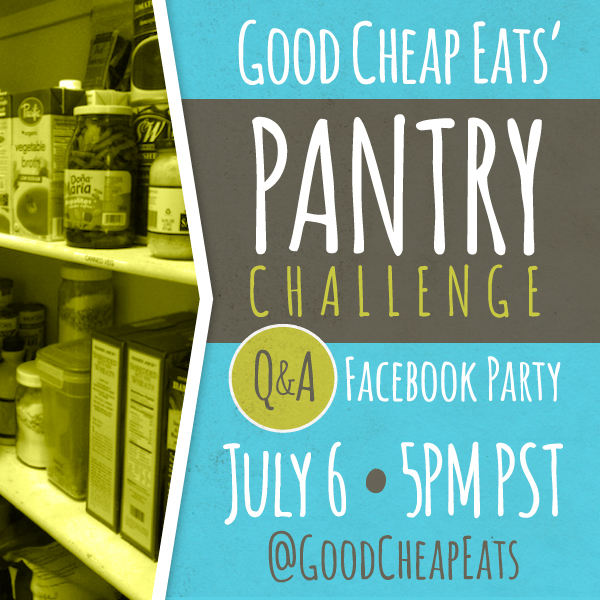 This year I'm going to be kicking off the festivities with a Facebook party on the Good Cheap Eats page. I hope you'll join me. There will be virtual appetizers as well as a cookbooky prize or two. Follow the page now so you don't miss out!
As always, I'll be posting every day what I make, what we use up, and how I'm freaking out. 

 So tune in, eh?
Are you up for a Pantry Challenge?