This month I'm doing a Pantry Challenge. For two weeks, I'm focusing on using up what we have to save money and time and to reduce waste.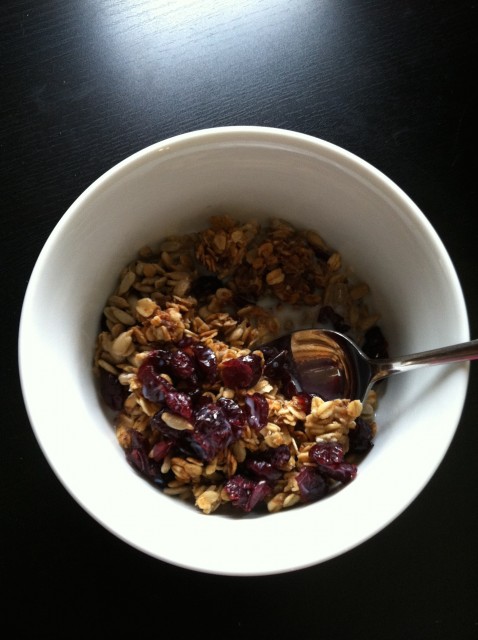 Today concludes our two week Pantry Challenge. I really wish I could keep on going. I have some recipe development projects, however, that I have to work on. I can't put them off any longer! This two weeks has been like a vacation from work. I can make old faithful recipes (as opposed to fine-tuning new ones) and I can make the kids cook more often!
I need to finish up my projects which necessitate some groceries not currently on hand. But, I think I will do some kind of PC/recipe testing mashup and make sure we continue to whittle away at the freezers. They are nowhere near empty.
Some ways that I used stuff up today:
We cooked up all those random half bags of noodles for lunch.
I roasted about 6 zucchini and the eggplants and made a roasted vegetable puree.
I made lasagne with the puree, ground turkey from the freezer and a homemade bechamel (instead of ricotta)
Here's what we had on the last official day of the challenge:
Breakfast:granola with cranberries and sunflower seeds added

Lunch: Sauteed Chicken and Noodles

Snacks: Zucchini Cake with Cream Cheese Frosting

Dinner: Lasagne, leftover corn and beans from the other night
I'll be posting a wrap-up tomorrow along with things that folks have shared about their challenges. Great stuff! If you've got something you want me to include in the post, email me at jessica at goodcheapeats dot com. Be sure to let me know it's for the post. It can be a funny story or a picture or whatever. I will try to post them all, but no promises.
This post is a part of the Summer 2014 Pantry Challenge where we're trying to save money on food by using up what we have. I'll be posting daily updates on how the challenge is going.