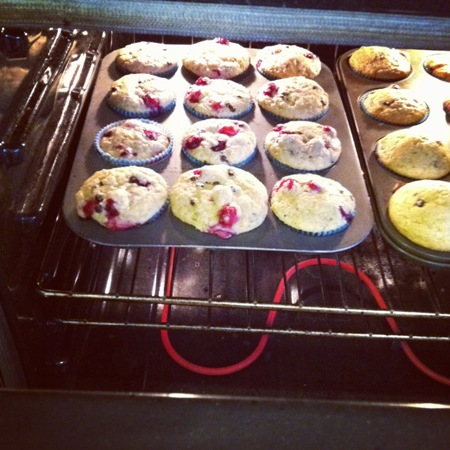 Day two went over pretty well. Before I headed to the gym, I baked up a batch of Cranberry-Orange Muffins. There was a fair amount of complaining from two of the kids who think that cranberries are too tart. The fact that I swapped chocolate chips for the orange zest seemed to win them over.
My pre-workout breakfast was a banana and a Larabar (fruit and nut). After the gym, I had fried eggs on toast.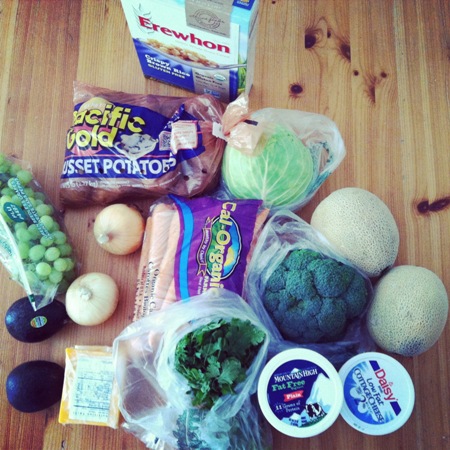 I picked up a few things at Ralphs yesterday and today FishChick4 and I went to Sprouts. I walked through the whole store with my calculator. Got all this for less than $24.
At lunchtime, the kids had leftover pizza and grapes. The grapes were 58 cents/pound and were supposed to be seedless. They weren't. That was a slight inconvenience. Blech.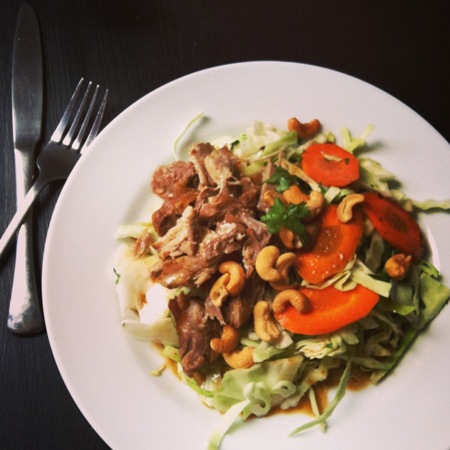 Cabbage was three pounds for a dollar, making it the cheapest salad base. I added carrots, green onions, cilantro, and some leftover pulled pork. I had some Asian ginger dressing that I mixed up last week that I used as a dressing. A handful of cashews topped it off.
For dinner, we had hamburgers. I had made the patties last week and froze them, we had lettuce leaves and sliced tomato leftover from the weekend. All I had to do was bake the hamburger buns. I used a 3-1 ratio for whole wheat to white flour since we're running out of unbleached, all-purpose flour. The buns were "healthier" but no one complained.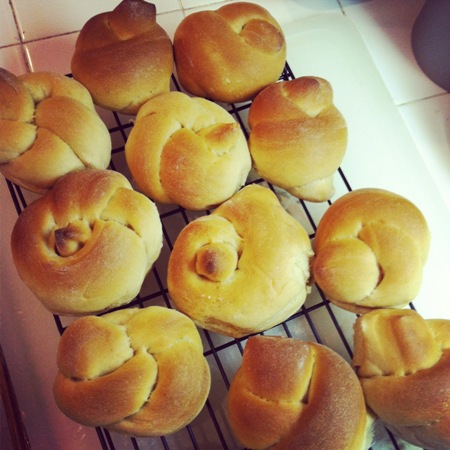 There was enough of the iceberg lettuce left for me to make my burger lettuce wrapped. I really wanted the bun, but I'm trying to cut the carbs a little. I ended up having two burgers with avocado, tomato, and lettuce. We're out of ketchup, but we used the little packets that have been collecting in the pantry.
I'd say Day Two went down pretty well.
Breakfast: Cranberry-Chocolate Muffins, Banana, Larabar, Fried Eggs, Toast
Lunch: Leftover Pizza, Grapes, Salad with Leftover Pulled Pork and Asian Dressing
Dinner: Hamburgers with Homemade Buns, Cabbage Salad with Asian Dressing
This post is a part of the Summertime Pantry Challenge where we're trying to save money on food by using up what we have. You can read more about it here.

I'll be posting daily updates on how the challenge is going. You can read through the PC archives here. You can follow along on instagram @jessicagfisher or follow the #pantrychallenge hashtag.