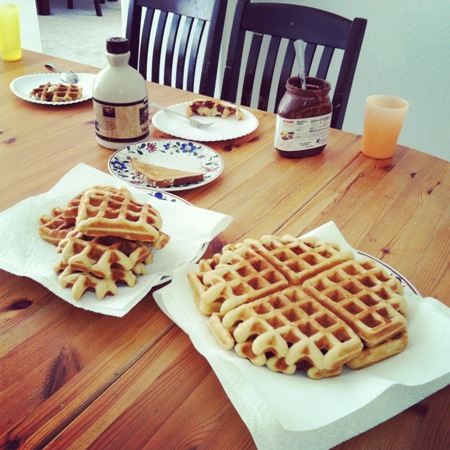 Today was the first day of our Pantry Challenge. Since I had already made a meal plan, it wasn't difficult to know what we were eating. The kids made their breakfast (waffles and sausages) while I was at the gym and hubs and another child were at the hockey rink. When I got home, I made my favorite Skillet Eggs.
Lunch was sandwiches with leftover lunch meat that my dad had brought with him on Friday. I had leftover fish and rice from Friday night as well. Honestly? It wasn't a very fun lunch.
For dinner, I made a lasagna and salad. I had roasted vegetables earlier last week and blended them into a sauce. I froze half and that's what I used for the lasagna along with a pound of ground pork I found in the kitchen freezer. Total rescue thanks to the inventory.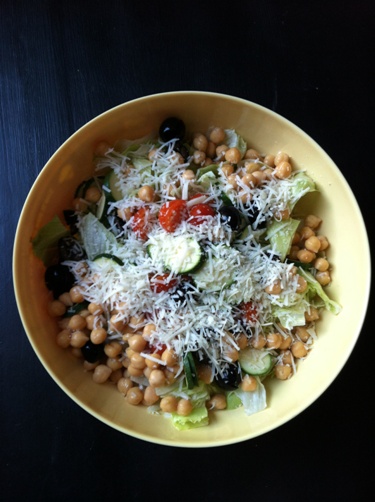 The salad was a success, too. My dad had left a head of iceberg, not something we normally buy. I chopped it up and topped it with half a can of garbanzo beans, cherry tomatoes, sliced zucchini, black olives, and romano cheese. I used a leftover Lemon Basil Vinaigrette from the other night, too.
Since lasagna is pretty heavy on the carbs, I decided not to bake bread. I'm running low on flour already, so I figure we'll wait until we really need a bread side dish.
Cleaning out the fridge and making good cheap eats! That's the name of the game, at least this week.
Breakfast: Waffles, Sausages, Skillet Eggs
Lunch: Sandwiches, Leftovers
Dinner: Lasagna, Salad
This post is a part of the Summertime Pantry Challenge where we're trying to save money on food by using up what we have. You can read more about it here.

I'll be posting daily updates on how the challenge is going. You can read through the PC archives here.