Don't think you have time to make dinner? Too tired to cook, but don't want to eat out? Think that there's "nothing" to eat in the cupboards?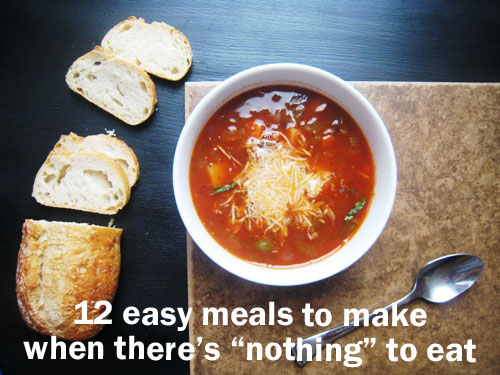 Yes, yes, and yes. I've been there many a time. And there have been many occasions when I'm tempted to make a run for the border. Now that we're eating better than we once did, however, our dining options have changed. Taco Bell has fallen by the wayside.
To feed our family of eight a meal that I think falls in the realm of "decent" (think Rubios or Chipotle), we're going to pay $30 to $40. For one meal. We really can't afford too many nights in a month when I listen to the siren song of "No time, too tired, nothing to eat."
Perhaps you're in the same boat.
One solution is to have a meal plan and stick to it like glue. Another is to create a list of easy meals that come together quickly from ingredients that you regularly have on hand. In this way, when you don't want to or can't follow your meal plan, you have a Plan B to fall back on.
This week as part of Meal Planning 101, your assignment is to create a list of Plan B's. These are meals that your family loves, that come together quickly, and can be made with stuff you typically have in the fridge.
Download this worksheet or just write your list on a piece of paper that you will hold onto. Either way, you're creating a back up plan for those nights when you don't have a plan or when your plan just isn't going to happen, for whatever reason.
This may seem like a difficult exercise, but believe me, you will be glad you did it. Tack this on the fridge. Consult it when you go grocery shopping and keep on hand the ingredients you need to make this happen. When you think there's "nothing" to eat, turn to this list.
Need some easy meals?
I am not going to make you do something that I'm not willing to do myself. So here's my list of a dozen easy meals. You can pretty much make all of them in about 30 minutes. Better yet, download a FREE grocery shopping list for these 12 Easy meals here.
Rice Bowls

Rice Bowls are so easy and versatile. Depending on what kind of rice you typically make, dinner can be ready in 20 to 45 minutes. I just put the rice in the rice cooker, assemble some toppings, and dinner is pretty much ready.
Ingredients needed: rice, protein (cooked meats, beans, shredded cheese), vegetables (fresh or sauteed), toppings (cheese, salsa, sour cream, Asian dipping sauces). See the recipe post for more ideas of toppings.
Pasta and Red Sauce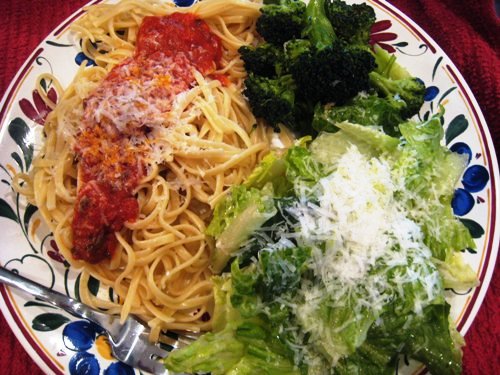 Since I regularly make my own pasta sauces, we almost always have a pint or two in the freezer. The sauce thaws quickly in a pan on the stove top, and pasta can be cooked in less than 15 minutes. My kids devour this; thus, we have it at least once a week.
Ingredients needed: pasta, red sauce, a veg or two to serve on the side, Parmesan or Asiago cheese for sprinkling.
Quesadillas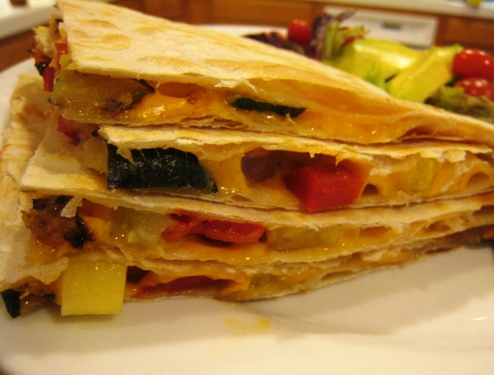 Quesadillas are a regular stand-by around here. If hubs and I go on a date night, this is an easy meal the older kids can make themselves. There's little prep work, and clean up is a snap.
We adults prefer a little something more than just cheese and tortilla, so I often add grilled meat or chicken or some sauteed vegetables to make it a little more. Salsa and sour cream are favorite for dipping.
This black bean and sweet potato quesadilla is amazing!
Ingredients needed: tortillas, shredded cheese, sour cream, salsa, cooked meat or vegetables for extra filling.
Grilled Cheese Sandwiches
The breadier counterpart to the quesadilla is the grilled cheese sandwich. These come together in a flash with a panini press or an electric griddle. I keep bread in the freezer for this kind of meal. Cheese is a major staple in our fridge. Serve with fruit or veggie dippers on the side.
Ingredients needed: sliced bread, cheese, side dishes
Sandwich Bar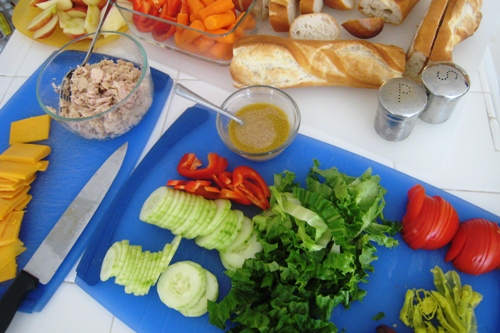 On warm weather days, a sandwich bar is an easy way to please the masses without heating up the kitchen. I slice up whatever veggies and pickles we have on hand as well as cheese. For extra protein you can add a few cans of tuna or whatever cooked meats you might have on hand.
Ingredients needed: bread, cheese, meat, veggies, fruits and veggie dippers.
Snacky Lunch or Dinner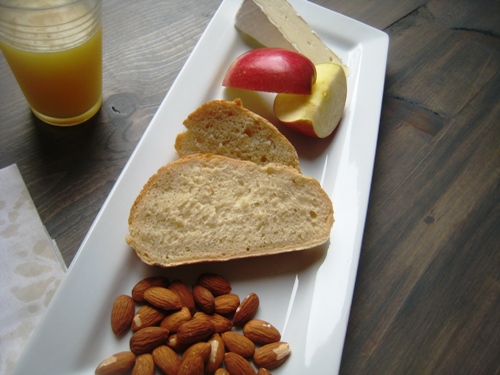 Snacky Lunch or Snacky Dinner is an old standby for our family, especially when there are baguettes to be had, homemade or otherwise. These no-cook suppers count for snacky as well.
We sometimes serve this on purpose for special occasions, like New Year's. But, if it's just a regular old week, I'd dig around in the fridge until I found enough mocktail/cocktail foods that would fill people up. You'd be surprised with what you can come up with that is still fun.
Ingredients needed: cheeses, meats, nuts, seeds, fruits, veggies, bread, crackers, pickles, olives, other appetizer kind of foods.
Tortilla Pizzas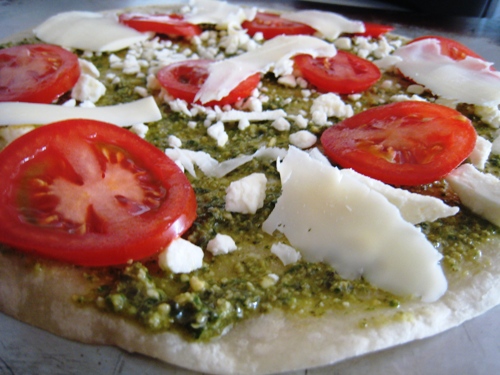 Put your favorite pizza toppings on a tortilla and run it through the broiler for a quick Tortilla Pizza. This is so easy, it's not even funny.
Ingredients needed: tortillas, cheese, favorite sauces and toppings for pizza.
Breakfast for Dinner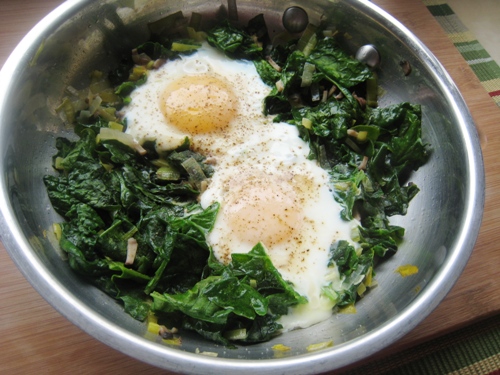 Breakfast is an easy fix — any time of the day. Fry a few eggs, toast a few slices of bread, make some pancakes. Easy! Check out these posts for inspiration to make it delicious:
Ingredients needed: pancake mix, eggs, hashbrowns, cereal, and/or oatmeal.
Quickest Chili in the West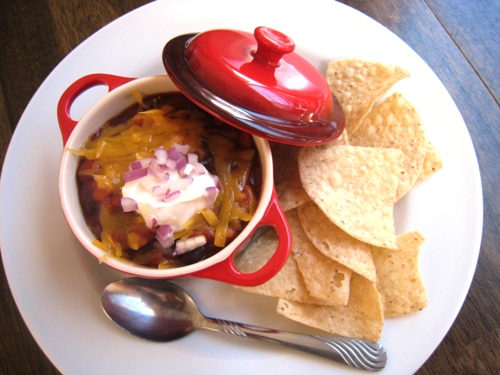 Chili can be such a comfort food. It's amazing how quickly a bowl of red can come together, about 20 minutes for The Quickest Chili in the West. Add cheese and sour cream and chips for a filling supper. Wrap the leftovers up in tortillas a night or two later.
Ingredients needed: canned beans, spices, hominy, crushed tomatoes, chips, toppings
Chicken Noodle Soup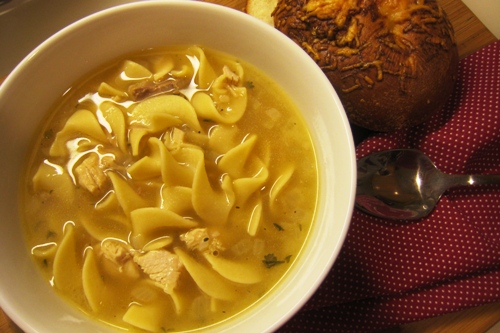 My kids love this stuff. They have rarely had the canned version because this Chicken Noodle Soup is so easy and economical. If you keep cooked chicken in the freezer (or buy canned) it is an easy weeknight supper. It's also a great way to use up leftovers from a roast chicken or turkey.
Ingredients needed: egg noodles, chicken broth or stock, cooked chicken, onion, zucchini and/or carrot, spices
Thursday Night Soup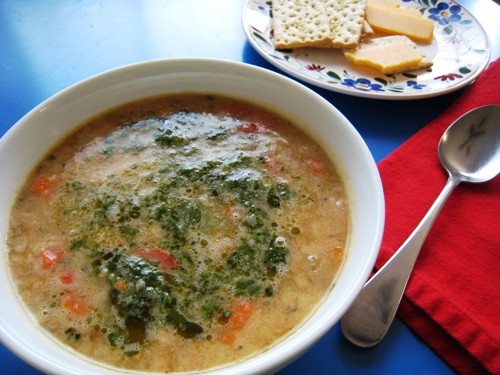 Making soup from leftovers is one of the easiest meals to pull together. Thursday Night Soup, a recipe of Jacqueline Heriteau offers the direction you need as well as the freedom to improvise. You really can make a tasty soup from almost nothing.
Ingredients needed: onions, oil, tomato paste or sauce, broth or water, leftover meat and vegetables, rice, potatoes, etc, spices
Easy Nacho Appetizer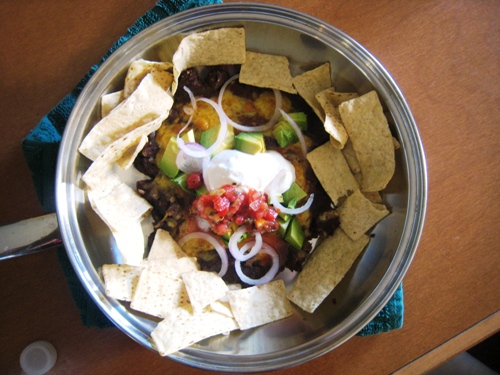 I originally posted this Easy Nacho dish as an appetizer, but it can really double as a meal. At least in my book. It takes so few ingredients and comes together in a flash.
Ingredients needed: beans, cheese, enchilada sauce, chips, salsa, sour cream, avocado
Was that so hard?
Chances are you've got some family favorites built around staple ingredients. Write those menu plans down so that you have a catalog to draw from. Don't worry if they don't seem like a "real meal". Neither does a Big Mac.
Having this list of 12 Easy Meals to make will help you get over the rough patches when dinner doesn't seem like it will happen any time quick.
What's an easy meal YOU make?
Tell us what's on YOUR list so we can add it to ours.