Carrots add flavor, texture, and fiber to this spiced quick bread, making for a quick snack or elegant addition to the breakfast tray.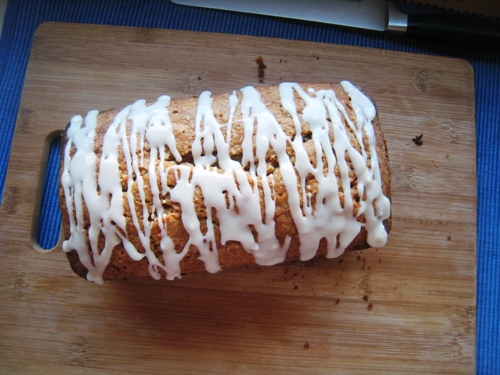 Quick breads disappear pretty quickly around our house. Recently, I baked two bulk batches of this spiced carrot bread. I even burned four of the eight loaves. But, that didn't stop my people from scarfing them down. In fact, we only have two left! I froze them in order to save them for another time.
While most folks are familiar with zucchini bread or banana bread as a way to use up excess produce, carrot bread is a relatively unknown. At least I've never been served any. But, this bread, redolent with spices and kissed with a powdered sugar glaze is a perfect afternoon snack or an elegant addition to your breakfast or brunch spread.
Just ask my kids.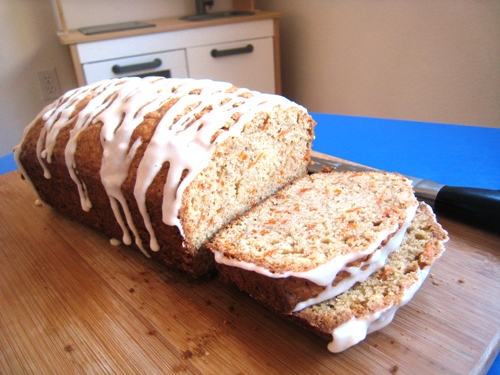 This spiced carrot bread recipe makes enough for four loaves, though you can easily halve the recipe. Eat one and wrap the others in plastic wrap and place in freezer bags in the icebox for future good eats.
Recipe: Spiced Carrot Bread
Ingredients
2 cups oil
8 eggs
1 cup buttermilk
1 tablespoon vanilla extract
5 cups sugar
4 cups shredded carrot
8 cups unbleached, all-purpose flour
1 tablespoon baking powder
1 tablespoon salt
1 tablespoon ground cinnamon
zest of one lemon
1 teaspoon baking soda
1 teaspoon ground nutmeg
1 teaspoon ground ginger
1/2 teaspoon ground cloves
Optional powdered sugar glaze: 1 cup powdered sugar mixed with 1 to 2 tablespoons of milk until a thin glaze is formed
Instructions
Preheat the oven to 350°. Spray four 8.5×4.5-inch loaf pans with nonstick cooking spray.
In a large mixing bowl, combine the oil, eggs, buttermilk, and vanilla. Stir in the sugar until well incorporated. Stir in the carrots.
In another large mixing bowl, combine the flour, baking powder, salt, cinnamon, lemon zest, baking soda, nutmeg, ginger, and cloves. Whisk to blend.
Add the flour mixture to the wet mixture and fold to combine.
Divide the batter into the prepared pans and bake for about 1 hour or until a tested comes out with a few crumbs attached. Cool loaves on a wire rack.
Drizzle glaze over cooled loaves.
Bread loaves can be wrapped in plastic wrap and stored in ziptop freezer bags in the freezer.
Preparation time: 15 minute(s)
Cooking time: 1 hour(s)
Number of servings (yield): 12 per loaf